Archive: March, 2013
Kristen Graham
5:50 p.m.:
Nobody thought the Philadelphia School District's 2013-14 budget would be pretty, and it's not: a $2.6 billion spending plan with a gap of $242 million.

The best-case scenario to fill that gap, district officials said Thursday night, was the city coughing up an additional $60 million, the state an additional $120 million, and unions agreeing to $134 million in givebacks.

Everyone involved acknowledged it was a brutal spending plan.

Chief Financial Officer Matthew Stanski described it as a "shared sacrifies budget," and said that after the School Reform Commission was forced to borrow $300 million just to pay its bills through the end of June, and close over 30 schools in the last 18 months, the new budget would at least wipe out the structural deficit.

Superintendent William R. Hite Jr. said protecting classrooms was a top priority.

"We're trying not to impact schools any more than they've been impacted already," Hite said.

The operating budget will not require the loss of any classroom jobs. But the loss of $134 million in federal grant funds - that's a separate pool of money - could mean the loss of 1,300 school and school-related positions.

Expiring federal stimulus money, cuts to Title I, the loss of large Department of Labor and Department of Education grants all mean that the district's neediest children are likely to be affected.

Hite described the federal cuts as affecting "highly impacted groups of students - special ed, free and reduced lunch, English language learners."
Kristen Graham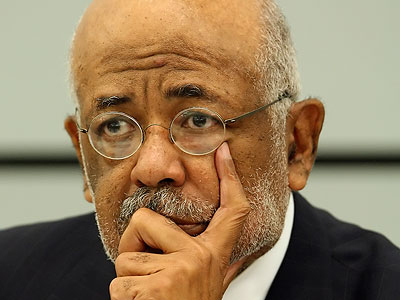 Former Philadelphia School Reform Commission chairman Robert L. Archie Jr. violated the state's ethics act when he voted to ratify a contract between the school system and the production company responsible for a Tony Danza reality show shot at Northeast High, Ethics Commission officials said Tuesday.
In 2009, Teach Productions, Inc. agreed to pay the Philadelphia School District's legal fees related to the TV show — legal fees that ultimately went to Duane Morris, LLP, the law firm where Archie is a partner. The ethics panel ruled that was "a transgression" of state law.

Archie must pay Pennsylvania $6,600. It's believed to be the first time an SRC member was found to violate ethics laws.
Kristen Graham
The Philadelphia School District just announced three companies won the right to be considered to run three public schools being given to charters. They're all familiar names - Mastery Charter Schools, Universal Companies and Scholar Academies.
All currently run at least one Renaissance school - that's a low-performing district school given by the district to a charter company.
Mastery runs Harrity, Mann, Smedley, Clymer and Gratz High; Universal runs Bluford, Daroff, E. Vare and Audenried; and Scholar Academies runs Frederick Douglass. All three operators also have freestanding charter schools in the city, as well.
Kristen Graham
You can find lots of detail in today's Inquirer about continued pushback against the 23 school closings already ordered by the SRC earlier this month, about community opposition to the district's plan to privatize 2,000 Head Start seats to cope with budget cuts, and a proposal to expand the catchment of Bache-Martin Elementary.
But our print deadlines sometimes mean that some of the SRC's actual agenda doesn't end up in my story.

So, here's what you missed:

Kristen Graham
Happy School Reform Commission day, all! The meeting is scheduled to get underway at about 5:30. The SRC was supposed to adopt its preliminary 2013-14 lump sum budget, but that's been pulled until next week's meeting. Lots of resolutions, and a whopping 58 speakers.
A fair amount of speakers are signed up to talk about school closings. The SRC voted on March 7 to shut 23 schools; it must will vote on two closings, but those votes have not yet been scheduled.
Earlier today, the 19 people arrested at that March 7 meeting - among them, American Federation of Teachers president Randi Weingarten - had their first court appearance. The 19 were arrested on disorderly conduct charges; they had attempted to physically block the SRC's entrance to the meeting. They will stand trial in May.
Kristen Graham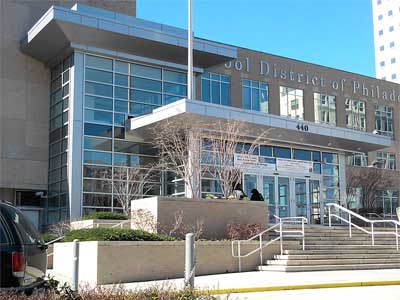 Grading schools is always a tricky business.
But PennCAN, the local arm of a national nonprofit that aims to "enact research-based education reforms that will give every child in their state access to a great school," has attempted to do just that — assign a letter grade to every school and school district in Pennsylvania in a new database released today.

The methodology, the organization said, is simple — schools get letter grades in five categories, from student performance to performance gains. Also considered are: subgroup performance (for low-income, African American and Latino students), achievement gap, and four-year high school graduation rates. The scores considered come from the highest tested grade at each school.

Kristen Graham
8:45 p.m.
The SRC voted on school closures, ending the school-by-school voting at 8:33 p.m. Here's a list of what's staying open and what's closing:
STAYING OPEN:
TM Peirce Elementary School, 2300 W. Cambria Street

Taylor Elementary School, 3698 N. Randolph Street

Roosevelt Middle School, 430 E. Washington Lane

Robeson High School, 4125 Ludlow Street
Kristen Graham
State Rep Jordan Harris (D., Phila.) wants to change the makeup of the School Reform Commission, the governing body of the Philadelphia School District.
Harris has proposed legislation that would add three new members to the panel, which currently consists of three gubernatorial nominees and two mayoral picks. Harris wants the governor to select a city charter school parent and the mayor to pick a parent representative from a district school plus the president of the city's student government association. (The student would be a non-voting member of the SRC.)
SRC members are not paid.