Archive: February, 2012
Kristen Graham
UPDATE, 7:30 p.m.
A fourth grade class from Francis Scott Key Elementary in South Philadelphia has weighed in on the state's ruling. And they're not happy.
When her students came to her with concerns about the new policy, teacher Jasselle Cruz encouraged them to do something constructive - write persuasive letters.

Kristen Graham
Despite the fact that it's nearly broke and in the middle of a major organizational shakeup, the Philadelphia School District is moving forward with plans to turn failing schools over to charter organizations.
Four low-performing Philadelphia schools have been targeted — Cleveland, Creighton, and H.R. Edmunds Elementary Schools, and Jones Middle School.
They will all become charters in September, the district said in a news release Wednesday.

Kristen Graham and Martha Woodall
NOTE: For the latest live tweets on the announcements, scroll down to the "Live Chat" box below.
5 p.m.
Staff writer Michael Matza reports from inside Bonner-Prendergast:
Kristen Graham
An actor-turned-teacher, two union officials and a state senator gathered on the steps of the Philadelphia School District's headquarters Thursday to send a message — the budget cuts have got to stop.
Tony Danza, who spent a year as an English teacher at Northeast High for a reality show, has said the budget cuts have really affected the school — both in terms of capacity and morale.

"At Northeast, we lost shop teachers, art teachers," Danza said at a news conference. "That sends a message to the kids that they really don't matter."

Kristen Graham
The William Penn Foundation is donating $1.5 million to help restructure the Philadelphia School District, officials announced today.
Foundation president Jeremy Nowak said the money would go directly to pay for a contract with Boston Consulting Group.
Nowak also said that William Penn will help the School Reform Commission identify other private funders to help turn the district around.
"Frankly, [SRC Chairman Pedro Ramos] and I are going on a fundraising tour to see if we can be helpful," Nowak said in an interview. "I think this is a defining moment for the city of Philadelphia."
Beyond William Penn's own contribution, the move is significant because Philadelphia's philanthropic community has traditionally been loath to donate on a large scale to the district, which was viewed by many as a bad risk, with management and finance problems and a lack of transparency in operations.
Before extending its offer to the SRC, William Penn "waited to see whether they were going to make moves that we thought were smart," Nowak said. "We see that they are making moves that are smart, and so we're going to take that risk. This new SRC has showed us that they're serious about the future."
The district is in dire straits — officials admit it is teetering on the brink of financial insolvency, with a $38.8 million budget shortfall to bridge by June and a more than $269 million gap already for fiscal 2013. But they say they can right the system, and want to use this opportunity to restructure how schools are run, with more autonomy for principals and less bureaucracy.
William Penn liked the SRC's hiring of Thomas Knudsen, the former PGW head, who was brought in as "chief recovery officer" on a short-term basis. They also liked the Boston move, Nowak said - the group is a national firm with extensive experience working with troubled school systems.
The SRC last week approved the one-month Boston contract, which will pay for "professional managerial and financial consulting services and expenses." William Penn and the United Way of Southeastern Pennsylvania will work together with the SRC to "structure and manage" the Boston contract and work.
Nowak said that William Penn - and other potential funders - will have some say over the turnaround.
"I'd like to have input, but I'm not mandating they go in this direction or that direction," he said. "I've got a loud voice; I'll say things. But we're not trying to dictate. We wouldn't have come in if we didn't think they were moving in a direction that we think makes sense."
The SRC has been clear that it means to "decentralize" its operations, ripping up a bureaucracy that's been in place for decades and giving schools much more say-so over how they run.
And it's also said that it wants a new superintendent comfortable with managing a "portfolio" of schools - both traditional district schools and a network of charter schools.
School leaders have committed to continue to explore non-district school options with their participation in the "Great Schools Compact," which promises that Philadelphia will move to eliminate 50,000 seats in low-performing schools in five years.
Nowak has firsthand experience with charters. For seven years, he was president of Mastery Charter Schools' board of trustees. He was particularly impressed, he said with Mastery's turnarounds - taking tough existing district schools and keeping their students but hiring new staffs and putting new policies in place.
"What came out of that for me was a belief that it was possible to close the achievement gap and bring violence levels down in a few years in some of these schools," he said.
Nowak said he also supports expanding district schools that work.
Even with what he believes is a strong SRC in place, William Penn is still taking a risk, Nowak acknowledged.
"The biggest risk is will they will be able to come out with a plan, and will they be able to implement the plan that gets us to where we want to get to? And will they be able to implement it, given the complexity of the politics of education?" Nowak said.
But it's necessary work, he said.
"I know the word turnaround is a loaded thing, but I think we're at a place where we can all agree we've hit rock bottom in terms of information, financial capacity, and to some extent, faith in the future," Nowak said.
Mayor Nutter, in a statement, praised William Penn's involvement.
"The William Penn Foundation has always been here for the city of Philadelphia and its children; there is no stronger advocate for reform and transparency. Their leadership and partnership tells me that as a city we are ready to take on the hard collective work of increasing high-performing options for our students and ensuring the school district is the most effective organization it can be," the mayor said.
Ramos, in the statement, agreed.
"We know the difficulties in front of us, and we are hopeful that with help from the private sector, philanthropy and civil society, we can begin to see real progress."
Kristen A. Graham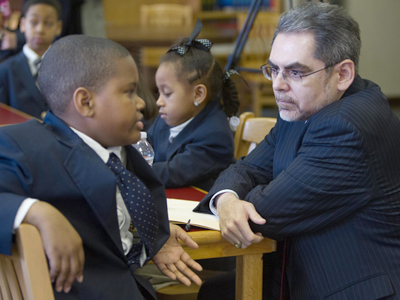 Inquirer schools reporter Kristen Graham takes your questions and comments on the Philadelphia school system. The chat starts at noon. On a mobile device? Click here to join the chat.
Kristen Graham
Lost in the shuffle of a six-hour Philadelphia School Reform Commission meeting Thursday night: resolution A-13, a $1.4 million, one-month contract with to Boston Consulting Group, Inc.
That's right — $1.4 million. And the Philadelphia School District still has a June deadline for trimming $38.8 million more from a budget that's already lost thousands of employees and withstood deep cuts to individual schools' funds.

But SRC Chairman Pedro Ramos said he did not expect the money to come from district coffers. The SRC has had conversations with philanthropists and nonprofits and the full funding should come from them, Ramos said.