Archive: January, 2012
Kristen Graham
Lest you think Philadelphia School District news is all doom and gloom - it's not. Science Leadership Academy, a Center City magnet high school, reminds us of that today.
SLA Founding Principal Chris Lehmann is in New York today, where Apple is touting that it's "reinvented textbooks" with iBooks 2 for iPad. They tout the new program as "gorgeous, fullscreen textbooks with interactive animations, diagrams, photos, videos, unrivaled navigation and much more." The books don't have to be returned and they can be updated easily. Big-name textbook publishers are in - Houghton Mifflin Harcourt, McGraw-Hill and Pearson. Most books come in at $14.99 or less.
What's SLA's connection? It has been an Apple favorite, winning the Apple Distinguished School award multiple times. SLA was also featured recently in a PBS special "Digital Learning in the 21st Century." SLA is a partnership school of the district and the Franklin Institute.

Kristen Graham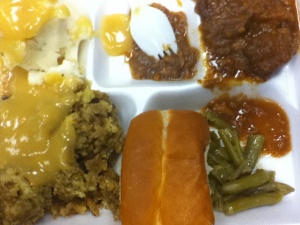 I now interrupt this bad budget news for another story of how kids do great things in Philadelphia schools every day.

School cafeteria food is a perpetual joke — unappetizing, unidentifiable mystery meat; meals heavy on carbs and light on fresh ingredients.
Three seniors at Girard Academic Music Program, a Philadelphia School District magnet school in South Philadelphia, want to fix that.

Kristen A. Graham
6:40 p.m.
Facing a fiscal crisis of previously unimagined proportions — it must cut $61 million by June and isn't sure how to get there — the Philadelphia School District's governing body on Thursday moved to tear up its leadership structure and name a "chief recovery officer" to get the battered organization through the next six months.
In plainer, starker terms than it has ever used before, the School Reform Commission laid out the district's financial woes to the public in a meeting Thursday night.

Kristen Graham
Members of Local 32BJ, District 1201 — the Philadelphia School District's blue-collar union representing 2,700 bus aides, cleaners, maintenance workers and others — were due a 3 percent salary increase on Jan. 1. The pay raise was to be reflected first in checks issued this week.
But the workers — all of whom are due to be laid off this year — didn't get their raises.

The district says it withheld the raises because of an earlier tentative agreement with the union. In that agreement, workers would have voluntarily given up the raises; they voted it down, in part because they were asked to endorse givebacks days after the district paid former Superintendent Arlene Ackerman nearly $1 million to leave her position.

Kristen Graham
UPDATE, 4:40 p.m.
The full text of the report can now be found at the district's website.
EARLIER:
Kristen A. Graham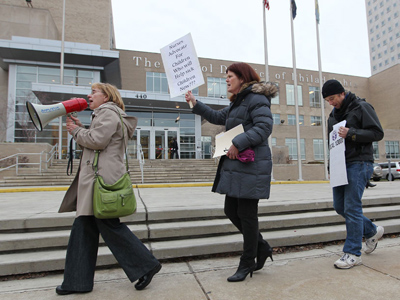 Inquirer schools reporter Kristen Graham takes your questions today, starting at 11 a.m. Post your questions and comments NOW! On mobile? Click here to join the chat.
Kristen Graham
Brace yourselves. Philadelphia School District officials are expected to give an update on the 2011-12 budget picture next week and...well, when was the last time we heard good news in that sector?
I asked officials to answer a number of budget questions in advance of the meeting, and they declined. They said Chief Financial Officer Michael Masch's budget update at Thursday's SRC meeting would have to suffice.

To recap: last we heard, the district cut $15 million from its budget by slashing individual schools' discretionary funds and laying off staff including some school nurses. That's on top of the thousands of layoffs and program cuts made going into the school year.

Kristen Graham
The Pennsylvania Department of Education has cleared 28 schools and districts in its statewide probe into possible improprieties on the 2009 PSSAs.
No Philadelphia School District schools have been cleared, but the investigation is ongoing, said Tim Eller, a spokesman for the education department. Thirteen city public schools are still under scrutiny for possible cheating.
The district has not named the 13 schools, but an Inquirer analysis identified them as: Roosevelt and Wagner Middle Schools, Strawberry Mansion High School; and Catharine, Cayuga, F.S. Edmonds, Lamberton, John Marshall, Thurgood Marshall, McClure, Munoz-Marin, Olney, and Ziegler Elementaries.