Archive: May, 2011
Kristen Graham
So, as a former Philly public school student, I can tell you first-hand that hot weather + Philadelphia School District buildings = not a good combination. The vast majority of the district's buildings are old and un-airconditioned, and sweltering is probably not going far enough for how they feel in this weather. Forget teaching and learning - those aren't good conditions for anyone's health.

After watching the sizzling weather forecast, officials made the call to dismiss schools early today, at 1:30.

But I've heard from a number of parents that they didn't find out about the early dismissal until pretty late in the game - some as late as 1 p.m. or afterward, and some never actually got the official word from a school or district notification.

Kristen Graham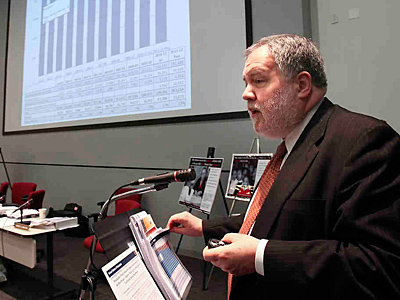 Today is B-Day. That is, it's the Philadelphia School Reform Commission's deadline to pass a 2011-12 budget. And by deadline, I mean the City Charter says: school district, pass a budget by the final day in May, not, public, rest assured, this is how things will look come September.
We know that much about the Philly School District's $2.8 billion budget is up in the air - how much funding will come from Harrisburg and City Hall, whether there will be full-day kindergarten, bus transportation for most students, 30 percent cuts to individual schools' budgets, and the loss of over 3,700 jobs.
Chief Financial Officer Michael Masch has said that this is very much a provisional budget, passed to meet the city's deadline (though the city is blowing its own deadline.) Things will change in the next few weeks, for sure.
Kristen A. Graham
Have questions about the School District of Philadelphia? Share them with Inquirer schools reporter Kristen Graham during her June 1 chat, starting at noon. On mobile? Join the chat here.
Kristen Graham
Hello, folks, and sorry for the long absence. I've been under the weather, but am back just in time - tomorrow, Tuesday May 31, the Philadelphia School District will pass a provisional 2011-12 budget. Underscore the provisional part of that sentence, because funding is very much still up in the air with no decisions made yet in Harrisburg or City Hall.
But I wanted to share with you something I read earlier today on Get Schooled, the Atlanta Journal-Constitutions fine schools blog. It was through-provoking and very sad - one caring educator's tale of a student he mentored and how the system failed this young man. It made me think of the multiple times I've spoken with Philadelphia teachers - fine professionals, caring men and women who give their all every day, who reach as many students as they can in ways they are not paid enough to do - who talk about students they teach who are 18 and who can't read. Who receive high school diplomas without basic math skills, or who fall far short of diplomas with little to keep them out of a cycle of poverty and joblessness. To me, that's a tragedy. (Just to be clear, I'm not casting blame on the administrator who wrote the letter, or the teachers who are their stories with me.)
Here's the link to the story of Robert, a young man from Georgia who sounds like he could just as easily be a young man from Philly.
Kristen Graham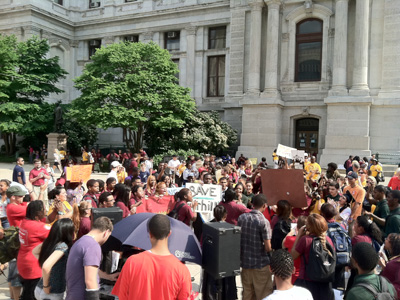 UPDATED: 1 P.M.
A City Council hearing on the Philadelphia School District's budget continues today. Round Two is public comment, beginning at 1 p.m. in City Council chambers.
If you're planning on attending, bring a snack. More than 70 speakers had signed up to testify as of late Tuesday afternoon. I know that several parent organizing groups had encouraged folks to speak out on what cuts would mean for their families - cuts to transportation, full-day kindergarten, alternative education programs, ESL services, you name it.
Kristen Graham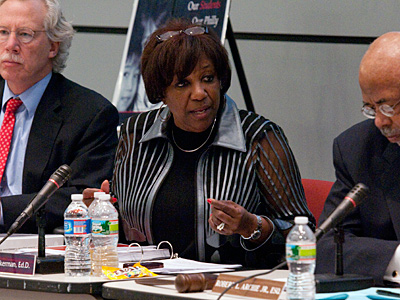 UPDATED, 6 p.m.: Mayor Nutter said he supports the district's "ask" - $75 to $110 million. He said the city now has to figure out funding.
UPDATED, 3 p.m.: Superintendent Arlene C. Ackerman has asked the city for $75-$110 million more from the city. She said the district's top three priorities are full-day kindergarten, restoring transportation services, and keeping class sizes low. She said she'd be open to talking about restoring funding for alternative schools, a priority that Mayor Nutter has signaled is important to him.

Check the live Twitter stream below for minute-by-minute details.
Kristen Graham
The Philadelphia School District today sent out an e-mail to central office staff letting them know that in two weeks, officials will begin notifying departments and employees about staffing levels going forward.
Estelle Matthews, the Chief Talent and Development Officer, wrote that the "Executive Team and Human Resources are working as quickly as we can to give all of you some information regarding your position. The week of June 6, we will begin to notify departments and employees of their positions."
But don't expect a quick resolution. "This notification process will continue until the beginning of September for some of you, depending on the need of your services," Matthews wrote. "We do not take this process lightly and are reviewing positions to ensure we have made the right decision for the district."
Kristen A. Graham
Have questions about the School District of Philadelphia? Share them with Inquirer schools reporter Kristen Graham during today's chat, starting at noon. On mobile? Join the chat here.