Archive: April, 2011
Kristen Graham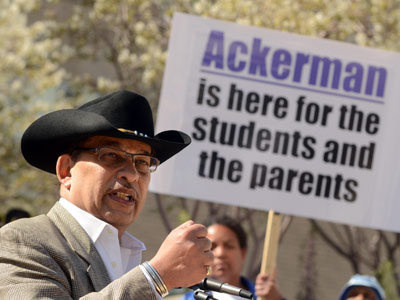 Yesterday, state Rep. Michael McGeehan (D., Phila.) stood outside Philadelphia School District headquarters and called on Superintendent Arlene Ackerman to resign. (See the story, http://www.philly.com/philly/education/119900274.html) Then 100 Ackerman supporters (including some district employees) struck back, holding their own rally outside headquarters staunchly defending Ackerman and denouncing McGeehan. Several speakers suggested McGeehan's qualms with the superintendent were racial.
This morning, about 25 parents are protesting McGeehan outside his Frankford Avenue headquarters in the Northeast.

Parent Sylvia Simms of North Philadelphia helped organize the event. "Because personally, I think Dr. Ackerman is doing a good job. Things can always be better, of course, but what do you expect in two years? Test scores have been going up. There are some good schools in the School District of Philadelphia." Simms heads up Parent Power, a group of folks who are passionate about getting parents involved in the district. The members of Parent Power have often stood up for Ackerman.
Kristen Graham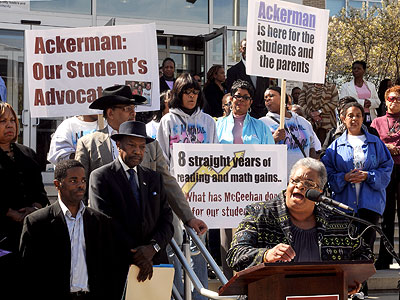 In response to state Rep. Michael McGeehan's call for the ouster of Superintendent Arlene Ackerman, 100 people rallied outside district headquarters defending her.
The pro-Ackerman rally took on an angry tone at times, as some speakers angrily denounced McGeehan and questioned his motives.

McGeehan, who represents parts of the Northeast, said he has hand-delivered a letter to Gov. Corbett asking for Ackerman's removal.
Kristen Graham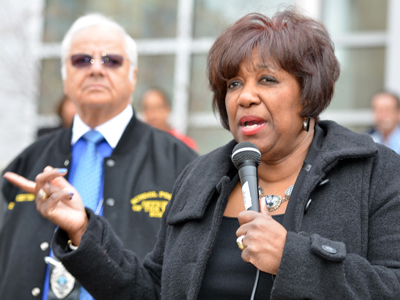 My colleague Martha Woodall has this breaking news:
A state representative from Northeast Philadelphia who has criticized Superintendent Arlene C. Ackerman will call for her removal on Thursday.
"Every day she is there she is doing irreparable harm to the school district," State Rep. Michael McGeehan, D-Phila., said Wednesday night.
Kristen Graham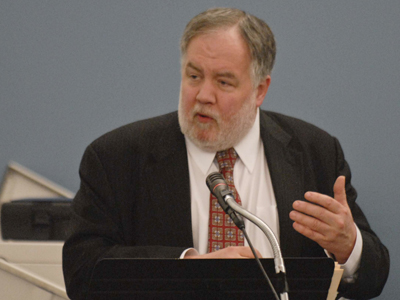 It's a packed agenda at the Philadelphia School Reform Commission meeting today, where officials are hearing a a progress report on the state of the district's finances.

Here's the Cliff's Notes: not good.
Chief Financial Officer Michael Masch has braced us for the coming year's disaster of a budget, with its $629 million gap. But today's presentation also focused on the current fiscal year's budget, 2010-11. The biggest headline today is that the district will need to dip into its reserve to the tune of $25 million to balance the budget this year. That's $25 million that won't be available to offset the $629 million gap for next year. As it relates to next year's budget, Masch said the district has taken hits from people who suggest it should have known about the coming fiscal crisis. Yes, and no, he said.
Kristen Graham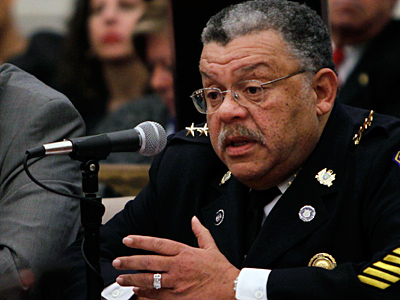 Our Assault on Learning team has been reporting for the past few days on a proposal currently being floated to station city police in the Philadelphia School District's toughest schools. (Read our Saturday story breaking this news here: http://www.philly.com/philly/news/special_packages/inquirer/school-violence/20110409_Nutter_and_Ramsey_consider_putting_armed_police_officers_in_some_schools.html)
In today's paper, our colleague Jeff Shields, reporting on a City Council hearing, noted that Police Commissioner Charles Ramsey told Council that "there are some schools right now being run by gang members." (Read that story here: http://www.philly.com/philly/news/pennsylvania/119674379.html) This, presumably, is evidence for why city police ought to be in schools.
That line really stopped me. Gangs running some city schools. Wow.

Kristen Graham
Arlene Ackerman, Philadelphia's school superintendent, owes the IRS more than $20,000 in back taxes, according to public records. Fox29 first reported this news in a broadcast today.

The superintendent is paid $348,000 annually. That's her base salary, and doesn't include performance bonuses and other perks, like a car, contributions to a retirement fund, a hefty life insurance policy, etc.
District spokeswoman Jamilah Fraser provided a statement from Ackerman's personal tax attorney.
Kristen A. Graham
Inquirer schools reporter Kristen Graham chats about the Philadelphia School District on Monday, starting at noon. On a mobile device? Join the chat here. Read Kristen's latest schools story here.
Kristen Graham
Our seven part investigative series on school violence, "Assault on Learning," contained some frankly startling statistics. (In the 2009-10 school year, an average of 25 teachers, students and staff a day were beaten, robbed, sexually assaulted or victims of other violent crime, for instance.)

I heard from hundreds (and hundreds and hundreds) of folks as the stories ran. Some of them were shocked - they didn't realize things were that bad. Some of them were gratified - they were glad that my colleagues and I told the story of what they deal with every day. And some were angry. "But I (send my child to, teach in, volunteer in) a Philadelphia public school that is safe."
Let me be clear - violence is pervasive in too many of the district's 257 schools. It's certainly more pervasive than officials would let on. We wrote about schools across the city that have struggled with unsafe conditions. We wrote about schools where violence is not just a threat in the hallways, but in the classroom.