Kristen Graham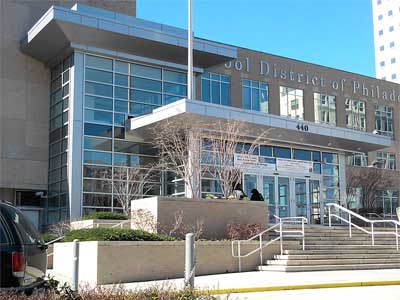 Grading schools is always a tricky business.
But PennCAN, the local arm of a national nonprofit that aims to "enact research-based education reforms that will give every child in their state access to a great school," has attempted to do just that — assign a letter grade to every school and school district in Pennsylvania in a new database released today.

The methodology, the organization said, is simple — schools get letter grades in five categories, from student performance to performance gains. Also considered are: subgroup performance (for low-income, African American and Latino students), achievement gap, and four-year high school graduation rates. The scores considered come from the highest tested grade at each school.

Kristen Graham
8:45 p.m.
The SRC voted on school closures, ending the school-by-school voting at 8:33 p.m. Here's a list of what's staying open and what's closing:
STAYING OPEN:
TM Peirce Elementary School, 2300 W. Cambria Street

Taylor Elementary School, 3698 N. Randolph Street

Roosevelt Middle School, 430 E. Washington Lane

Robeson High School, 4125 Ludlow Street
Kristen Graham
State Rep Jordan Harris (D., Phila.) wants to change the makeup of the School Reform Commission, the governing body of the Philadelphia School District.
Harris has proposed legislation that would add three new members to the panel, which currently consists of three gubernatorial nominees and two mayoral picks. Harris wants the governor to select a city charter school parent and the mayor to pick a parent representative from a district school plus the president of the city's student government association. (The student would be a non-voting member of the SRC.)
SRC members are not paid.

Kristen Graham
UPDATE, 9:30 p.m.
No way: the protesters were not evicted, said Mark McDonald, Mayor Nutter's spokesman.
McDonald said the protesters were told at about 6 p.m. that they needed to leave. At about 7:15, well after the mayor and most city employees had left for the day, they were given the same message. They would be escorted out, but were welcome to return Wednesday, officials told the group.
Kristen Graham
Safe to say that state Senator Vincent Hughes is steamed.
In a sharply-worded letter to SRC Chairman Pedro Ramos, Hughes (D., Phila.,) expressed "deep concerns" over the Philadelphia School District's recent opening contract proposal to the Philadelphia Federation of Teachers.
Hughes' bottom line? Don't ask 15,000 teachers and others to sacrifice when you're not demanding Gov. Corbett pay his fair share.

Kristen Graham
Hundreds of people gathered at Bright Hope Baptist Church in North Philadelphia on Sunday to remember former city schools chief Arlene Ackerman.
Ackerman, who died -of pancreatic cancer last month at age 66, was remembered by politicians, parents, district staff and others for her "warrior heart," as former School Reform Commission Chairwoman Sandra Dungee Glenn said.
Dungee Glenn recalled how she begged Ackerman, who in 2008 was a professor at Columbia University's Graduate School of Education, to come to Philadelphia. After six weeks, Ackerman, who also worked as superintendent in Washington D.C. and San Francisco, finally agreed.
Kristen Graham
A great deal has been said about the Philadelphia School District's initial contract proposal to the Philadelphia Federation of Teachers. So far, little of that has been said by district officials, who have declined to go into specifics.
On Thursday afternoon, I sat down with Superintendent William R. Hite Jr., who very much wants the public to know that he's first and foremost an educator, that he values teachers, and that he does not want to drive anyone out of the district.
"We believe teachers are professionals, just like architects, lawyers, doctors," Hite said. "We want a contract that reflects that. I truly believe that in order for teachers to be effective, there needs to be some flexibility and we need to treat them as professionals."
Kristen Graham
I've read the Philadelphia School District's full list of demands from teachers, and it's a doozy. (That's on top of details reported last night and in this morning's Inquirer.)
Some bullet points:
First, the financials - as already reported, pay cuts 13 percent for those who make $55,000 and above, with lesser cuts for those who earn less. (Employees who make under $25,000 would take a 5 percent cut.)