Archive: August, 2011
Kristen Graham
The Philadelphia School District's principals' union has said no to a deal that would have given the district financial concessions.
Robert McGrogan, president of the local Commonwealth Association of School Administrators, said the vote was incredibly close, decided by four votes. It was finalized Tuesday.

In the end, the proposal - which would have delayed raises and meant contributions toward healthcare if they had been adopted by the larger teachers' union - was just too tough a sell, McGrogan said.
Kristen Graham
With the first day of classes rapidly approaching, I'd like nothing better than to be writing about what's ahead for the Philadelphia School District's 2011-12 school year.
But there are still a few details of the Arlene Ackerman long goodbye that deserve mention.

Here's one: her farewell video.

Kristen Graham
Arlene Ackerman took aim at the Philadelphia School District again on Thursday morning, suggesting that parents ought to pull their children out of failing public schools and "vote with their feet." She said she would stay in Philadelphia, at least temporarily, to give parents seminars on how to advocate for their children.

Vouchers, which many public education advocates strongly oppose, "may be an alternative," she said.
Ackerman made her comments in an explosive interview with WURD 900 AM.
Kristen Graham
7:30 p.m.
The Philadelphia School District just released Arlene C. Ackerman's separation agreement, which could be worth $1 million when you factor in pay for unused sick and vacation time, health insurance through June, 2013 and other benefits. Her $905,000 payment includes $405,000 in anonymous donations.

Read the agreement between Ackerman and the SRC here.
Kristen Graham
News of Arlene Ackerman's departure as superintendent broke this morning. Here's Philly.com's Daniel Victor's take on the developing story:
>
Kristen Graham, Susan Snyder and Jeff Gammage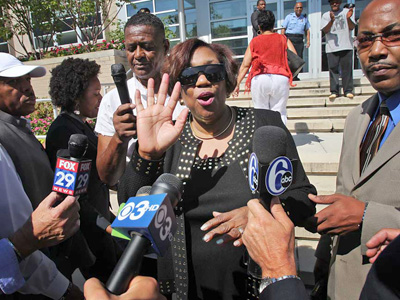 8:40 p.m.

Arlene C. Ackerman's predecessor had some harsh words for her buyout.
Former CEO Paul Vallas, who left Philadelphia in 2007, said that "in this climate of fiscal distress with huge layoffs of teachers and administrators, to offer anyone $900,000 not to work is unconscionable. I think the people who agreed to this deal ought to have their heads examined."
Kristen A. Graham
UPDATE, 6:15 p.m.
District spokeswoman Jamilah Fraser just called me to clarify a point. Arlene Ackerman's speech at the 2011 Superintendent's Leadership Conference today was NOT a farewell, Fraser said.
"It was not in any way, shape or form a goodbye speech," Fraser said. "She's not leaving."

Kristen Graham
UPDATE, 2:10 p.m.
Emerging from district headquarters to greet supporters and speak to the media, Philadelphia schools chief Arlene C. Ackerman was unequivocal - she's not going anywhere.
"I am superintendent of schools," Ackerman said.