Archive: June, 2011
Kristen Graham
The Philadelphia School District is "currently engaged in positive conversations with the unions to help close the district's budget gap," it says, and the administration will not recommend canceling contracts tomorrow.
The district had been banking on $75 million in savings from its five unions. The Philadelphia Federation of Teachers had previously said it would not negotiate.
"We are not aware of negotiations," said Nadine Bonner, a spokeswoman for the PFT.

Kristen Graham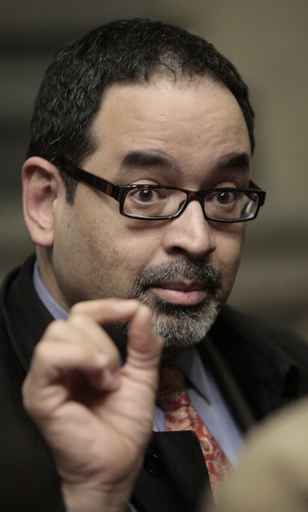 Tomas Hanna, a top aide to Superintendent Arlene Ackerman, is leaving the Philadelphia School District for a job in New York.
Hanna had been a district teacher, principal, chief of staff to Ackerman and, most recently, the Associate Superintendent of Academic Supports. He leaves the district in mid-July to become Chief of Innovation for the country's largest school system.

"Tomas's dedication to the young people in this District has been invaluable to our efforts to decrease violent incidents and make our schools more personal for our students and their families. I know that he will bring a fresh, new perspective to Chancellor Walcott's vision for New York City's Innovation Zone (iZone) initiative," Ackerman said in a statement.
Kristen Graham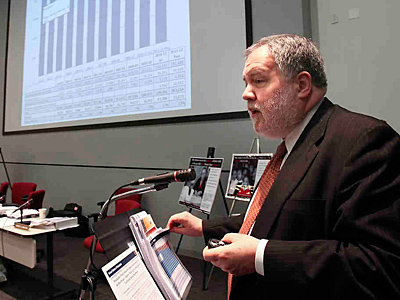 Philadelphia School District Chief Financial Officer Michael Masch said at a press briefing Wednesday that the school system now faces an additional $35 million in cuts.
The district was banking on $57 million in reimbursements for charter school costs, but the state is declining to provide the funds. The district did receive $22 million more than expected thanks to an Accountability Block Grant, bringing the total gap to $35 million.
That's above and beyond the $629 million gap announced this spring and made up through a combination of layoffs, deep program cuts and additional money from the city.
Kristen Graham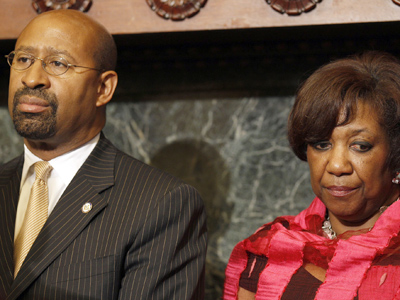 At a dramatic, contentious SRC meeting that just ended, Superintendent Arlene C. Ackerman denied reports that she is in talks to end her contract and said that the rumors were spread by people who don't like her agenda.
"I see it as adults who do not have the best interests of all children at heart," Ackerman said after the meeting.
She said she still had the backing of the SRC and Mayor Nutter, and that she has no plans to leave.
Poll: Ackerman, stay or go?

(1116 votes)
Kristen Graham
With so much attention fixed on budgets - both state, city and Philadelphia School District - other news has gotten lost in the shuffle.

But it's worth noting that last week, legislation advanced in Harrisburg that would directly impact the district. State Rep. Michael McGeehan (D., Phila.), a vocal critic of Superintendent Arlene C. Ackerman and the district, is the author of two amendments, one restricting bonus and other "ancillary incentive" payments for superintendents of distressed school districts, and one mandating the state Auditor General audit distressed districts every four years and notify the Department of Education if fiscal irregularities are found. (There are only two distressed districts in the state at the moment - Philadelphia and Duquesne.)

McGeehan and others have taken aim at Ackerman's salary - nearly $350,000 in cash compensation annually, not including bonuses and other perks. She will be paid an additional $100,000 this Thursday as a retention bonus. (Ackerman has said that given the district's current fiscal problems, she will defer - but not forego - the bonus.)

Kristen Graham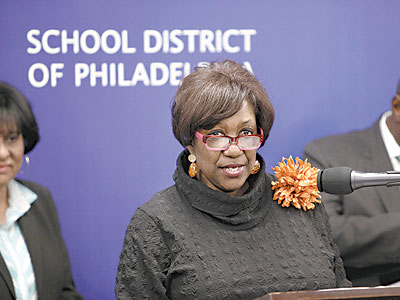 The Philadelphia School District and the teachers union agreed to drop a court case today and go straight to arbitration, and as a result, most of the 1,600 teachers who got pink slips earlier this month will be laid off on July 1.
There had been a temporary order halting the layoffs until a judge heard the Philadelphia Federation of Teachers' case, but that was effectively lifted this morning with Common Pleas Court Judge Idee C. Fox ordering the case to arbitration.
The PFT argues that the district may not exempt teachers from the district's so-called Promise Academies - overhauled schools with extra resources - from layoffs. The district believes it can.
Kristen A. Graham
Inquirer schools reporter Kristen Graham will be taking your questions about the School District of Philadelphia on Monday, June 27, starting at 1 p.m. On mobile? Click here to join the chat.
Kristen Graham
State Sen. Vincent Hughes will introduce legislation today that would end the Philadelphia School Reform Commission's power to terminate its collective bargaining agreements.
The move comes in response to the SRC's promise to cancel contracts and impose terms on its five unions if they do not agree to $75 million in givebacks to help bridge the Philadelphia School District's massive budget gap.

Hughes, in an interview, said that terminating union contracts sends the wrong message.