Archive: December, 2011
Kristen Graham
Tucked in today's story about "Occupy 440" - a group of school nurses' protest against the Philadelphia School District's latest round of budget cuts - was a line you may have missed:
District spokesman Fernando Gallard said the Promise Academies had had "significant cuts," including the elimination of the entire central office staff that supervised those schools, which was also axed as of Dec. 31.
Promise Academies, of course, are district-run turnaround schools, the signature initiative of former Superintendent Arlene Ackerman. They operate with extra money and staff in an effort to turn around years of failure - and to combat years of inadequate resources. The first six Promise Academies opened in 2010; three more opened this fall. (Ackerman wanted to open 11, not three, but budget woes caused the School Reform Commission to drastically scale back that plan.)
Kristen Graham
Waving signs and chanting "save our nurses," about 50 people gathered outside Philadelphia School District headquarters today to protest the latest round of budget cuts.
They called it "Occupy 440." The protest was not organized by Occupy Philadelphia, but some Occupy Philadelphia protestors joined the cause on North Broad Street.

Effective Dec. 31, 141 employees - including 47 nurses, 28 secretaries, 18 non-teaching assistants, and others — will lose their jobs.
Kristen Graham
And then there were five.
Feather Houstoun was just confirmed as a School Reform Commission member by the state Senate. The former William Penn Foundation chief and Pennsylvania welfare secretary is expected to attend the SRC meeting scheduled for Friday.
It will be the first time since early this year that the SRC has a full five members. David Girard-diCarlo resigned this winter, then Robert L. Archie Jr. and Johnny Irizarry more recently.
Kristen Graham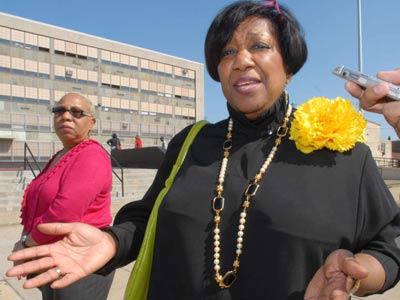 In an e-mail to the Inquirer, former Superintendent Arlene Ackerman has said she did not order pay raises given to some Philadelphia School District employees over the past few months and said that allegations against former district Human Resources executive Estelle Matthews are "serious."
Matthews was escorted out of district headquarters last week; a spokesman said she was "allowed to resign" from her job. The district's Inspector General recently gave the School Reform Commission the draft report from an investigation that found several questionable pay increases totaling more than $80,000 to Matthews' friends and their relatives. The raises were given at a time when thousands of employees were being laid off and schools were being ordered to cut programs and staff to close a $629 million district budget gap.
There were also allegations that Matthews' son was given district jobs despite lacking qualifications.
Kristen Graham
A byproduct of the Philadelphia School District's draconian budget cuts?
Educators have to get creative.
S
o when the offer of a free online platform for high schools looking to beef up students' leadership, entrepreneurship and financial literacy skills came along, Franklin Learning Center Principal Charles Staniskis jumped.
Officials at the University of Pennsylvania's Wharton School recently named the Philadelphia School District the first member of its Knowledge@Wharton Global Leaders Network.
FLC will begin accessing the network's lesson plans, articles written specifically for high school students, business games and online discussion forums that give students access to professors, industry experts and peers. There will be competitions too - the first one will challenge students to create and implement a social media strategy for Knowledge@Wharton High School.
Several schools have already signed on to the network, which is open to any district school that chooses to use it.
"The budget cuts are so terrible that any type of learning center that comes by with no cost, we are very very happy to use," Staniskis said. "It's a major factor."
Free is good, of course, but the content is the most crucial part of the equation.
"Right now, there are a lot of hucksters out there," Staniskis said. "They'll put any old stuff out there. But I know Penn's rigor. We're looking forward to trying out the materials and getting them integrated into different subject areas. I like that students get to talk to professors, talk to people in industry, get involved in competitions, apply knowledge. We're in a state now that just learning from a textbook is not going to cut it."
Seniors at the Philadelphia High School for Business and Technology have already begun using the network, poring over an article on whether college is really worth its high price tag. Principal Eileen Coutts said she will also incorporate the network into workshops, into English classes.
"It's a fantastic teaching tool," Coutts said.
Germantown High business teacher Sharon Ann Daniels uses the lesson plans in her freshman seminar class and the personal finance class she teaches to older students.
"I'm connecting on a whole new level on how to bring rigor and relevance to my students," Daniels said.
She's a fan of how the program will connect her students to their peers across the country.
"Granted, our PSSA scores are not the best," Daniels said, "But I don't want my students to be limited by where they are. I want them to know they're competing worldwide - not just with Germantown or Philadelphia, but the rest of the world. This exposure can take them to great places."
Districts across the country and schools around the world will eventually be invited to join the network, Wharton officials say.
Kristen Graham, Susan Snyder and Martha Woodall
Estelle Matthews, the Philadelphia School District's Human Resources chief, is out.
It's not yet clear the circumstances surrounding her departure, but Matthews' last day was yesterday, a district employee who answered Matthews' phone said.
District spokesman Fernando Gallard said he could not confirm Matthews' departure.
Kristen Graham
Left to languish, some Philadelphia School District buildings have become dangerous neighborhood eyesores, a review of vacant school properties found.
In the review released this morning, City Controller Alan Butkovitz found that two schools are "drug havens" with "extremely unsanitary conditions," including used syringes, needle caps, human waste and piles of garbage. Drug parapharnelia was found at the Rudolph Walton School, 2601 N. 28th Street, and the Simon Muhr School, 12th and Allegheny.

Three schools have become "locations for crime" with robbery, theft, drug possession and assault occurring on site.

Kristen Graham and Susan Snyder
Kelley Hodge, who was until recently assistant chief of the Philadelphia District Attorney's Juvenile Court Unit, has just been named Philadelphia's Safe Schools Advocate.
The state-appointed independent watchdog position has been vacant for more than two years.
In her new role, Hodge will advocate for victims of crimes inside city schools. She's also charged with monitoring the district's compliance with reporting violent incidents to the city and state.