UPDATE, 6:30 p.m.
Waving signs, chanting, giving speeches, singing songs, hundreds of fed-up Philadelphia School District students gathered to protest budget cuts over several hours.
Frankford High junior Hector Gonzalez was clear.
Kristen Graham
The fate of a North Philadelphia charter school will soon be back in the hands of the School Reform Commission after 10 days of testimony concluded Friday.
The Philadelphia School District seeks to shut down the Truebright Science Academy Charter School, citing problems with academic performance and lack of certified teachers. The SRC, in a nonrenewal vote last year, also cited allegations that the charter's board did not respond to concerns of staff or parents.
Kristen Graham
After a significant two-year battle, teachers at the New Media Technology Charter School in West Oak Lane have voted to unionize, the Pennsylvania American Federation of Teachers said Tuesday.
The vote was 26 to 3, and is significant because of how it occurred. New Media's teachers had asked to be recognized under public labor law, but the school contended that New Media was a private entity - even though it receives more than $5 million in public money.
The New Media vote was the first in the state to be held according to private labor law. It was overseen by the National Labor Relations Board.
Kristen Graham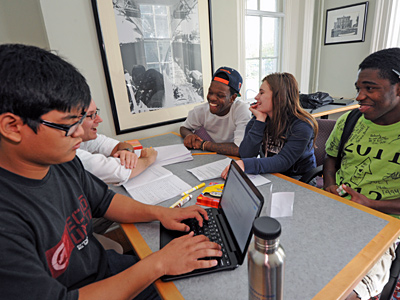 A city nonprofit with growing clout will spend $6 million to expand two successful public schools and turn another Philadelphia School District program into a full-fledged high school, officials announced Wednesday.
The Philadelphia School Partnership's money will grow the Hill-Freeman magnet middle school in East Germantown into the high school grades; add a second campus of the Science Leadership Academy; and turn the Workshop School, now in its second year as an alternative senior-year project, into its own high school.
Philadelphia School Partnership, which is well on its way to raising $100 million to invest in strong charter, public and nonpublic schools across the city, has also signaled its intent to give away another roughly $2 million to district schools affected by the School Reform Commission's move to shut 24 buildings. That money will fund grants to schools receiving large numbers of students from closing schools.
Kristen Graham
Bethune Elementary School, on Old York Road in North Philadelphia, was on lockdown for an hour this morning after staff observed a trespasser inside the school. The lockdown began at 8:45.
Police were called, and an adult male was discovered outside the school. He was arrested for trespassing, and the lockdown was lifted at about 9:45, said Chanice Savage, a district spokeswoman.
It was unclear what the trespasser was attempting to do inside Bethune.
Kristen Graham
(Scroll down for live-tweet coverage)
6 p.m.
(Update from briefing with superintendent, chief financial officer)
Kristen Graham
Hi, all. Tonight, I'll be livetweeting the School Reform Commission's strategy/policy/planning meeting, which will tackle the subject of career and technical education (also known as vocational education.)
We talk a lot about kids being ready for college, but we know that strong career and technical ed programs are crucial for many kids. And the Philadelphia School District has acknowledged that its programs need to be significantly strengthened.
So, follow along here, or on Twitter. On a mobile device? Click here. You can also stream the meeting directly at the district's website.
Kristen Graham
A newly-formed umbrella group of many of the city's leading education nonprofits hopes to affect the upcoming Philadelphia teachers' contract.
The "Coalition for Effective Teaching," made up of the Aspira Association, Congreso de Latinos Unidos, Education Voters of Pennsylvania, Philadelphia Education Fund, Public Citizens for Children and Youth, The Urban League of Philadelphia and the United Way of Greater Philadelphia and Southern New Jersey has studied the current Philadelphia Federation of Teachers contract and is today announcing recommendations for changes, both for teachers and the Philadelphia School District management.