Arlene C. Ackerman, 66, a lifelong educator who led the Philadelphia School District for three years, died of pancreatic cancer Saturday in Albuquerque, N.M., school district officials said.
Dr. Ackerman was as a colorful, controversial figure during her tenure in Philadelphia, which began in June 2008 and lasted until August 2011. She called it her "last stand for kids."
She was a firm believer that all children could achieve, and pushed an agenda that focused on funneling resources to the neediest students.
Kristen Graham
More Philadelphia public schools will be given to charter organizations in September, the district's fourth go-round in its "Renaissance Schools" process.
The district on Friday released a request for proposals for 2013-14 charter operators, no big surprise since officials have been saying for months that while they won't be authorizing any new standalone charters for next year, they like the Renaissance charter model and will continue to use it as a way to improve failing schools.

Officials said they would release the details of this year's crop of Renaissance schools on Feb. 11. A spokeswoman declined to say how many schools will be given to charters this year.
Kristen Graham
Philadelphia Superintendent William R. Hite Jr. met with Phillies lefthander Cole Hamels and others from the pitcher's foundation today, and officials proclaimed it "a very positive meeting."
The foundation started by Hamels and his wife Heidi has given hundreds of thousands to city public schools in recent years - money for playgrounds and libraries, audio equipment, gardens and other school improvements.
But a number of the schools the foundation donated to have landed on the list of 37 schools the district wants to close in June. Taylor Elementary in North Philadelphia, for instance, just got a $300,000 playground installed thanks to the foundation, and it could shut its doors forever at the end of the school year.
Kristen Graham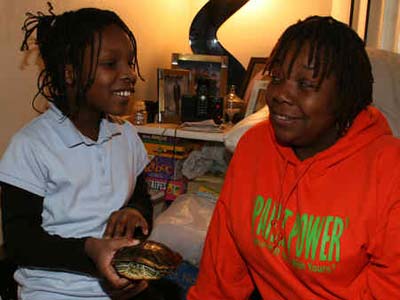 A shakeup is coming to the Philadelphia School Reform Commission, the Inquirer has learned.
Commissioner Lorene Cary, who had taken a leave of absence for medical reasons, will not be reappointed. Her term is up at the end of the month" . In her place, Mayor Nutter will appoint Sylvia P. Simms, a parent advocate.
Wendell Pritchett, whose term is also up this month, will be reappointed to the SRC.

Kristen Graham
Days after a woman was stopped from entering South Philadelphia High when a gun was discovered in a diaper bag she was carrying, another loaded gun was recovered just outside the school, authorities said Wednesday.
"We probably prevented a tragedy, a homicide or a shooting," said Chief Inspector Cynthia Dorsey, head of the Philadelphia School District's police force.

The gun was found last Friday when a school police officer observed a young man outside the school at Broad and Snyder at about 3 p.m., near school dismissal time.
Kristen Graham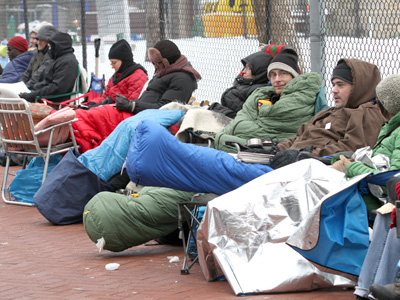 By Friday morning, 70 people had lined up on Locust Street to register their children for kindergarten at one of the city's most sought-after public schools.
By mid-afternoon, there were tents, chairs, takeout food containers, an RV, and a man erecting a temporary structure complete with plywood floors and insulation.

Kindergarten registration doesn't begin until Tuesday.

Kristen Graham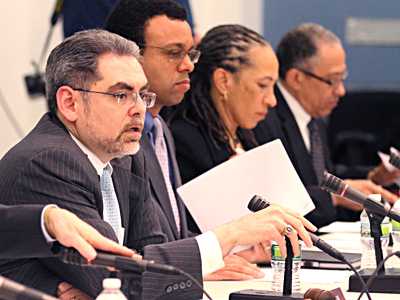 Ready for a marathon SRC meeting? On the agenda tonight: non-renewal vote for Community Academy of Philadelphia Charter School, the city's oldest charter; new plan for Career and Technical Education (that's vocational education); and a whopping 81 speakers, many of whom I'd guess will be discussing planned school closings. I'll be livetweeting - follow along! The meeting is scheduled to begin at 5:30.
On a mobile device? Click here to follow along.
Kristen Graham
In the wake of the

Na'illa Robinson abduction from Bryant Elementary School - an event that officials said revealed serious breaches in Philadelphia School District protocol - the superintendent has sent an email reminding all staff of safety procedures.

Five-year-old Na'illa was taken from her classroom by a woman who identified herself only as "Tiffany." No school leader was present; the teacher in Na'illa's classroom that day was a substitute. District procedure forbids the release of a student from a classroom. It also requires the principal or someone he or she designates witness the release of the student from the school's main office.

Schools chief William R. Hite Jr. wrote in an email sent tonight that:

"As part of the ongoing effort to ensure that student safety is an integral part of each school's mission, it is necessary to regularly review school safety plans and District policy. It is crucial that all school staff be aware of safety policies and procedures, as well as their role in implementing them, in order for schools to provide a safe environment for students and staff.

A policy which must be included for review on a regular basis is the Special Release of Pupils, Policy #103.5. This policy is located at http://www.philasd.org/offices/administration/policies/principals/103-5.html. Staff members must be aware of this policy and their role in implementing it.

Policy 103.5 details the steps that must be followed when any individual seeks the early departure of a student. Staff members are reminded of the following: