Archive: June, 2011
Kristen Graham
Students and elected officials gathered in the sweltering heat Thursday to demand that the Philadelphia School District restore funding to 13 accelerated schools that educate overage, undercredited youth.
Student Princess Rahman, 19, dropped out of Martin Luther King High. At King, she said, she was bored and disengaged; she fought and attended school only sporadically. Now, she attends North Philadelphia Community High School, one of the accelerated programs.

The Philadelphia School District has cut funding to all 13 schools. It says it will take the programs in-house, serving more students for less money.

Kristen Graham
This just in! Mayor Nutter, Pa. Secretary of Education Ron Tomalis, SRC Chairman Robert L. Archie Jr and Superintendent Arlene Ackerman will make an "important announcement regarding education" at 4 p.m. at City Hall.
No clues as to what that means. But I will bring you the news via live Tweet. Check back here.
Kristen Graham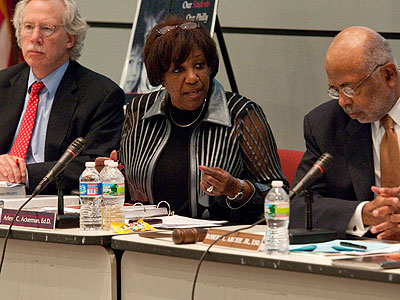 Hi, all. Today's SRC meeting, which I'll be live Tweeting, begins at 2 p.m. The agenda doesn't give us many clues about what to expect, but there's always some kind of news, and today should be no exception, especially with all the budget/superintendent/governance questions in the air just now.
The latest out of Harrisburg: State Rep. Angel Cruz (D-Phila.) has blasted his colleagues in the Legislature for failing to pass laws that would prohibit bonus payments for superintendents and allow lawmakers to remove superintendents who are not performing effectively.

The legislation was introduced by State Rep. Michael McGeehan (D., Phila.), a vocal critic of Philadelphia Superintendent Arlene C. Ackerman.

Kristen Graham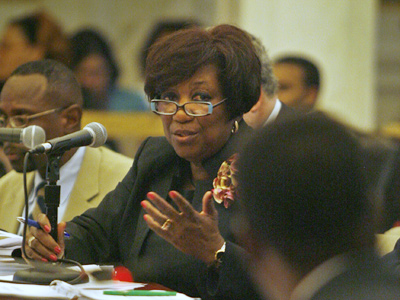 I think we'll all agree that things at the Philadelphia School District are just a little...charged at the moment, with a $629 million budget gap and Mayor Nutter calling for much more scrutiny of the district.

Superintendent Arlene C. Ackerman knows that, too.

Before today's SRC meeting, a Fox 29 microphone and camera caught Ackerman talking to Commissioner Joseph Dworetzky, saying that she wanted her "job for life back...I want it back," she said.

Kristen Graham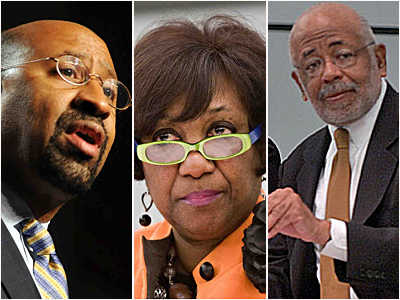 UPDATE, 6 p.m. - The district says in a press release that 3,024 employees total will be given layoff notices. Among those, 1,523 are teachers and 490 are central office staff. Layoffs began today and will continue.
Site selection - planned for Wednesday after school - is still on for now, but the district's General Counsel is reviewing, a spokesman said.

UPDATE, 4:05 p.m. - An injunction has been issued, and layoff notices for 1,500 teachers are rescinded at least until a June 14 hearing, reports my colleague Troy Graham, who was inside the courtroom.
Kristen Graham
UPDATE: SEPTA and the Philadelphia School District have said that there is a "basic framework to continue providing Transpasses for the schoolchildren of Philadelphia for the upcoming school year." They are hammering out a one-year agreement which would keep giving 60,000 kids free public transportation. A final agreement should be worked out in the next few weeks, they said.
UPDATE: In a nutshell: the full-day kindergarten issue has been solved. Federal Title I dollars will be used to fund the program; a solution that Superintendent Arlene Ackerman said only came together Friday afternoon. She said this was not an option before this week. This is a permanent fix, but will mean that money has to come from other things typically funded by Title I money, which have historically included professional development, summer programs, reduced class size initiatives, etc. No decisions have been made on what to cut.
BREAKING: Parents briefed by the superintendent this afternoon say the announcement will be the restoration of full-day kindergarten for 2011-12. The program will be paid for through Title I funds.
Kristen A. Graham
Have questions about the School District of Philadelphia? Share them with Inquirer schools reporter Kristen Graham and Baruch Kintisch with the Education Law Center during their June 6 chat, starting at noon. On mobile? Join the chat here.
Kristen Graham
So, as a former Philly public school student, I can tell you first-hand that hot weather + Philadelphia School District buildings = not a good combination. The vast majority of the district's buildings are old and un-airconditioned, and sweltering is probably not going far enough for how they feel in this weather. Forget teaching and learning - those aren't good conditions for anyone's health.

After watching the sizzling weather forecast, officials made the call to dismiss schools early today, at 1:30.

But I've heard from a number of parents that they didn't find out about the early dismissal until pretty late in the game - some as late as 1 p.m. or afterward, and some never actually got the official word from a school or district notification.