Archive: October, 2011
Kristen Graham
UPDATE, 11:30 a.m. Monday
Mary Beth Hertz found out this morning that she has been eliminated from the contest.
EARLIER

Kristen Graham
UPDATE, 3:15 p.m.
A brief statement from PFT President Jerry Jordan was just posted. It reads:

Kristen Graham
Gov. Corbett has announced he will name Pedro Ramos chair of the Philadelphia School Reform Commission. Ramos, a former school board member, is awaiting confirmation by the state Senate; Corbett nominated him to fill a vacant SRC seat earlier this year. The announcement is not a surprise - Ramos was widely expected to become the next SRC chair, and speculation increased after former chairman Robert L. Archie Jr. resigned in September.
Until Ramos is seated, new SRC member Wendell Pritchett will serve as interim chair, a Corbett spokesman said in a news release. Pritchett was recently appointed by Mayor Nutter. He'll attend his first SRC meeting later today.
I'll be live Tweeting the meeting; check back here for updates, or follow me @newskag. The meeting is scheduled for 2 p.m.
Kristen Graham
3:05 p.m.
Two main pieces of news out of today's news conference:
First, there will be two "executive advisors" to support and guide Acting Superintendent Leroy Nunery and the SRC. They are Lori Shorr, Mayor Nutter's top education official, and Ed Williams, a former district Chief Academic Officer. They will have offices at the district and work closely to provide "real-time, two-way communication" between the city and state and the district. They will be in place until a permanent superintendent begins his or her job.
Kristen A. Graham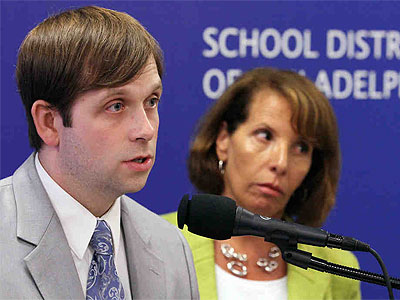 Inquirer schools reporter Kristen Graham takes your questions today starting at noon. On mobile? Click here.