Archive: July, 2011
Rick O'Brien, Inquirer Columnist
Mike Fitzgerald, a three-sport athlete at Germantown Academy, has orally committed to play baseball at Northeastern University.
The 5-foot-10, 170-pound Fitzgerald, a righthanded pitcher and middle infielder, is recovering from Tommy John surgery performed last month. He is a midfielder in soccer and placekicker-punter in football.
-Rick O'Brien
Rick O'Brien, Inquirer Columnist
La Salle's Ryan Otis, a quick-footed senior centerfielder and leadoff man, has committed to play baseball at Bucknell.
Otis helped the Explorers reach the Catholic League semifinals last season.
In football for La Salle, he is a cornerback.
Rick O'Brien, Inquirer Columnist
Anthony Nash, a two-sport standout at West Chester Rustin, has orally committed to play football at Duke.
"I think Duke's pro-style offense is a good fit for me," said the 6-foot-4, 186-pound senior wide receiver. "And the coaches told me there's a chance I could start as a true freshman. That possibility excites me."
Last year, Nash, also a cornerback for the Golden Knights, caught 48 passes for an area-best 1,105 yards and 15 touchdowns. He was an Inquirer second-team all-Southeastern Pennsylvania selection.
Rick O'Brien, Inquirer Columnist
Skyler Mornhinweg, looking for a new college home after Jim Harbaugh left Stanford and took over the San Francisco 49ers, was won over by the Penn State coaching staff in a one-and-a-half day unofficial visit to State College last month.
Mornhinweg, a 6-foot-3, 215-pound senior quarterback at St. Joseph's Prep, orally committed to the Nittany Lions in a media conference call Tuesday.
Joined by his father, Marty, the offensive coordinator for the Eagles, he met in June with head coach Joe Paterno, QBs coach Jay Paterno, offensive coordinator Galen Hall, and recruiting coordinator Ron Vanderlinden.
Rick O'Brien, Inquirer Columnist
St. Joseph's Prep QB Skyler Mornhinweg commits to Penn State. Here are some of the press-conference hihglights:
3-year starter
2 years as two-way starter (QB and DB)
Rick O'Brien, Inquirer Columnist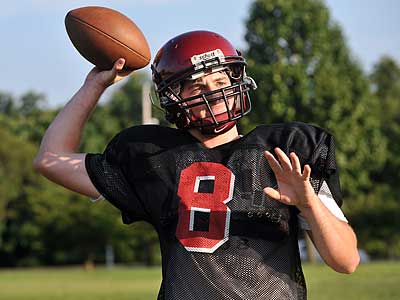 St. Joseph's Prep quarterback Skyler Mornhinweg will announce his decision to play for Penn State in a conference call 2 p.m. Tuesday, according to a source.
The 6-foot-3, 215-pound senior orginially gave a verbal committment to Stanford prior to his sophomore season but opted out when coach Jim Harbaugh took the San Francisco 49ers job.
Tennessee, Alabama, and Illinois were among the other leading candidates for his services. He took visits to Tennesee and Alabama, but not Illinois. Until recently, the strong-armed QB also considered staying with Stanford.
Rick O'Brien, Inquirer Columnist
Neshaminy's Ryan Arcidiacono has been selected to play in the ESPN RISE Games AAU 11th Grade Boys Basketball Super Showcase.
The event is part of the AAU National Championships held at the ESPN Wide World of Sports Complex at Walt Disney Resort in suburban Orlando, Fla.
Action tips off on July 23, with games airing live on ESPNU and ESPN3.com on July 26 and 27 at 7 p.m.
Rick O'Brien, Inquirer Columnist
John Loughery, a strong-armed quarterback and recent Penn Charter graduate, said he will attend the Hun School, in Princeton, N.J., for one year.
The 6-foot-5, 210-pound Laoughery had planned to play at Wyoming Seminary, in Northeast Pennsylvania. "They're not going to field a team this year," he said. "They weren't going to have enough numbers."
"The Hun School looks like a good fit for me," he said. "It's something I'm looking forward to."