What Military Day means to Hall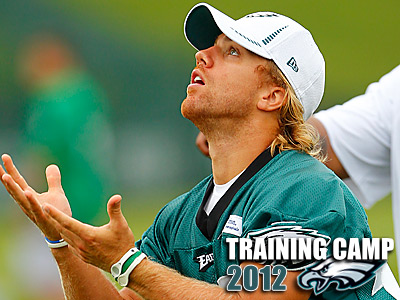 Eagles coach Andy Reid considers today's Military Day at Eagles training camp a special occasion. "Without the military, we're not able to do what we do as players, as coaches and as a country. Our hats are off to them."
What Military Day means to Hall
Eagles coach Andy Reid considers today's Military Day at Eagles training camp a special occasion. "Without the military, we're not able to do what we do as players, as coaches and as a country. Our hats are off to them."
The team wore camouflage basehall hats during the morning walk-through and several afternoon events are planned, including the arrival of 300 Eagles fans serving in the military.
After the team's practice, receiver Chad Hall, who played at Air Force and served for a year as second lieutenant, will be joined by Sergeant Shane Parsons, a representative from the Wounded Warrior Project, to shave his head as a fund-raiser for the group.
Hall's teammates will donate a designated amount to the Project for each "swipe" of his hair, until the long-haired, third-year vet has lost it all. "I'm going from one extreme to another," Hall said beforehand.
What's the best news so far out of training camp?

DeSean Jackson's attitude adjustment
  49 (16.0%)
Brandon Graham looking like the first-round pick he was in 2010
  206 (67.3%)
Mike Vick still healthy, into August!
  51 (16.7%)
Total votes = 306
His Air Force buddies think he's crazy. "They're all telling me not to do it," Hall says. "They're jealous of my hair."
Parsons, whose convoy was attacked in 2006 in Iraq, suffered a severe anoxic brain injury and two cardiac arrests, and bilateral above-the-knee amputations. He's now a high school football coach.
Hall says he tells teammates who ask about his service, "I tell them it's real. It's not a videogame, it's the real thing. We need to take the time to respect these guys."