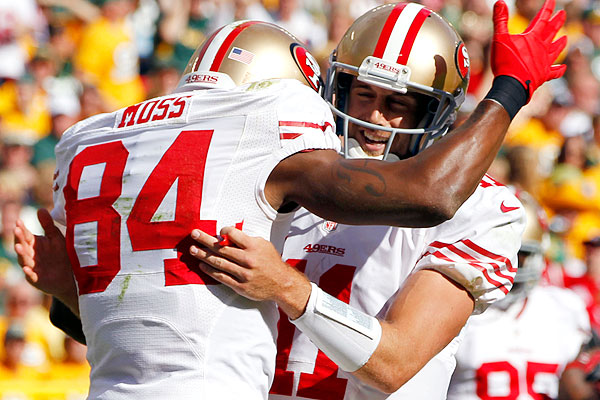 San Francisco's Randy Moss is congratulated by quarterback Alex Smith after Moss caught a touchdown pass during the first half of the Niners' 30-22 victory over the Packers Sunday. (AP)
The opening week of the NFL season taught us a few things — RG III is legit, Brandon Weeden isn't — but the 16-game schedule is a marathon, not a sprint. What teams showed in the first week is not predictor of what's ahead. So, here's our first NFL power rankings of the season; do not expect the rankings to look the same at season's end, or even next week.
1. San Francisco (1-0): Everything went the 49ers' way in a convincing 30-22 win over Green Bay—including an NFL-record-tying 63-yard field goal by ex-Eagle David Akers that hit the crossbar and bounced over. Alex Smith (20-for-26 passing, 211 yards, 2 TDs) and Frank Gore (16 carries for 112 yards and a TD) led the offense, while the team's defense stifled Green Bay all game. Next up: vs. Detroit.
2. New England (1-0): Tom Brady was sporting a bandage on his nose after the game, but nothing else looked different as New England rolled to its ninth straight season-opening win with a 34-13 rout of Tennessee. Brady (23-for-31, 236 passing yards, 2 TDs) and Stevan Ridley (21 carries for 125 yards and a TD) led the offense and rookie Dont'a Hightower scored on a fumble recovery. Next up: vs. Arizona.
3. Houston (1-0): The Texans scored 24 unanswered points in the second quarter of a 30-10 victory over Miami. Arian Foster (26 carries for 79 yards) scored twice and Matt Schaub completed 20 of 31 passes for 266 yards and a TD. Houston's defense forced four turnovers, including three interceptions by rookie Ryan Tannehill. Next up: at Jacksonville.
4. Baltimore (1-0): It was something old, something new for the Ravens as veteran Ed Reed scored on a pick-6 and their new no-huddle offense enabled Joe Flacco's crew to collect 430 yards with no turnovers, and just two punts in a 44-13 win over Cincinnati. Next up: at Philadelphia.
5. Atlanta (1-0): Things couldn't have gone much better for the Falcons in their 40-24 victory over Kansas City. Matt Ryan (23-for-31, 299 yards passing, 3 TDs), Julio Jones (6 catches for 108 yards, 2 TDs), and Roddy White (6 catches, 87 yards) all had big days, as the offense converted 5 of 10 third downs with no turnovers. Next up: vs. Denver.
6. Denver (1-0): Denver fans may already be buying New Orleans hotel rooms for Super Bowl XLVII after Peyton Manning (19-for-26, 253 yards, 2 TDs) showed he's healthy after his four neck surgeries and the team's vaunted defense lived up to its reputation in a 31-19 comeback win over Pittsburgh. Next up: at Atlanta.
7. Dallas (1-0): The Cowboys and Tony Romo started the season with a convincing 24-17 win over hated rival New York that didn't feel as close as the score would indicate. Romo completed 22 of 29 passes for 307 yards and 3 TDs, with 1 INT, and DeMarco Murray ran for 131 yards on 20 carries, while the defense held the Giants to just 269 yards of total offense. Next up: at Seattle.
8. Green Bay (0-1): The Packers equaled their number of 2011 regular-season losses with a 30-22 opening-game defeat at San Francisco. The rushing game was non-existent as Aaron Rodgers (30-for-44 passing, 303 yards, 2 TDs, 1 INT) led the team with 27 yards. The final score was not indicative of how the 49ers controlled the game. Next up: vs. Chicago.
9. New York Giants (0-1): The defending Super Bowl champions fell behind early to Dallas and never really recovered, needing a late score to make the 24-17 loss look closer than it was. Eli Manning finished 21-of-32 passing for 213 yards and 1 TD, while the Giants' defense surrendered 433 yards of total offense. Next up: vs. Tampa Bay.
10. EAGLES (1-0): Twelve penalties, five turnovers, four Michael Vick interceptions — if Eagles fans feel bad about the team's start, how must Cleveland fans feel knowing their team somehow still lost, 17-16? As for the positives, Dominique Rodgers-Cromartie (2 INTs), Kurt Coleman (2 INTs), DeMeco Ryans and the defense looked strong, and they'll need to be this week against Baltimore's potent no-huddle offense. LeSean McCoy (20 carries, 110 yards) rolled through the Browns and could have done even more damage with a few more plays called his way. Next up: vs. Baltimore.
11. Pittsburgh (0-1): The Steelers let a fourth-quarter lead slip away in a 31-19 loss at Denver, despite controlling the time of possession and converting 11 of 19 on third down. Ben Roethlisberger was sacked five times and threw a late, game-deciding pick-6 to Tracy Porter. Next up: vs. the New York Jets.
12. Detroit (1-0): Matthew Stafford's game-winning touchdown pass to Kevin Smith with five seconds left made up for his three-interception day as Detroit beat St. Louis, 27-23. Calvin Johnson finished with 6 catches for 111 yards as the Lions had 23 passing first downs and Stafford went 32-for-48 with a league-high 355 yards. Next up: at San Francisco.
13. Chicago (1-0): The reunion of Jay Cutler (21-for-35 passing, 333 yards, 2 TDs) and Brandon Marshall (9 catches for 119 yards and 1 TD) upstaged the debut of No. 1 overall pick Andrew Luck as the Bears routed the Colts, 41-21. The Bears' defense created five turnovers and allowed just two third-down conversions. Next up: at Green Bay.
14. San Diego (1-0): Philip Rivers managed a simple game plan efficiently (24-for-33, 231 yards, 1 TD 0 INT) as the Chargers beat Oakland, 22-14, without starters RB Ryan Mathews and WR Vincent Brown. Their 32 rushing yards were the team's fewest in a win since Dec. 6, 1992. Next up: vs. Tennessee.
15. Washington (1-0): Robert Griffin III could do no wrong in the Redskins' 40-32 upset at New Orleans. He had a perfect passer rating in the first half and finished 19 of 26 for 320 yards, with 2 TDs and a final rating of 139.9. Oh, he also rushed for 42 yards. Pierre Garcon (4 catches, 109 yards, 1 TD) and Alfred Morris (28 carries, 96 yards, 2 TDs) rounded out Washington's attack. Next up: vs. St. Louis.
16. New Orleans (0-1): The Saints lost their first game last year and proceeded to win 13 of 15, so Drew Brees (24-for-52 passing, 339 yards, 3 TDs, 2 INTs) remains confident after his team's 40-32 loss to Washington. The loss snapped their franchise-record eight-game home winning streak. Bounty-related distractions may have affected New Orleans, which finished with just 32 rushing yards compared to Washington's 153. Next up: at Carolina.
17. Cincinnati (0-1): The good news for the Bengals: they were only down, 17-10, at halftime against Baltimore. The bad news: they're still waiting for another touchdown after losing, 44-13. Andy Dalton (22-for-37, 221 yards) and BenJarvus Green-Ellis (18-for-91 rushing, 1 TD) put up decent numbers in the rout heading into next week's Battle for Ohio. Next up: vs. Cleveland.
18. Kansas City (0-1): The Chiefs hung tough for half the game against Atlanta, trailing 20-17 at the break, before the Falcons scored 20 unanswered points to win, 40-24. Kansas City was an impressive 11-of-16 on third downs, but three costly turnovers spoiled things. Matt Cassell finished 21-of-33 for 258 yards with a TD, two interceptions, and three sacks. Next up: at Buffalo.
19. New York Jets (1-0): Mark Sanchez threw all the distractions aside and threw New York a whale of an opening-day party, completing 19-of-27 passes for 266 yards, 3 TDs and 1 INT in a 48-28 rout of division-rival Buffalo. Jeremy Kerley had a 12-yard TD reception and a 68-yard punt return TD. However, the Jets yielded 195 yards rushing on the day. Next up: at Pittsburgh.
20. Tampa Bay (1-0): The Buccaneers' 16-10 win over Carolina snapped their 10-game losing streak, thanks to a stingy defense led by Ronde Barber (INT, sack), the team's lone holdover from their Super Bowl title 10 years ago. Tampa Bay held Carolina to an NFL-best 10 yards rushing. Next up: at New York Giants.
21. Carolina (0-1): Cam Newton's sophomore season started slowly as the Panthers fell, 16-10, to Tampa Bay. Newton completed 23-of-33 passes for 303 yards, but threw two interceptions, and was sacked three times, as the Panthers converted just 2 of 10 third downs and gained just 10 yards rushing. Next up: vs. New Orleans.
22. Minnesota (1-0): Blair Walsh became the first kicker to win his NFL debut by sending the game into overtime with a last-second field goal—and then winning it with another. He had four field goals on the day as the Vikings beat Jacksonville, 26-23, in the return of Adrian Peterson, who rushed for 84 yards and 2 TDs on 17 carries. Next up: at Indianapolis.
23. Arizona (1-0): The Cardinals beat Seattle in a battle of middling, but evenly matched teams, 20-16, thanks to backup quarterback and ex-Eagle Kevin Kolb's late rally. After John Skelton was injured, Kolb went 6-for-8 for 66 yards and a touchdown in a late, no-huddle attack. Next up: at New England.
24. Oakland (0-1): It hurts to lose a bitter division rivalry game when the post-game numbers favor you. But three botched punts killed the Raiders in their 22-14 loss to San Diego. Injuries limited Oakland, none more so than the one to Pro Bowl long-snapper Jon Condo; his replacement rolled two snaps to the punter. Next up: at Miami.
25. Seattle (0-1): Rookie quarterback Russell Wilson's debut ended with three incompletions from the 4-yard line as Arizona rallied for 20-16 win. In a penalty-marred game, Leon Washington's 83-yard kickoff return and 52-yard punt return were the team's highlights. Next up: vs. Dallas.
26. Buffalo (0-1): Things started badly and then got progressively worse in the Bills' 48-28 loss to the New York Jets. Buffalo trailed 21-0 early and then 41-7 in the third quarter. On top of that, RB Fred Jackson left the game with a leg injury in the fourth quarter and inconsistent QB Ryan Fitzpatrick threw three interceptions. Next up: vs. Kansas City.
27. Tennessee (0-1): After a bad first half in which they trailed New England 21-3, things got worse for the Titans when new starter Jake Locker left the game with a left shoulder injury in the fourth quarter of the 34-13 drubbing. Tennessee picked up just 20 yards rushing on 16 carries, and just one rushing first down. Next up: at San Diego.
28. St. Louis (0-1): The Rams went conservative in their upset bid against Detroit, and it worked, until Matthew Stafford won the game, 27-23, a 5-yard TD pass with 10 seconds left. Sam Bradford completed 17-of-25 passes for 198 yards, and St. Louis committed no turnovers. Next up: vs. Washington.
29. Jacksonville (0-1): Blaine Gabbert (23-for-39 passing, 260 yards, 2 TDs), the league's worst-rated passer last season, showed vast improvement in the Jaguars' 26-23 overtime loss to Minnesota. But he wasn't the team's big news. 2011 NFL rushing leader Maurice Jones-Drew, who ended his contract-related holdout a week earlier, filled in for injured starter Rashad Jennings and finished with 77 yards on 19 carries. Next up: vs. Houston.
30. Indianapolis (0-1): Instead of being No. 1, Andrew Luck was one of four — rookie quarterbacks to lose his debut last week. He completed 23-of-45 passes for 309 yards in the 41-21 loss to Chicago, but he fumbled once, got sacked three times and tossed three interceptions. On the plus side, veteran Reggie Wayne finished with 9 catches for 135 yards. Next up: vs. Minnesota.
31. Miami (0-1): The Dolphins committed four turnovers and went 0-for-3 in the red zone in coach Joe Philbin's debut. But a six-minute, second-quarter stretch that featured three Ryan Tannehill interceptions turned a close game into a 30-10 rout. Next up: vs. Oakland.
32. Cleveland (0-1): A quarterback never wants to have his interception total almost equal his passer rating. But it was that kind of day for rookie Brandon Weeden, who was 12-for-35 passing for 118 yards, with 4 interceptions and a 5.1 passer rating. Trent Richardson's debut wasn't much better as he picked up just 39 yards on 19 carries. The defense, however, did force five Eagle turnovers in the 17-16 loss, including a pick-6 by D'Qwell Jackson. Next up: at Cincinnati.