Eagles locker room map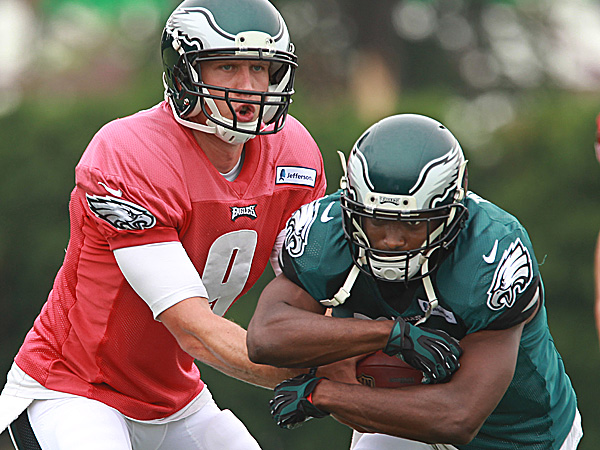 Today was the media's first day of access in the locker room, and so, there are obviously new faces in new places. Apologies to the 85 percent (minimum) of you who will have absolutely zero interest in this, but here's where each of the Eagles' lockers are, for now. (You can click here for a slightly bigger, cleaner version.)
Eagles locker room map

Today was the media's first day of access in the locker room, and so, there are obviously new faces in new places. Apologies to the 85 percent (minimum) of you who will have absolutely zero interest in this, but here's where each of the Eagles' lockers are, for now. (You can click here for a slightly bigger, cleaner version.)
In the Andy Reid days, the defensive backs had their lockers together, the offensive line was stationed together, the quarterbacks all sat together, etc. Under Chip Kelly, there's more of a sense of team-wide unity, and the jumbled locker room floor plan supports that.
Here are some other thoughts:
• The one position group that is intact are the specialists. Jon Dorenbos, Alex Henery, and Donnie Jones all sit together.
• All of the rookies of course have the crappy lockers in the middle island. Once final cutdowns are made, the rookie survivors will be moved into more permanent homes along the wall, and the islands will head to storage.
• Mark Sanchez has Michael Vick's old spot next to Jason Kelce.
• Poor James Casey has two major league talkers on each side of him.
• Interesting to see a guy like Brent Celek, who would continue to play if someone ripped his eye out, sitting in between two oft-injured players.
• The Eagles must really like Chris Maragos, who has the honor of sitting next to the great Donnie Jones.
• Vinny Curry once revealed that Brandon Graham has the worst farts on the team. That's bad news for Ifeanyi Momah and Fletcher Cox.
• Two of the most respected players on the team, Jason Peters and DeMeco Ryans, have lockers next to each other.
• Keelan Johnson, Lane Johnson, and Damaris Johnson are all seated next to each other by the rec room. It would have made more sense to put "Johnson Row" by the showers.
Follow Jimmy on Twitter: @JimmyKempski