I'm not sure this needs any further introduction than the title. Let's go division by division.
NFC EAST
Here's DeMarco Murray using the crown of his helmet to turn Eagles defensive lineman Damion Square into a rhombus. That cost Murray $21,000.
Murderleg isn't the only kicker in Eagles camp who can mix it up. Here's Alex Henery with a face mask and horse collar on the same tackle. $15,750. #ThugLife.
This helmet to helmet hit on a defenseless player (Zach Ertz) by Will Hill cost him $15,750.
I love the reaction of the Giants' bench after this play. Brandon Jacobs runs over to Hill like, "Yeah, son! Way to give them 15 yards a free first down!" I also love the reaction of the random irate guy in the pink tie when he sees that there's a flag on the play.
This post wouldn't be complete without a Brandon Meriweather cheap shot. This one concussed Eddie Lacy, and cost Meriweather $42,000.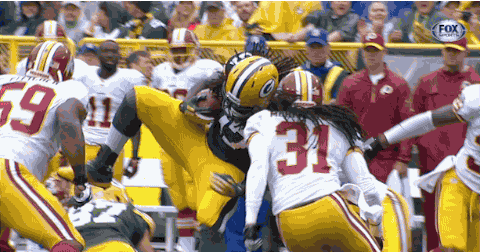 NFC NORTH
Here's Jon Bostic with a helmet to helmet hit on a defenseless receiver in a preseason game.
Ndamukong Suh being Ndamukong Suh. $100,000.
You're not allowed to shove officials, Tramon Williams... unless you're Cary Williams in the Super Bowl. This cost Williams $26,250.
Apparently, NFC North defensive backs can't keep their hands off of officials. Love the official's overreaction here. $26,250. NFC SOUTH
Dashon Goldson had fines of $30,000, $60,000, and $100,000 in 2013. He was also suspended for being a repeat offender. Here's one of his many illegal hits, this one on Jeff Cumberland of the Jets.
The Falcons were so bad last year their cheap shots didn't even connect. Somehow, the league fined William Moore $22,050 for this.
Not cool, Armond Smith. $15,000.
This hit cost Rafael Bush $21,000. However, he made $50,000 through the Saints' bounty program.
NFC WEST
For some reason, in the text in the following gif, the fine folks at SB Nation wondered, "Did Donte Whitner deserve a flag for this?" Uh... Yes? It cost Whitner $21,000.
Honey Badger don't care if you already scored. $10,000.
OK, so Chris Long was ejected for throwing a punch against the Panthers, which is difficult to see in the gif that I found of it. However, Panthers TE Ben Hartsock mocking Long after the ejection is great.
To my surprise, the Seahawks didn't have much in the way of illegal hits. They did a lot of taunting though. Golden Tate is the worst. $7,875.
Follow Jimmy on Twitter: @JimmyKempski