Archive: August, 2012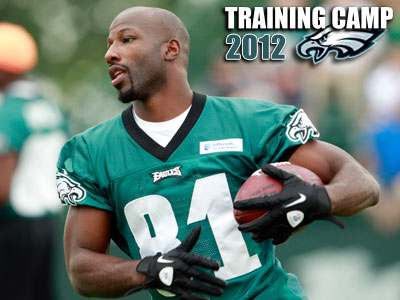 Most starters spent more time getting dressed and walking to the practice field than they did on the field as Friday's morning walk-through quickly morphed in a morning off for everyone not involved with special teams. Twenty minutes into practice, Special Teams Coordinator Bobby April dismissed anyone he didn't need to work with on kickoff or punt coverage.

With that, April lined up his "Hands Team," a group he hopes won't allow a play that helped set up the new Miracle at the New Meadowlands two seasons ago.

That's when the Eagles trailed the New York Giants, 31-17, with 7 minutes and 28 seconds left in a pivotal late-season game in 2010. Andy Reid threw a curve and had David Akers onside kick the ball. Riley Cooper recovered, the Eagles scored, and then scored again on the game's final play as DeSean Jackson returned a punt 65 yards. The win clinched the NFC East title, but was their last win of the season.

Two big special teams plays turned the game, but they were the exact type of plays April worked Friday morning defending against for 20 minutes.

The Eagles' "Hands Team" on the field consisted of Jamar Chaney, Casey Matthews, Jason Avant, Stanley Havili, Kurt Coleman, Brian Rolle, and Akeem Jordan on the front line with Jeremy Maclin, Clay Harbor, and Nate Allen close behind, and Dion Lewis deep.

"Coach wants you to get the ball by any means necessary," said Harbor. "Get the ball and get down."

April also stressed the importance of technique. "Go up and get it at the highest point possible," Harbor said. "And then just get down because at that point of the game, we should win."

Heating up

Was Andy Reid reading the roster after practice? Nope, he was just updating the status of 14 players, including nine possible starters, who were injured, sick, or had either left practice early Thursday. Zach Berman gives a rundown. But it was clear Reid doesn't have plans to make it any easier for the team today, in what he called "the dog days" as the temperature continues in the 90s and the humidity hangs in the air.

"Today will be pretty aggressive," Reid said. "We have a game coming up [August 9th against Pittsburgh] so we're giving the players a chance to really play on the field."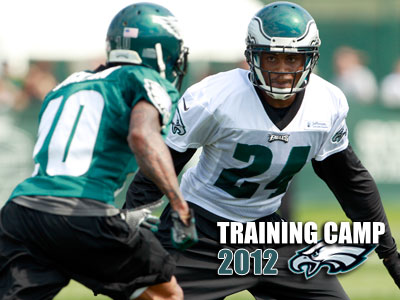 Rising to the top?
While the starting defensive line has vanished before our eyes with each new injury, another unit is making its case to be considered the team's best group.
The defensive backs have been outstanding throughout the early days of training camp, and in particular Thursday. Safety Nate Allen ran stride-for-stride with DeSean Jackson in pursuit of a Michael Vick pass and stretched out for a diving interception during 7-on-7 passing drills. And Andy Reid loved it, shouting out his praise for Allen after the play.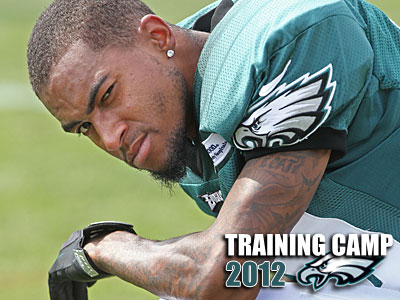 Throughout training camp, we'll look at different Eagles who could make history during the 2012 season. Here's what could be ahead for wide receiver DeSean Jackson.
DeSean Jackson already has set himself apart from other receivers in the NFL. His 13 touchdowns of 60 yards or more are the most in NFL history by a player before turning 26.
And since entering the league, Jackson has an NFL-best 25 receptions of 40 or more yards and a league-high 14 touchdowns of at least 50 yards. Simply put, Jackson is a deep threat on every snap.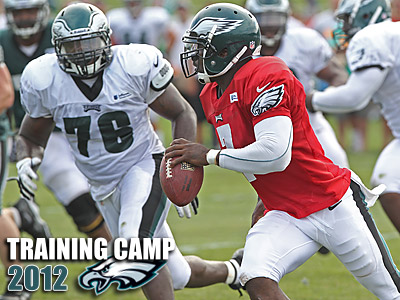 Following a slow morning walk-through that really should have been called a stand-around, it's time again to look around the country to see what others are saying about the Eagles.
*ESPN's Dan Graziano writes about how the Eagles are unique because of how much hitting occurs so early in training camp. "If you need your football fix in early August, I'd say come on out to Lehigh and watch the Eagles pound on each other for a couple of hours. It was certainly the most lively and entertaining practice I've yet seen on my trip."
*Sports Illustrated's Chris Burke tabbed defensive back Brandon Boykin as one of the 10 rookies who could make a big impact this season primarily as a returner but perhaps also as a nickel back. "Boykin looked like a steal in April and nothing has happened to change that since."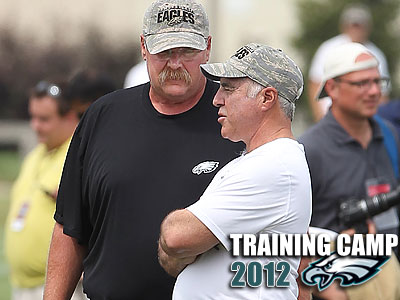 Making their moves
It didn't take a football insider to recognize one of the standouts from Wednesday's afternoon practice. Looking at Bryce Brown walking off the field, a soldier getting autographs on Military Day said, "Wow, he was great today."
Brown and fellow rookie running back Chris Polk took charge during an 11-on-11 scrimmage playing for the second-team offense against the first-team defense.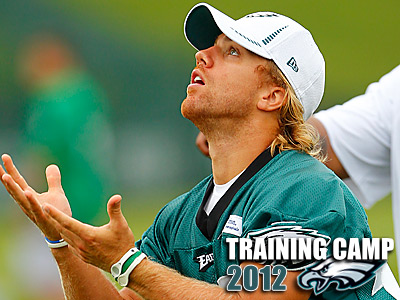 Eagles coach Andy Reid considers today's Military Day at Eagles training camp a special occasion. "Without the military, we're not able to do what we do as players, as coaches and as a country. Our hats are off to them."
The team wore camouflage basehall hats during the morning walk-through and several afternoon events are planned, including the arrival of 300 Eagles fans serving in the military.
After the team's practice, receiver Chad Hall, who played at Air Force and served for a year as second lieutenant, will be joined by Sergeant Shane Parsons, a representative from the Wounded Warrior Project, to shave his head as a fund-raiser for the group.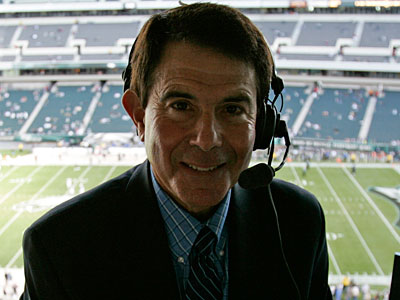 Legendary Eagles play-by-play announcer Merrill Reese stopped by on Wednesday morning to answer your questions on the team. Here's a transcript of what he had to say.
If you're on a mobile device, click here to read the chat transcript..