Manning leads Denver to No. 1 in power rankings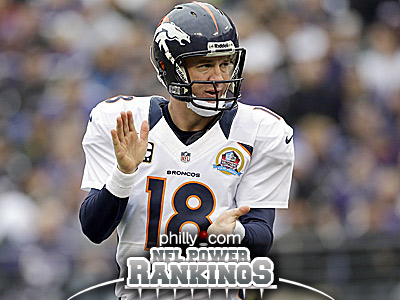 Peyton Manning's remarkable season has the Broncos atop the Week 15 NFL Power Rankings.
Manning leads Denver to No. 1 in power rankings

Sure, the Peyton Manning-Tom Brady rivalry is nothing new to football fans, but with Manning's move to Denver, the matchup has a renewed vigor. The Patriots beat the Broncos in Week 5, but after Week 15, Manning's Broncos have supplanted Brady's Patriots at the top of the NFL rankings. San Francisco knocked New England down the rankings with a surprising Sunday night win, albeit only after surviving a swift comeback. Seattle has proven it is for real, on both sides of the ball, while the Giants' problems are widely evident. Teams like the Redskins and Cowboys, who looked dead midway through the season, have proven anything but. The rankings, frankly, are in disarray.

Coming up: Which team with an offensive name might just make the playoffs? Is Christian Ponder's "brand" of quarterbacking a call for the NFL to eliminate the forward pass? And is "disconcerting signals" a penalty in the NFL or just another term for Todd Bowles' playcalling?

1. Denver (11-3); Last week: 2
Week 15 result: Won vs. Baltimore, 34-17
It's odd how the Broncos have flown under the radar this season. They got more attention last year with Tim Tebow than they are now with Manning, one of the best quarterbacks in NFL history. Manning is a leading MVP/Comeback Player of the Year candidate, but considering what he has accomplished after missing a full season and moving to a new team, the media praise has been understated. The Broncos have won nine straight, and with games against the Browns and Chiefs remaining, should make it 11.
Next up: vs. Cleveland

2. Houston (12-2); Last week: 3
Week 15 result: Won vs. Indianapolis, 29-17
The Texans rebounded nicely from a smackdown from the Patriots in their first contest in three weeks against the division-rival Colts. Arian Foster ran for 165 yards, Andre Johnson caught 11 passes for 151 yards and a touchdown and J.J. Watt added three sacks (upping his season total to 19.5) to help Houston clinch the AFC South for the second straight year.
Next up: vs. Minnesota

3. Atlanta (12-2); Last week: 4
Should the Eagles play LeSean McCoy at all this season?
Week 15 result: Won vs. New York Giants, 34-0
If we've learned one thing about the Falcons...I don't know. What have we learned? It was surprising to see them shut out the Giants, especially since it was only their fourth game against a team with a winning record. Atlanta is 4-0 in those games, however, and took control of this one early. Matt Ryan threw three touchdown passes, two to Julio Jones, and the Falcons' defense forced two Eli Manning interceptions.
Next up: at Detroit

4. San Francisco (9-3-1); Last week: 7
Week 15 result: Won at New England, 41-34
The 49ers surprised a lot of people Sunday night, not least of which were the Patriots. San Francisco took a 17-3 lead into halftime and added two touchdowns in the first five minutes of the second half, thanks to two New England turnovers. Colin Kaepernick threw four touchdown passes, the last of which was the game-winner. LaMichael James' 62-yard kickoff return was promptly followed by Michael Crabtree turning a short pass from Kaepernick into a 38-yard touchdown, putting the 49ers ahead for good and ending the Patriots' comeback.
Next up: at Seattle

5. New England (10-4); Last week: 1
Week 15 result: Lost vs. San Francisco, 41-34
The Patriots erased a 31-3 deficit faster than you can ask "How you like dem apples?", then proceeded to allow the game-winning touchdown two plays later. New England turned the ball over four times en route to that 28-point deficit, snapped an eight-game winning streak and likely cost themselves a first-round bye in the playoffs. U mad, Tom?
Next up: at Jacksonville

6. Green Bay (10-4); Last week: 5
Week 15 result: Won at Chicago, 21-13
James Jones won some lucky people their fantasy playoff matchup, catching all three of Aaron Rodgers' touchdown passes. Rodgers threw for 291 yards and Green Bay's defense intercepted Jay Cutler once and sacked him four times. The Packers clinched the NFC North and beat the Bears for the sixth straight time.
Next up: vs. Tennessee

7. Seattle (9-5); Last week: 8
Week 15 result: Won at Buffalo, 50-17
Marshawn Lynch is a lot of fun to watch, Russell Wilson is impressive and the Seahawks' defense is one of the best in the league, especially at home. WHY, LORD, WHY do they have to be coached by Pete Carroll? Carroll called a fake punt with the Seahawks up 47-17 in the fourth quarter. Seattle has outscored their opponents 108-17 in the past two weeks.
Next up: vs. San Francisco

8. Washington (8-6); Last week: 10
Week 15 result: Won at Cleveland, 38-21
The Redskins are in first place in the NFC East. They might earn back several of the draft picks they used to trade for Robert Griffin III by trading Kirk Cousins, who threw for 329 passes and two touchdown passes in his first career NFL start. Why do good things happen to Dan Snyder?
Next up: at Philadelphia

9. New York Giants (8-6); Last week: 6
Week 15 result: Lost at Atlanta, 34-0
Don't worry, Giants fans - they do this every year and win the Super Bowl in two of those years. Wait, it's not November anymore? Hm. It might be time to worry. The Giants turned the ball over three times against the Falcons and have now lost four of their last six.
Next up: at Baltimore

10. Indianapolis (9-5); Last week: 9
Week 15 result: Lost at Houston, 29-17
Andrew Luck threw two touchdown passes but completed just 13 of 27 passes and was sacked five times as Indianapolis fell to Houston and lost their chance at a division title. Did you know Luck is tied with Mark Sanchez for the most turnovers in the NFL, with 23? That's not good company.
Next up: at Kansas City

11. Minnesota (8-6); Last week: 14
Week 15 result: Won at St. Louis, 36-22
Adrian Peterson rushed for 212 yards and topped 100 for the eighth-straight game. Peterson ran for more yards (212) than Christian Ponder threw for (131) for the fifth time this season. He's really good. Ponder is not. Minnesota is currently sitting in the last playoff spot in the NFC with a one-dimensional offense.
Next up: at Houston

12. Dallas (8-6); Last week: 15
Week 15 result: Won vs. Pittsburgh, 27-24 (OT)
The Cowboys are doing something strange late in the season: Winning. Dallas is 5-1 in its last six and are tied for first place in the NFC East. Brandon Carr set the Cowboys up for the winning field goal in overtime, intercepting a Ben Roethlisberger pass and returning it to the Steelers' one-yard line, setting up Dan Bailey's field goal to win the game.
Next up: vs. New Orleans

13. Cincinnati (8-6); Last week: 16
Week 15 result: Won at Philadelphia, 34-13
The Bengals had a lot of help in their win over the Eagles. Cincinnati "forced" five turnovers (four fumbles, one interception) and Andy Dalton recovered from a poor first half to run for a touchdown and throw for another in the second half. A win over the Steelers this week will put the Bengals in the playoffs for the second consecutive season.
Next up: at Pittsburgh

14. Baltimore (9-5); Last week: 12
Week 15 result: Lost vs. Denver, 34-17
Maybe Cam Cameron deserved to be fired, but he wasn't the root of the problem for Baltimore's offense. Down 10-0, Joe Flacco drove the Ravens to the goal line but threw a truly awful pick-six to Chris Harris, though he somehow almost caught him. Baltimore has lost three in a row and is in some danger of losing their AFC North crown. And now people are Flaccoing.
Next up: vs. New York Giants

15. Chicago (8-6); Last week: 11
Week 15 result: Lost vs. Green Bay, 21-13
Brandon Marshall's tired of the lack of accountability, Jay Cutler is tired of Marshall being the only reliable receiver he has and Brian Urlacher's tired of the booing. Are the Bears tired of Lovie Smith? They've lost five of their last six after a 7-1 start and will have a hard time making the playoffs.
Next up: at Arizona

16. Pittsburgh (7-7); Last week: 13
Week 15 result: Lost at Dallas, 27-24 (OT)
Antonio Brown's fumble on a punt return midway through the fourth quarter set Dallas up for the tying score, and Ben Roethlisberger's interception on the second play of overtime doomed Pittsburgh. The Steelers are 0-2 since Roethlisberger returned from his rib injury and need a win over the Bengals to stay alive in the playoff race.
Next up: vs. Cincinnati


17. New Orleans (6-8); Last week: 21
Week 15 result: Won vs. Tampa Bay, 41-0
After the Saints' narrow high-scoring win over the Buccaneers in Week It was New Orleans' first shutout since 1995. One week after allowing 52 points to the Giants, the Saints picked off Josh Freeman four times and held Doug Martin to just 16 rushing yards. Drew Brees, on the other hand, threw four touchdown passes and Mark Ingram ran for another.
Next up: at Dallas

18. Carolina (5-9); Last week: 25
Week 15 result: Won at San Diego, 31-7
Cam Newton threw two touchdown passes - one of which was a tipped pass that somehow found DeAngelo Williams - as the Panthers won for the third time in their last four, with Newton throwing multiple touchdown passes in each of those games. Mike Tolbert ran for two touchdowns in his return to San Diego. Carolina scored the game's first 31 points before allowing a fourth-quarter touchdown.
Next up: vs. Oakland

19. Miami (6-8); Last week: 24
Week 15 result: Won vs. Jacksonville, 24-3
Ryan Tannehill completed 22 of 28 passes and threw for two touchdowns as Miami actually put together an efficient offensive effort against Jacksonville. The Dolphins' defense held the Jaguars off the scoreboard after a first-quarter field goal, making three fourth-down stops along the way. It was only the Dolphins' second win in their last seven games.
Next up: vs. Buffalo

20. Tampa Bay (6-8); Last week: 17
Week 15 result: Lost at New Orleans, 41-0
So much for the dramatic rebirth of the Tampa Bay offense. The Bucs lost their fourth game in a row after getting shut out by a Saints defense that is among the worst in the NFL in nearly every statistical category. Tampa Bay, the the only team worse than New Orleans in terms of passing yards allowed per game, allowed 307 yards in the air and four touchdown passes from Brees.
Next up: vs. St. Louis

21. St. Louis (6-7-1); Last week: 18
Week 15 result: Lost vs. Minnesota, 36-22
C'mon, Danny Amendola. You're losing by several scores and know there are people standing very close to the sideline. Yet, you still decided to spike it right into a man's face. At least he showed a lot of concern.
Next up: at Tampa Bay

22. San Diego (5-9); Last week: 20
Week 15 result: Lost vs. Carolina, 31-7
Naturally the Chargers followed up their road win over the Steelers by getting blown out by the Panthers at home. Philip Rivers threw for just 121 yards as San Diego didn't reach the end zone until the fourth quarter. The loss clinched the Chargers their first losing season since 2003.
Next up: at New York Jets

23. Cleveland (5-9); Last week: 22
Week 15 result: Lost vs. Washington, 38-21
The Browns weren't able to hold the 14-10 lead they took into halftime, allowing the Redskins to score the next three touchdowns to pull away in the second half. Trent Richardson rushed for just 28 yards but scored twice. Brandon Weeden threw two interceptions to one touchdown pass.
Next up: at Denver

24. Tennessee (5-9); Last week: 28
Week 15 result: Won vs. New York Jets, 14-10
"Jake Locker, how do you feel that you outdueled Mark Sanchez?" In a game that encaptured the worst that pro football has to offer (hopefully), Locker ran for a touchdown and didn't throw four interceptions. Chris Johnson broke off a 94-yard run for Tennessee's other score. The Titans survived their punter, Brett Kern, shanking a 19-yard punt from his own end zone to give the Jets the ball on the 25, after which Sanchez promptly fumbled the snap.
Next up: at Green Bay

25. Arizona (5-9); Last week: 32
Week 15 result: Won vs. Detroit, 38-10
Think it's safe to say the Cardinals were a little angry and/or embarrassed by that 58-0 loss to the Seahawks. Arizona's got two interception returns for touchdowns, one a 102-yard return by Greg Toler, from their defense and forced four turnovers overall. Ryan Lindley failed to throw a touchdown pass but Beanie Wells rushed for three scores. The Cardinals snapped a nine-game losing streak.
Next up: vs. Chicago

26. Oakland (4-10); Last week: 30
Week 15 result: Won at Kansas City, 15-0
Sebastian Janikowski kicked five field goals as the Raiders couldn't even get into the end zone but swept their season series against the Chiefs. Janikowski kicked field goals 20, 50, 57, 30 and 41 yards for the game's only scoring and Darren McFadden ran for 110 yards. The win ended a six-game losing streak.
Next up: at Carolina

27. New York Jets (6-8); Last week: 27
Week 15 result: Lost at Tennessee, 14-10
It was really funny that there was talk of the Jets actually making the playoffs. Luckily, they destroyed that notion in maybe the worst Monday Night Football game you will ever see. Mark Sanchez threw four interceptions and fumbled the snap after Tennessee's punter set New York up with a short field. I'm still laughing about it. And now Sanchez has been benched...for Greg McElroy.
Next up: vs. San Diego

28. Detroit (5-9); Last week: 19
Week 15 result: Lost at Arizona, 38-10
Detroit scored the game's first touchdown early in the second quarter, then let Arizona outscore them 38-3. Matthew Stafford had plenty to do with that, throwing three interceptions, two of which were returned for scores. The Lions have now lost six games in a row. On the bright side: Calvin Johnson added 10 catches for 121 yards, moving him within 182 yards of Jerry Rice's single-season record.
Next up: vs. Atlanta

29. Buffalo (5-9); Last week: 23
Week 15 result: Lost vs. Seattle, 50-17
In the worst performance Toronto sports fans have seen since the most recent Raptors game or until the NHL lockout ends, the Bills made their now-annual trek to Canada for a beatdown from the Seahawks. Down 50-17, the Bills couldn't even stop a fake punt. On the bright side: Stevie Johnson made a pretty crazy catch.
Next up: at Miami

30. Philadelphia (4-10); Last week: 26
Week 15 result: Lost vs. Cincinnati, 34-13
The Eagles' came back from a self-inflicted 10-0 deficit in the first quarter to take a 14-10 lead into halftime, but self-destructed, as is their wont, with four turnovers in the second half. The muffed catch on the short kick was a nice twist on an old tale. Can we finally put an end to that talk about Andy Reid returning?
Next up: vs. Washington

31. Jacksonville (2-12); Last week: 29
Week 15 result: Lost at Miami, 24-3
Chad Henne's return to Miami resulted in just three points and the Jaguars' 12th loss of the season. Wonder why the Dolphins let him go.
Next up: vs. New England

32. Kansas City (2-12); Last week: 31
Week 15 result: Lost vs. Oakland, 15-0
The Chiefs lost their second game to the Raiders this season, this time without scoring any points. Jamaal Charles managed just 10 rushing yards on nine carries and Brady Quinn threw for only 136 yards and was intercepted once.
Next up: vs. Indianapolis