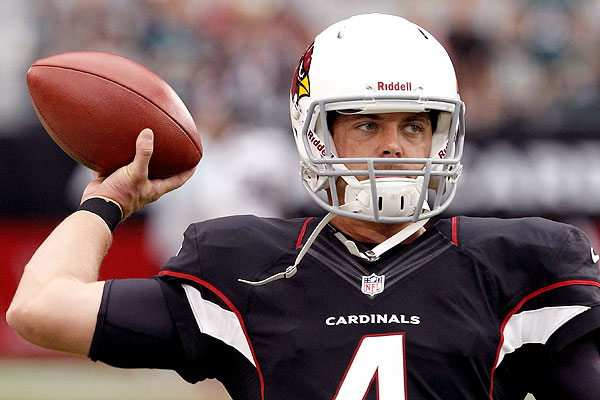 Kevin Kolb and the Cardinals improved to 3-0 with a dominating 27-6 victory over the Eagles Sunday in Arizona. (AP)
It wasn't just a dismal week for replacement referees. NFL powerhouses suffered a beatdown in Week 3, too. San Francisco, New England, Green Bay, and Pittsburgh all lost, leaving just three undefeated teams after three weeks.
1. Houston (3-0); Last week: 2: A 31-25 win over Denver gave the Texans their first 3-0 start in club history and Matt Schaub (17 of 30, 290 yards, 4 TDs) was a big reason. Arian Foster picked up 105 yards on 25 carries as Houston beat Peyton Manning for the first time in a road game and improved their record against him to 3-16. Next up: vs. Tennessee.
2. Atlanta (3-0); Last week: 3: The Falcons remained perfect against San Diego (6-0) with a 27-3 rout, thanks to Matt Ryan (30 of 40, 275 yards, 3 TDs) and two interceptions and a fumble recovery by Thomas DeCoud. Atlanta scored 4 of 5 times in the red zone and converted 8 of 13 on third down while holding a 12-minute-plus time of possession advantage. Next up: vs. Carolina.

3. San Francisco (2-1); Last week: 1: Alex Smith finally threw an interception, and the 49ers finally lost to an NFC North team (after wins over Green Bay and Detroit) as Minnesota won, 24-13. More bad news: San Francisco's Patrick Willis left the game with a right leg injury. Next up: at New York Jets.
4. Baltimore (2-1); Last week: 7: Rookie Justin Tucker's 27-yard, game-ending field goal gave the Ravens a 31-30 win over New England in a rematch of last year's AFC Championship Game. But the sad story of the night was Torrey Smith's 6-catch, 127-yard, 2-TD game after the death of his younger brother Saturday night. Next up: vs. Cleveland.
5. New York Giants (2-1); Last week: 8: The backups came through as the Giants torched Carolina, 36-7. First-time starter Andre Brown, filling in for Ahmad Bradshaw, ran for a career-high 113 yards and two touchdowns and Ramses Barden, replacing Hakeem Nicks, caught nine passes for a career-high 138 yards. Eli Manning completed 27 of 35 passes for 288 yards and a touchdown. Next up: at Philadelphia.
6. Arizona (3-0); Last week: 14: Kevin Kolb got his payback against Andy Reid and the Eagles with a 27-6 rout that wasn't even that close. The Cardinals are 3-0 for the first time since 1974 thanks to Kolb's 17-of-24, 222-yard, 2 TD-passing. Larry Fitzgerald's 9 catches for 114 yards and a touchdown on top of Arizona's three fumble recoveries made for an easy second half. Next up: vs. Miami.
7. Dallas (2-1); Last week: 11: The Cowboys capitalized on Tampa Bay's two turnovers in a 16-10 win while negating Tony Romo's three turnovers to claim the victory, despite having scored the fewest points in the NFL (tied with the Eagles at 47) through three games. Next up: vs. Chicago.
8. Green Bay (1-2); Last week: 4: The Packers lost on one of the NFL's most controversial endings as Golden Tate got away with a blatant pass interference and was awarded a highly debatable TD catch on the last play of Seattle's 14-12 win. There were 24 penalties in the game, including 10 on the Packers. Next up: vs. New Orleans.
9. New England (1-2); Last week: 5: Is the dynasty beginning its downfall? After a last-second, 31-30 loss to Baltimore, New England fell below .500 for the first time since Week 1 of 2003. Tom Brady (28 of 41, 335 yards, 1 TD) kept Wes Welker (8 catches for 142 yards) and Brandon Lloyd (9 for 108) busy as the team fell to 6-1 against the Ravens in the regular season. Next up: at Buffalo.
10. Pittsburgh (1-2); Last week: 9: Missing Pro Bowl stars Troy Polamalu and James Harrison, Pittsburgh lost to Oakland, 34-31, on a last-second field goal. Ben Roethlisberger (36 of 49, 384 yards, 4 TDs) starred, but the Raiders' efficient offense rolled, gaining 5.7 yards per rush, converting 7 of 12 on third downs, and benefitting from Pittsburgh's 10 penalties for 81 yards. Next up: bye.
11. Denver (1-2); Last week: 10: Peyton Manning (26 of 52, 330 yards, 2 TDs) set an NFL record with his 64th career 300-yard passing game, besting Dan Marino's mark, but the Broncos fell, 31-25, to Houston. Denver gained just 59 yards rushing on 21 attempts. Next up: vs. Oakland.
12. Cincinnati (2-1); Last week: 15: The Bengals blew a 24-7 first-half lead over Washington before Andy Dalton (19 of 27, 328 yards, 3 TDs) rallied the team to a 38-31 road win. The Redskins ran all over the Bengals, picking up 213 yards, a total that has to make upcoming foe Maurice Jones-Drew eager. Next up: at Jacksonville.
13. San Diego (2-1); Last week: 12: The Chargers' 27-3 loss to Atlanta marked the first time San Diego was held to three points since November 2002, was the fewest in coach Norv Turner's six-year reign and the fewest since Philip Rivers took over. San Diego gets a chance to recover against a weak Kansas City team Sunday. Next up: at Kansas City.
14. Chicago (2-1); Last week: 17: Chicago's defense dominated in a 23-6 rout of St. Louis as the Bears allowed just 160 yards of total offense, sacked Sam Bradford six times, and came up with two interceptions. Major Wright returned one pick 45 yards to seal the win in the fourth quarter. Next up: at Dallas.
15. Philadelphia (2-1); Last week: 6: Twelve Eagles turnovers in 12 quarters of play, including an average of three a game by Michael Vick, has fans so desperate they're calling for a rookie (Nick Foles) to step in after the 27-6 loss to Arizona. On the plus side, that daunting early-season schedule looks softer now that three of the next five games are against struggling teams: Pittsburgh (1-2), Detroit (1-2), and New Orleans (0-3). Next up: vs. New York Giants.
16. New York Jets (2-1); Last week: 19: Given a second chance thanks to Miami coach Joe Philbin's timeout, New York's Nick Folk kicked a game-winning field goal in the 23-20 overtime victory. Mark Sanchez (21 of 45 for 306 yards and 1 TD) and Santonio Holmes (9 catches for 147 yards) provided the offense, while LaRon Landry scored on an 18-yard interception return. Next up: vs. San Francisco.
17. Seattle (2-1); Last week: 21: Overlooked in Seattle's dubious 14-12 win over Green Bay — thanks to Golden Tate's controversial touchdown catch — were the Seahawks' eight sacks of Aaron Rodgers. The defense allowed just 268 yards of total offense, while Russell Wilson (10 of 21, 130 yards, 2 TDs) did just enough to help Seattle to a second straight win. Next up: at St. Louis.
18. Minnesota (2-1); Last week: 26: Christian Ponder threw two touchdown passes to tight end Kyle Rudolph and ran for another as the Vikings gave San Francisco its first loss, 24-13. Adrian Peterson picked up 86 yards on 25 carries, and Minnesota forced three turnovers and two punts by the 49ers in the fourth quarter. Next up: at Detroit.
19. Detroit (1-2); Last week: 13: How quickly things have turned for a Detroit team with Super Bowl aspirations. A bungled fourth-down during overtime play allowed Tennessee to beat the Lions, 44-41, after the team had rallied to score two touchdowns in the final 18 seconds of regulation. Next up: vs. Minnesota.
20. Washington (1-2); Last week: 16: The Redskins deserve credit for fighting back from a 24-7 first-half deficit, but they let one get away as Cincinnati scored two fourth-quarter touchdowns to win, 38-31. Robert Griffin III filled the stat sheet, finishing 21 of 34 passing for 221 yards, 1 TD passing, and 12 rushes for 85 yards and 1 TD rushing. Next up: at Tampa Bay.
21. Buffalo (2-1); Last week: 24: Ryan Fitzpatrick (22 of 35 passing for 208 yards) threw three touchdown passes as the Bills overcame the loss of NFL rushing leader C.J. Spiller in the first quarter to a shoulder injury to beat Cleveland, 24-14. The win snapped Buffalo's eight-game road losing streak. Next up: vs. New England.
22. Carolina (1-2); Last week: 18: New York trounced Carolina, 36-7, as Cam Newton threw three interceptions and returner Joe Adams added two more turnovers. A week after rushing for a career-high 71 yards, Newton was held to just six rushing yards. The Panthers gave up an opening-drive touchdown for the third straight game. Next up: at Atlanta.
23. Tampa Bay (1-2); Last week: 22: Tampa Bay gained just 166 yards of total offense in its 16-10 loss to Dallas, who won despite three Tony Romo turnovers. Josh Freeman was dreadful, completing just 10 of 28 passes with 1 interception for 110 yards. The Bucs punted eight times and were called for 10 penalties. Next up: vs. Washington.
24. St. Louis (1-2); Last week: 23: Sam Bradford and the St. Louis offense struggled mightily in a 23-6 loss to Chicago. Bradford (18 of 35 for 152 yards) was sacked eight times and picked off twice, and the offense collected just 160 yards of total offense a week after an offensive onslaught against Washington. Next up: vs. Seattle.
25. Indianapolis (1-2); Last week: 25: Andrew Luck and the Colts almost pulled off a second-straight, last-minute victory, but Jacksonville responded with its own late magic in a 22-17 win. Blaine Gabbert's 80-yard touchdown with 45 seconds left ruined a decent day for Luck (22 of 46 for 313 yards, 2 TDs) and the offense, which gained 437 total yards. Next up: Bye.
26. Oakland (1-2); Last week: 29: Sebastian Janikowski kicked a 43-yard field on the last play as the Raiders scored the final 13 points after wide receiver Darrius Heyward-Bey was knocked out and hospitalized by a hit to the helmet to beat Pittsburgh, 34-31. Darren McFadden picked up 113 yards rushing and a touchdown on 18 carries, and Carson Palmer threw three touchdown passes. Next up: at Denver.
27. Kansas City (1-2); Last week: 28: Ryan Succop kicked a club-record six field goals — including the game-winner in overtime — as Kansas City got its first win of the season over winless New Orleans, 27-24. Jamaal Charles had 33 carries for 233 yards and a 91-yard TD run as the Chiefs rolled up 510 yards of total offense. Next up: vs. San Diego.
28. New Orleans (0-3); Last week: 20: How low can N.O. go? Despite leading, 24-6, in the third quarter, the Saints lost, 27-24 in overtime, to lowly Kansas City, which gained 510 yards of total offense. Drew Brees passed for 240 yards and three touchdowns, but didn't complete a pass in the fourth quarter and overtime when the Saints were unable to get a first down. Next up: at Green Bay.
29. Tennessee (1-2); Last week: 30: The Titans benefitted from Detroit's botched last play to upset the Lions, 44-41, in overtime. Tennessee became the first team in NFL history to score five touchdowns of more than 60 yards in the same game. Jake Locker threw two long TD passes, while the special teams contributed two more, and Alterraun Verner returned an interception 72 yards. Next up: at Houston.
30. Jacksonville (1-2); Last week: 31: Jacksonville got its first win of the season after Blaine Gabbert found Cecil Shorts III for an 80-yard touchdown with 45 seconds left to beat Indianapolis, 22-17. Gabbert was just 10 of 21 passing for 155 yards, but Maurice Jones-Drew had 177 yards and a touchdown on 28 carries. Next up: vs. Cincinnati.
31. Miami (1-2); Last week: 27: A pair of Dan Carpenter missed field goals and coach Joe Philbin's timeout before a negated blocked field goal cost Miami in its 23-20 overtime loss to the New York Jets. Ryan Tannehill's struggles continued as he went 16 of 36 passing for 196 yards and 1 interception. Next up: at Arizona.
32. Cleveland (0-3); Last week: 32: With its 24-14 defeat to Buffalo, Cleveland has now lost nine straight games dating to last season. Brandon Weeden completed 27 of 43 passes for 237 yards, but also tossed two interceptions. The Browns gained just 33 yards rushing and punted the ball eight times. Next up: at Baltimore.