In recent months, people have been reaching out to their lawmakers, including legislators from Pennsylvania and New Jersey, in record numbers. Calls from constituents have been jamming legislators' phone lines, scores of people have been showing up at town halls and others have been demonstrating outside lawmakers' offices, demanding action.
So if you want your representative or senator to listen to you, what do you do?
A new report by the nonprofit Congressional Management Foundation delved into a dozen years of research into that issue and came up with some recommendations. Since President Trump's election, which has spurred an increase in efforts to contact lawmakers, congressional staffers and and former staffers have also been circulating advice on what works and what doesn't.
Here are 10 tips for getting through to lawmakers:
1. Direct contact works best
The more directly you can contact your lawmaker, the better, the foundation's report found. Congressional staffers told the foundation that if the member or senator was still reaching a conclusion on an issue, the most effective ways of influencing the decision were in-person visits, contact from constituents' representatives, individualized emails and individualized letters.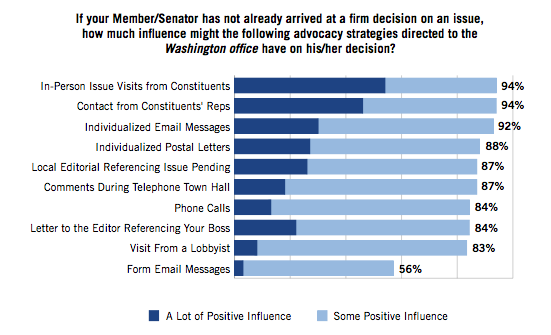 2. More contact is good: But over a longer term, not all at once
In general, the more contact a lawmaker receives on an issue, the more attention-grabbing it is. But the most effective volume of contact, the report says, is that which takes place as relationships are built over months and years, not a slew of messages sent in a relatively short time span.
"CMF's data suggests that broader, more dynamic, and more diverse activities, conducted over a longer period of time and resulting in relationships between constituents and congressional offices, are more successful advocacy strategies than mass form email campaigns because they provide higher-quality and more nuanced content to inform decision-making," the report said.
3. Go local
Make sure you're contacting your own representative or senator. When you call or send a message, provide your name and zip code, one congressional staffer told the Dallas station WFAA, because some offices use that to confirm the person is a constituent and to track responses.
"Lawmakers don't care about people outside of their district," former Rep. Barney Frank, a Democrat from Massachusetts, wrote in a piece for Mic earlier this month. "You can only have an impact on legislators for or against whom you will have a chance to vote the next time they run."
And be prepared to tell the lawmaker's office exactly how the issue affects his area.
"My boss rarely acts if there isn't an impact on his district," said one House legislative assistant quoted in the CMF report. "Show me a connection as to how your issue directly affects our constituents. Frank discussion about political impact is always appreciated, as are district-specific data."
4. Be useful
The CMF report found that 85 percent of congressional staffers said constituents and groups like advocacy organizations, nonprofits and companies should provide more materials to help build better relationships with the office. That could include maps, charts or other information showing how the issue or bill would impact the district or state. Others suggest inviting staffers from local offices to your community or events.
These are the questions members of Congress want their constituents to provide answers to, according to the CMF report:
What actions do constituents want me to take?
Why do constituents want me to do that?
What are the current and/or potential local impacts?
What are constituents' personal stories or connections to the policy?
5. Patience helps
Phone lines have been flooded with calls at many local lawmakers' offices, so you may need to try more than once. And staffers told The Morning Call that all of the comments go into the same system to be sent to the member or senator, so there is no one "best" way – it all counts. Voicemails and emails that aren't returned are still tallied.
6. Send individual messages
Local lawmakers say they're more likely to pay attention to personal messages than mass mailings.
"We can distinguish between calls that are spontaneous and organic, and those that are orchestrated," U.S. Rep. Charlie Dent, a Pennsylvania Republican, told The Morning Call.
7. Social media is easy, but not necessarily effective
In a series of tweets that went viral shortly after the election, Emily Ellsworth, a former staffer for Reps. Jason Chaffetz and Chris Stewart (both Utah Republicans), noted that she rarely looked at Twitter mentions or Facebook comments except to remove harassing messages. Picking up a phone or showing up in person at a town hall or other meeting are more effective, she wrote.
8. Get to know the staff
Staffers are the ones who "run the ground game for Congress," Ellsworth wrote. And if staffers know you, they will call when the have questions about legislation. The CRF report also stressed the value of relationships, noting: "Building a relationship with congressional staff is often the first step to effective advocacy."
9. Be selective
Staffers and other experts say to focus on issues that specifically affect the lawmaker's district and to be selective with your advocacy.
"It has at times been a little bit hysterical. And worse, indiscriminate," Ross Baker, a political science professor at Rutgers University in New Brunswick, told the Christian Science Monitor of the Democrats' strategy in the early weeks of Trump's presidency. "You wear out your emotional welcome if your hair catches fire too many times."
10. Be nice
Nearly everyone advises that yelling at staffers is unlikely to yield results. And a screaming match at a town hall also probably won't change the legislator's opinion. But being persistent, polite and persuasive can.