Will he, or won't he?
Late Thursday night, former Eagles quarterback and Heisman Trophy winner Tim Tebow seemed to push back on reports that he would be speaking at the Republican National Convention, calling them "rumors."
"It's amazing how fast rumors fly. And that's exactly what it is, a rumor," Tebow said in the video, posted on Instagram.
While never fully saying he won't appear in Cleveland on behalf of Donald Trump and the Republican Party, Tebow told his followers that his preference at the moment is on his philanthropic ventures and not the world of politics.
"My goal has always been to be able to make a difference in the biggest way possible. If, one day, that's in the political realm, that's what I'll do," Tebow said. "But right now I really believe that's through my foundation."
Watch the video:
A video posted by Tim Tebow (@timtebow) on Jul 14, 2016 at 5:42pm PDT

Sean Spicer, the communications director for the RNC, confirmed to CNN's Chris Cuomo on Friday morning that Tebow is "out" and will not be speaking at next week's convention.
The RNC's Sean Spicer says Tim Tebow is "out" and will not be speaking at the GOP convention https://t.co/9doql0ACcC https://t.co/TNQzKXmiSD

— CNN Politics (@CNNPolitics) July 15, 2016
The Trump campaign has not responded to repeated requests for comment about Tebow's on-again, off-again role with the party's convention in Cleveland.
Earlier on Thursday, The Associated Press reported that Trump's campaign confirmed Tebow's role as a featured speaker on the last day of next week's convention.
New York Times reporter Maggie Haberman, who was first to report the list of scheduled speakers for the convention, defended the newspaper's reporting, saying it was sources from within the Trump campaign that confirmed Tebow's speaking role.
Is it a "rumor" when Trump senior advisors are confirming it to reporters or is it misinformation from campaign? https://t.co/lbNg2lioED

— Maggie Haberman (@maggieNYT) July 15, 2016
Tebow's name, however, did not appear on a partial list of speakers released by the RNC Thursday morning. But it promises there will be more names.
Before he posted his video, reaction to Tebow's scheduled appearance was quickly criticized and lampooned on social media:
Tim Tebow wanted to pass on speaking at the Republican National Convention, but it was intercepted and run back for a touchdown.

— Not Bill Walton (@NotBillWalton) July 14, 2016
Trump wanting Tom Brady to speak at the convention but getting Tim Tebow is kind of a metaphor for his whole campaign.

— Neil Irwin (@Neil_Irwin) July 14, 2016
If the GOP's going for a "Haven't Done Much Worthwhile Since 2008" theme, then, yeah, Tebow's perfect.

— Ryan Nanni (@celebrityhottub) July 14, 2016
Judging by Tebow's last two jobs, the Republicans mentioned him to make noise then will cut him right before the convention starts.

— Mike Tunison (@xmasape) July 14, 2016
Is Tim Tebow speaking before or after the Duck Dynasty guys at the RNC? Gotta figure out the ol' DVR schedule.

— Scott Woolf (@ScottWoolf) July 14, 2016
Tim Tebow speaking at the Republican National Convention is a ploy for him to become the Browns QB. It has to be.

— Kevin Hall (@TheHallWay1) July 14, 2016
Will be inspirational at the RNC to hear how Tim Tebow earned $9.7M while being, statistically, the worst QB in the NFL.

— Micah Zenko (@MicahZenko) July 14, 2016
Tim Tebow the "nice christian boy" will be speaking at the most hateful and racist Republican convention in modern history.

— frank (@feelgoodfrank) July 14, 2016
Tim Tebow will reportedly speak at the Republican National Convention. Meanwhile Johnny Manziel will be begging for change outside.

— Fake SportsCenter (@FakeSportsCentr) July 14, 2016
#GOPConvention Speakers
- Tim Tebow
- Ted Nugent
- Tan Mom
- Various Duggars
- Yosemite Sam
- Colton Burpo
- RoboCop
- Chachi
- The Babadook

— Jeff Lyons, LLC (@usedwigs) July 14, 2016
Tim Tebow is speaking at the RNC? I guess Ryan Leaf turned them down.

— Dana Houle (@DanaHoule) July 14, 2016
@Deadspin
Republican Convention:
*Tim Tebow throws his support to Donald Trump*
*Support lands 15 yards short of podium, GOP forced to punt*

— Philly Green (@PhillyGrn) July 14, 2016
@RobTornoe is there a bigger 180 of Jesus teachings than Donald Trump? Tebow looking like a major fraud here

— Tom Montgomery (@TheRealTMont) July 14, 2016
— Mike Tunison (@xmasape) July 14, 2016
Back in June, Trump told supporters: "We're going to do it a little different, if it's OK. I'm thinking about getting some of the great sports people who like me a lot."
Tebow has hinted at a future in politics, telling Fox News Channel's Ainsley Earhard in March, "If there's a chance that you can make a difference, some day, in something, then that would be intriguing."
Earlier this month, the Washington Post reported that Trump used his charity's money to pay $12,000 for sports memorabilia signed by Tebow, including a Denver Broncos helmet and a New York Jets jersey (photo courtesy of the Susan G. Komen foundation, which benefited from the auction).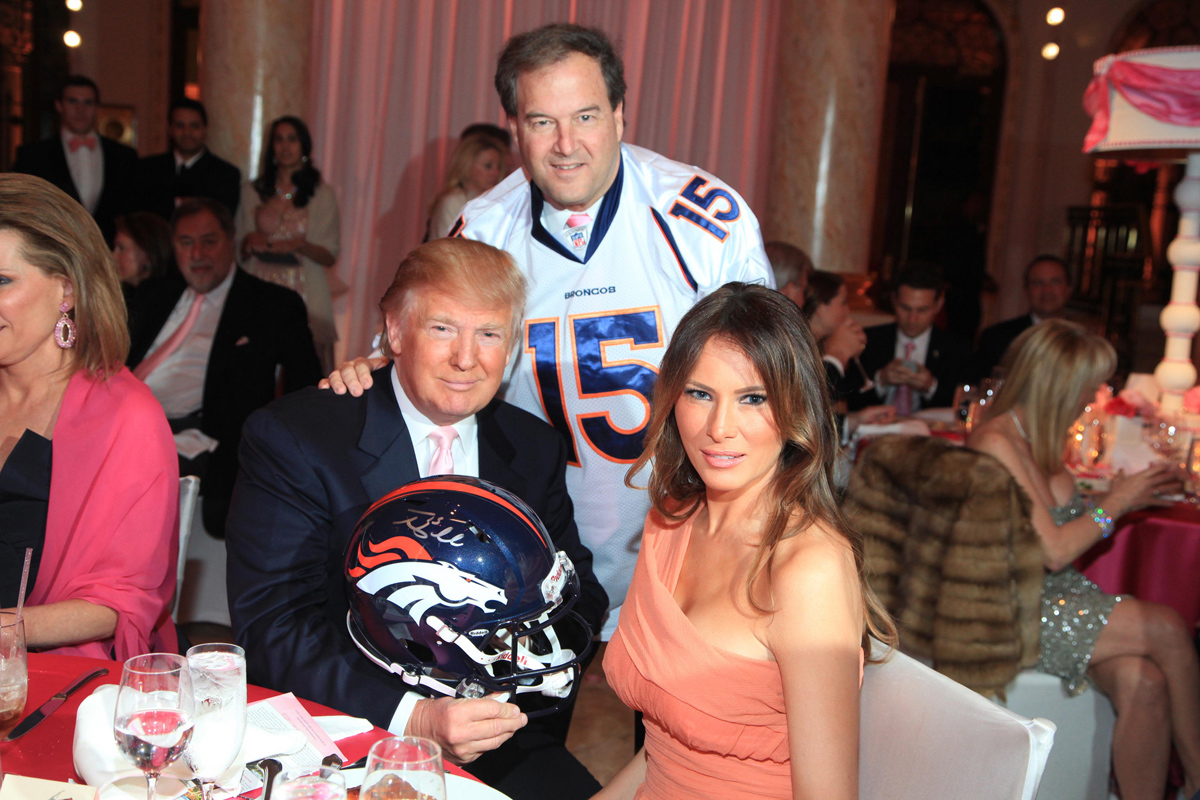 One surprising omission from the list of speakers is Patriots quarterback Tom Brady, who has called Trump "a good friend of mine" and was spotted harboring a "Make America Great Again" hat in his locker. Trump told WEEI Radio in Boston that he also won't be receiving Brady's endorsement.
"He's got sponsors; he's got all of his different things that he has to do," Trump said, "and I told him not to."
Trump also said he planned to ask Steelers quarterback Ben Roethlisberger and Brian France, the chief executive of NASCAR, but neither appears on the program. Dana White, president of Ultimate Fighting Championship, is scheduled to speak on the second night of the convention, where the focus will be on the economy.