AT THE FIRST LANDING on the steps of the Philadelphia Museum of Art — one of the most famous stoops in America — Jennifer Childs adjusted her highlighted wig, pulled on a pink "Iggles" hat, and pursed her lips.
Now she was Patsy (pronounced POT-see): a tomato-sauce stirrin', whiskey-sippin', gossip-mongerin', Ac-a-me-shoppin', queen Mummer.
Childs, a local comedian and the artistic director for 1812 Productions comedy theater company, created the "The View From My Stoop" segment 11 years ago for the first installment of the yearly political farce show This Is the Week That Is. For her segment, Patsy — portrayed as a fiercely opinionated South Philly matriarch of undefined middle age — answers questions and offers her "bi-non-partisan" two cents from her fictitious Shunk Street rowhouse.
The stage character is an homage, Childs said, to the Philadelphians she fell in love with.
In a rare trip west of Broad Street, Patsy sat for an interview at the Art Museum last week and a special installment of "The View From My Stoop."
She dressed for the 100-degree heat in her usual attire — pink "Iggles" sweatshirt, white turtleneck, yoga pants, and high white socks — and answered questions on a range of subjects:
Do you have problems with people loitering on your stoop? "Occasionally there were some kids that would sit on my stoop. ... I used a bucket of water."
Is stoop-sitting becoming a lost art? "I have a theory: Air. Conditioning."
Why do you love sitting out on your stoop? "My stoop is where I get all my news, you know. I don't watch that A-B-C-N-N-M-S-FOX. They all have an agenda, and I am bi-non-partisan."
Watch the full interview below:
Originally from Columbus, Ohio, Childs, 46, came to Philadelphia in 1986 to study theater at the University of the Arts. She left the city for a bit, but it lured her back in the early '90s.
"It used to be that you didn't stay here to work as an artist," Childs said. "You studied here and then you left. But when I came back that was really changing. It was possible to be an artist here and have a life and not have to wait tables and not have to do what they call 'survival jobs.' "
Twenty years ago, Childs and a friend started 1812 Productions with a focus on comedy. And then she absorbed herself into the community. She bought a house in Bella Vista, and then moved to her current house at Eighth and Federal Streets where she perfected "Patsy."
Childs said Patsy is a composite of dozens of strong-willed South Philly ladies. "A satire," she insisted, "that is born out of respect and love."
"I love the women here in South Philly," she said. "I was always amazed by, a lot of times, how they spoke in parable."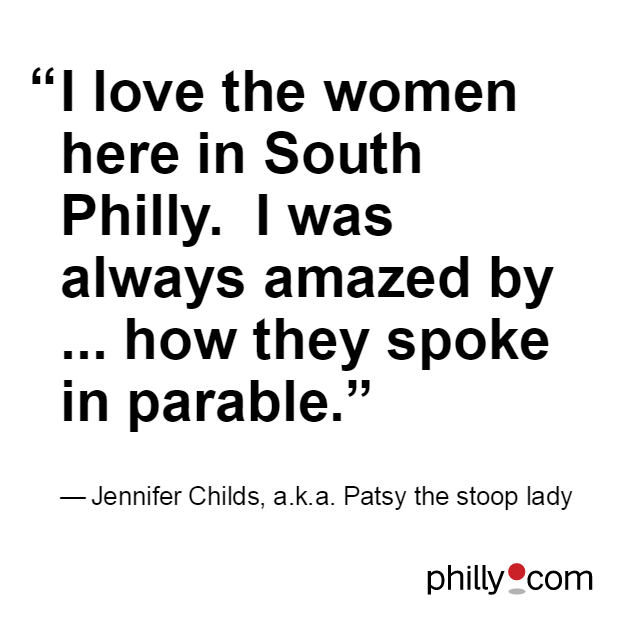 For example, Childs would ask a neighbor a question, "and she'd go off on this long story that seemed to have nothing to do with the question. But then she'd bring it around. And the moral of the story was always the answer to your question."
And so Childs thought: "Well, gosh, what if I created a character who did that with politics?"
Patsy thinks of herself as a local celebrity. She takes questions from her "fans" and answers their concerns. In 2014, Patsy explained the Chris Christie and Bridgegate controversy thusly: All politicians are people of appetites and passions, but of different varieties.
"And I've gotta tell ya's, I preferred a guy who attacks a box of jelly doughnuts for no good reason than the guy who attacks a country for no good reason."
And for those who say there is no proof Christie did anything wrong:
"But youse know what I always say: If there's a tomato-gravy stain on his T-shirt, youse know that somewhere, there is a empty pan of baked ziti."
When true South Philly natives encounter Patsy for the first time, though, they'll shoot her "The Look."
"The look that says, 'I know what you're doing,' " Childs said. "But as soon as they listen to her and what she has to say, they realize she's the smartest person in the room."
And much like our Stoops series, Patsy's Philly cred has been questioned over the use of "stoop" instead of "steps."
"'Stoop' is funnier," Childs said. "But I've had people come up to me afterward and say, 'That was so good ... but, ya know ...' "
---
About this Series:
Some Philadelphians spend summers lounging down the Shore, and others spend it sitting on their Stoops. This weekly series, about the places and ways Philadelphians gather, aims to tell the kinds of summer stories started or shared among neighbors. These are city stories that perpetuate long traditions, or cast a wary eye toward new trends. These are your stories, which are quintessentially, and unapologetically, Philly.