Alligators, bears, sheep, and now a snake. The 'burbs are being overrun.
On Tuesday evening about 6:20 p.m., a Delaware County homeowner returned and found a seven-foot reptile lounging on the driveway.
And not just any snake -- this was a Brazilian water snake, also known as a false water cobra.
When the snake reared up, the homeowner called 911, said Springfield Police Chief Joe Daly.
"This was not a garter snake," Daly said. It reminded him of a boa, he said.
The responding officer called for reinforcements and stood guard.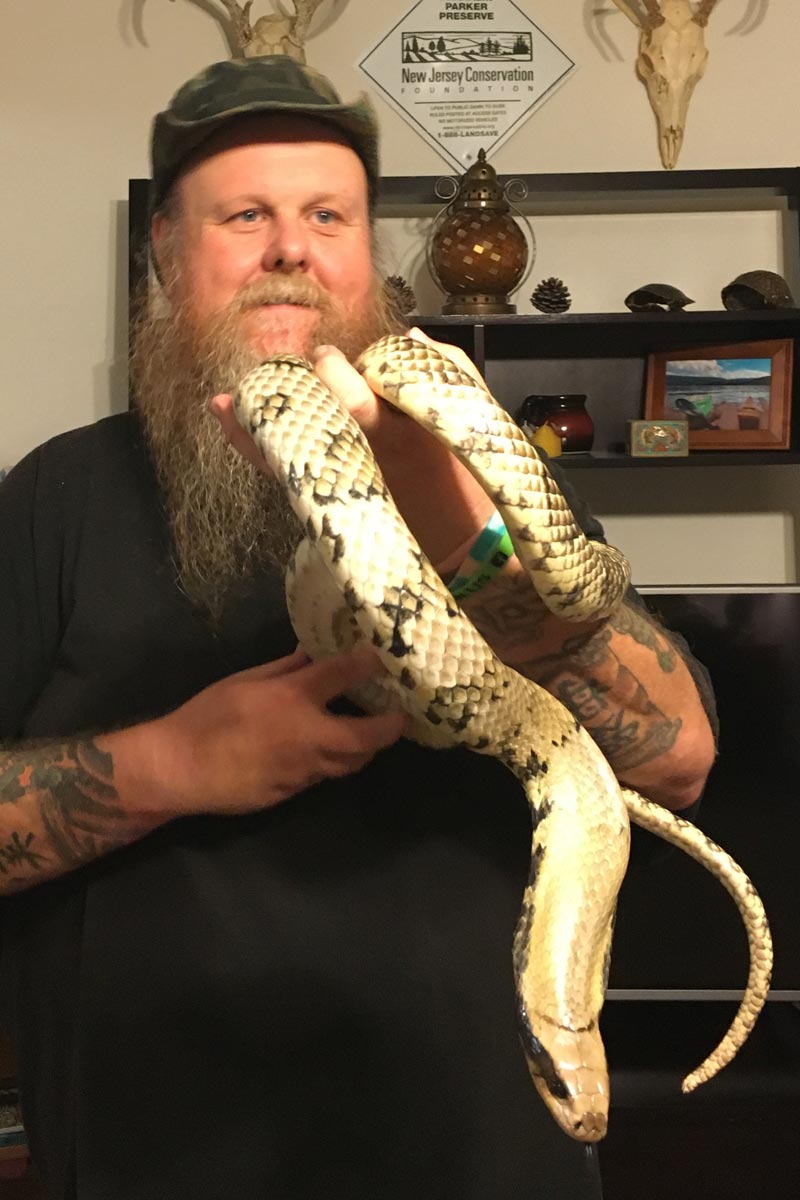 "We don't have an on-call mongoose," Daly said, referring to that mammal's penchant for fighting and killing cobras.
Police immediately set about trying to find someone to help with the snake -- which was not happy, according to Daly. They tried the SPCA, the county and the Philadelphia Zoo to no avail.
"The snake was in a defense mode," Daly said. "If it tried to get away, they would have destroyed it. We did not know what it was."
Daly theorized the snake escaped from its home and was attracted to the warm macadam on the driveway.
It was a child on a passing school bus who told them to call David Fitzpatrick, who owns snakes, who led them to Matt Hampel, a snake hobbyist.
"This was a captive snake kept by somebody who is most likely sorely missing their animal," Hampel said on Wednesday. By the time he arrived on scene, the snake had calmed down and Fitzpatrick had been able to put the snake in a garbage can, he said.
Hampel, who keeps 15 reptiles in enclosures in his bedroom, said the snake was about four years old and weighed about seven pounds. It is in good condition and fairly healthy. It is now resting, he said.
While the Brazilian water snake is venomous, for most people a bite will result in swelling and itchiness, he said. It feeds on fish and small mammals, Hampel said.
"These snakes are known as intelligent and inquisitive," he said."People who work with them can't say enough about how great they are as animals."
Hampel said if no owner comes forward he will either keep the snake or find a good home for it with a biologist or snake breeder, he said.
"No matter what, the snake will be in good hands," he said.
Daly said his department has some research to do into local codes to find out what regulations or special licenses the owner may need to keep this type of snake.
As for the homeowners, they were relieved, Daly said.
"It must have been a rough night's sleep dreaming of snakes under the bed, falling from the ceilings," said Daly, who is not a fan of snakes. "Nightmares."