Looking for updates from day two of the strike? Our live blog for Nov. 2, 2016 is here.
Subways, buses and trolleys have come to a halt in Philadelphia, as about 5,000 members of the Transportation Workers Union Local 234 walked off the job at 12:01 a.m. Tuesday. Here are the latest updates on the strike and getting around the city.
The Market-Frankford and Broad Street subway lines, city buses and trolleys are not running. Regional Rail, the Norristown High Speed Line and suburban buses are operating. How has the strike affected you? Let us know.
6:13 p.m.
At Suburban Station, lines for the West Trenton-bound trains stretched the length of a football field, curling around walls and in on themselves.
Sandy Maberry, who works in radiology at Penn, said she had been waiting for an hour and the line had barely moved.
"It's terrible. I could've taken another line but that's even longer. It's over by the dollar store," she said. "I'm getting ready to go to the bar and come back in a couple hours."
"That's what I did," another commuter chimed in. "It didn't help"
6:09 p.m.
Apparently, circumstances haven't been any better for bicycle riders, either.
What a dreadful #bike commute home today.So many angry cars. I've never felt the need 4 protected bike lanes quite like today. #septastrike

— Nate Hommel (@natehommel) November 1, 2016
6:04 p.m.
While riders on many Regional Rail lines are waiting an hour or more and Center City streets are a glowing red mass of gridlock, the Chestnut Hill East and West lines appears to be humming along.
Inquirer education reporter Susan Snyder said she was able to board a train in minutes -- only to have it mysteriously stop between Suburban Station and 30th Street. In the end, she said, the journey took about 20 minutes more than usual.
Can't remember it ever taking so long to get from NJ-PHL over the Ben Franklin bridge. Traffic backed up halfway to Camden. #septastrike

— Allison Steele (@AESteele) November 1, 2016
5:53 p.m.
The Philadelphia Common Pleas Court issued an injunction preventing picketers from blocking access to regional rail work sites, SEPTA reports. The injunction does not stop them from demonstrating elsewhere.
"SEPTA hopes this will ensure that incidents like those that disrupted service today will not happen again," SEPTA spokeswoman Carla Showell-Lee said in a statement.
5:45 p.m.
And now, a public service announcement from Philadelphia Congressman Brendan Boyle:
Be careful where you park during the #septastrike --PPA is still towing and ticketing, unfortunately. https://t.co/ENdSRvkK0J

— Rep. Brendan Boyle (@CongBoyle) November 1, 2016
5:41 p.m.
The city's shuttle service for municipal employees is running for another hour.
Nearly 800 employees have used city employee shuttle service this afternoon. Running from MSB until 7PM. Come take advantage! #septastrike

— Samantha Phillips (@SamPhillipsPHL) November 1, 2016
5:35 p.m.
The outlook heading into another evening of labor negotiations does not look promising:
TWU has received today's proposal from SEPTA but say it's not close to acceptable. #septastrike

— Jason Laughlin (@jasmlaughlin) November 1, 2016
5:26 p.m.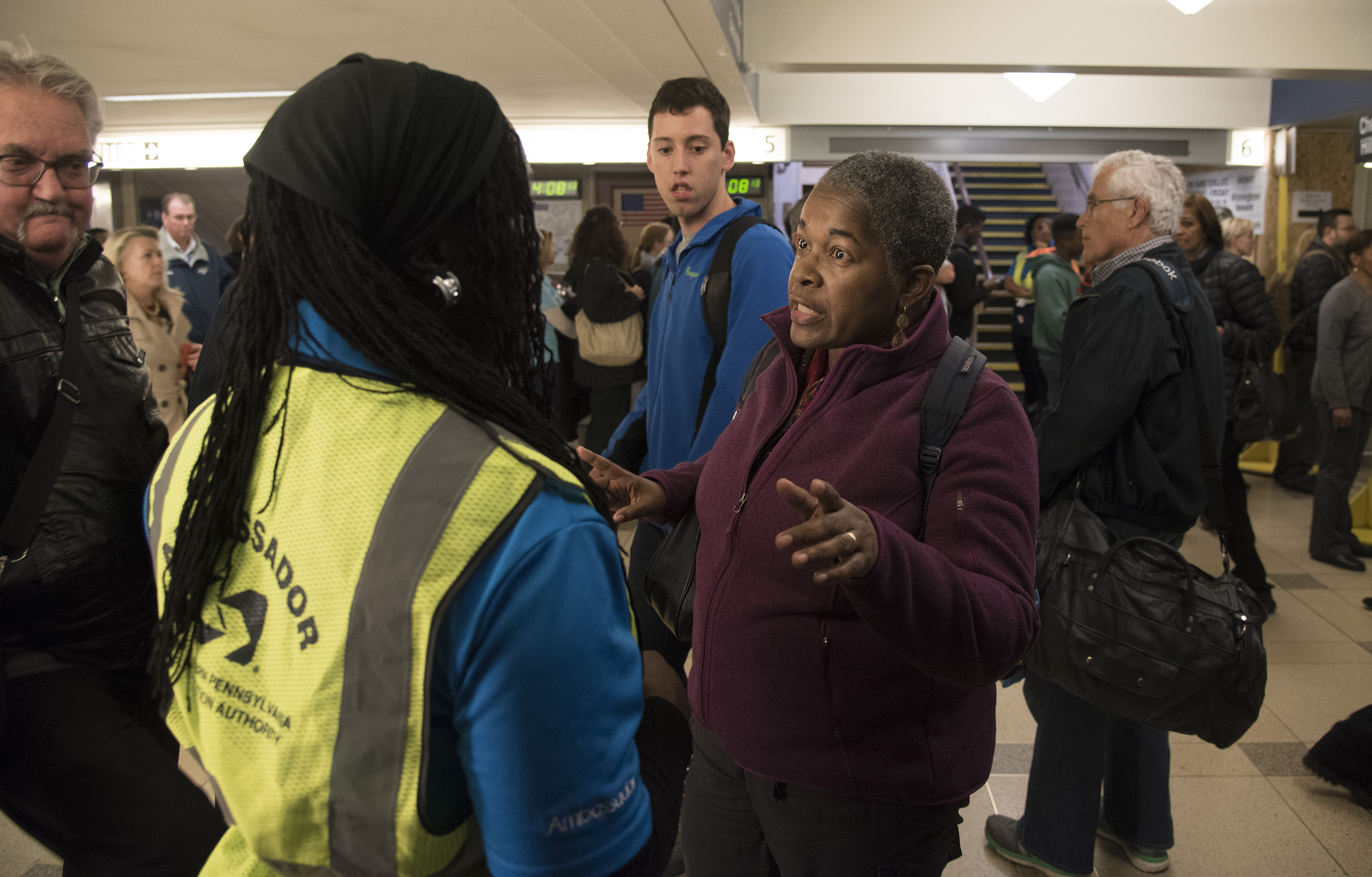 Carmen Teodoro, of Trevose, boarded the Trenton Line at 30th Street Station this evening on the first day of the SEPTA city workers' strike. Teodoro normally takes the No. 14 bus and the Market Frankford Line, but today, she rode Regional Rail for the first time.
"Everyone had to push their way on just to get on this train. They were desperate to get on," she told reporter Tommy Rowan in a phone interview from the train car. "Inside the train, there are no seats available and everybody is standing in the aisle. People in the aisle have to put their hands up on the ceiling to balance themselves."
SEPTA said conductors were instructed to collect fares from riders on the platforms before boarding, but Teodoro said the crush of passengers made it difficult for conductors to collect anything.
"They did not collect fares," she said. "I do have my fare, but they did not collect."
She said her husband is waiting for her at the Torresdale stop of the train.
"Have to give him credit!" she deadpanned.
5:22 p.m.
Joseph Schultice, the owner of Nicks Bar and Grille in Old City, said in an email that the restaurant had to close today because so many of his employees couldn't get to work.
"I am hoping to be able to open tomorrow. Which could mean I would have to drive and pick some of our employees up."
Schultice placed the blame on both workers and management, saying they "do not realize the amount of strain they have put our entire area under."

5:05 p.m.
Members of the Philly Socialists, the Workers World Party and other groups said they will join the picket line from 5:30 to 7 p.m. outside of SEPTA's headquarters, at 1234 Market St., to show solidarity for the transit agency's bus, trolley and subway drivers in Philadelphia who are on strike.
"The power a union has to deliver good wages and benefits is not something that we should resent," the organizers said in a statement. "If only we all had unions that fought for our benefits and were able to deliver the way TWU has!"
4:59 p.m.:
Reporter William Bender said the picketers at the rail yard have moved on. The delays, however, continue. At Jefferson Station, a SEPTA worker said they are letting 250 people at a time go to platforms. Some have been waiting over an hour to get to their platforms.
Jamie Horwitz, spokesman for TWU 234 spokesman, said "The union is working with SEPTA's lawyers to protect the exercise of free speech through picketing while still allowing unfettered access to SEPTA facilities and preventing any form of interference."
4:43 p.m.:
Gene Blaum, PennDOT spokesman, said highway traffic cameras showed the afternoon rush hour out of Philadelphia at 4:15 p.m. to be "heavier than normal" on westbound I-76 from the Interstate 676 exit to Belmont Avenue. So far, traffic on I-95 heading north out of the city appears normal, he said.
4:22 p.m.:
The strike is now pulling down much Regional Rail service as well, as picketers at SEPTA's Robert's Avenue Yard at 342 Roberts Avenue in Germantown are blocking rail employees from getting to work. So far, two airport trains have been canceled and Lansdale/Doylestown, Paoli/Thorndale and other lines are reporting delays of 15 to 40 minutes.
RRD: Significant number of trains to be canceled tonight; several rail yards blocked by TWU strike activity. Seek alternate means.

— SEPTA (@SEPTA) November 1, 2016
In a statement, SEPTA urged rail passengers -- regulars and those displaced from subways, trolleys and buses -- to "seek alternative modes of travel. SEPTA will post a full list of canceled trains on http://www.septa.org and on Twitter."
The agency said it "is seeking a court injunction that will allow Regional Rail employees to report to their assigned work locations."
How is SEPTA's strike affecting you? Follow our live stream here
Lines at Jefferson Station are CRA-zy! pic.twitter.com/iJR8f5zgfM

— Helen Ubiñas (@NotesFromHeL) November 1, 2016
The @philamuseum's Snapchat feed has a brilliant take on the #SEPTAStrike: pic.twitter.com/I8bAkRRu2z

— Jonathan Tannenwald (@jtannenwald) November 1, 2016
1:56 p.m.: A heads-up for Regional Rail riders as you're getting ready for the afternoon commute: During peak hours (from 2:45 to 7 p.m.), passengers will need to wait at the concourse level at Center City stations (Temple, Jefferson, Suburban, 30th Street,and University City), and all fares will be collected and passes checked before riders can board trains.
1:15 p.m.: The shuttles for city employees will resume for the afternoon commute at 3 p.m.
AM shuttle for @PhiladelphiaGov employees concluded. PM shuttles leave MSB starting @ 3P. Major traffic, but no major incidents for AM rush.

— Samantha Phillips (@SamPhillipsPHL) November 1, 2016
12:30 p.m.: The latest on contract talks: They're expected to pick back up later today.
12 hours and 30 minutes passed since #septastrike began. Union and septa expect to sit back down this afternoon and resume negotiations

— Jason Laughlin (@jasmlaughlin) November 1, 2016
12:05 p.m.: PennDot says rush-hour traffic into the city on Interstates 76 and 95 began a bit earlier than normal Tuesday. The Schuylkill Expressway eastbound was already "very, very heavy" by about 6 a.m., said Gene Blaum, PennDOT spokesman for the five-county Philadelphia area. Rush-hour traffic into the city on weekday mornings is generally from about 6 to 9 a.m. Commuters apparently started their morning drive earlier because of the strike, he said.
12:02 p.m.: The strike is generating national media coverage. Here's a round-up of how news organizations across the country are reporting on the strike: Wall Street Journal, USA Today, CNN, NPR, New York Times
11:53 a.m.: Gov. Wolf and Mayor Kenney address the strike:
@GovernorTomWolf on #septastrike pic.twitter.com/ybrDQwZOsq

— Julia Terruso (@JuliaTerruso) November 1, 2016
@PhillyMayor on #septastrike just now. pic.twitter.com/te9dsQ0bNF

— Julia Terruso (@JuliaTerruso) November 1, 2016
11:45 a.m.: You know the standard alternatives to SEPTA. But have you considered rollerblades or a surrey? Here are seven weird ways to commute during the strike.
11:35 a.m.: At mid-day, some regular SEPTA riders were still figuring out how to cope with the strike. Aigner Spencer, 27, who works at Godiva in the King of Prussia Mall, caught a ride with a friend. "If it wasn't for her, I wouldn't be able to come to work. She's off tomorrow, so I have to be off tomorrow," said Spencer, who lives in Southwest Philadelphia. Two Godiva employees live in North Philadelphia and Spencer said she has "no idea" how they will get to work. An assistant manager plans to work a 12-hour shift to fill in. "The people who work at the mall, the majority of them live in Philly," she said.
11:18 a.m.: The latest on Regional Rail delays: Most lines are running with 45-minute delays. There are 20-minute delays on the Paoli/Thorndale Line.
10:50 a.m.: Even after the peak commute rush, big traffic back-ups are still being reported around the region.
Ben Franklin Bridge, 10:40 a.m. Traffic backed up more than halfway heading to Philly. #SEPTAstrike pic.twitter.com/HgpKU5zGI3

— John Duchneskie (@jduchneskie) November 1, 2016
10:34 a.m.: Scenes from the picket lines: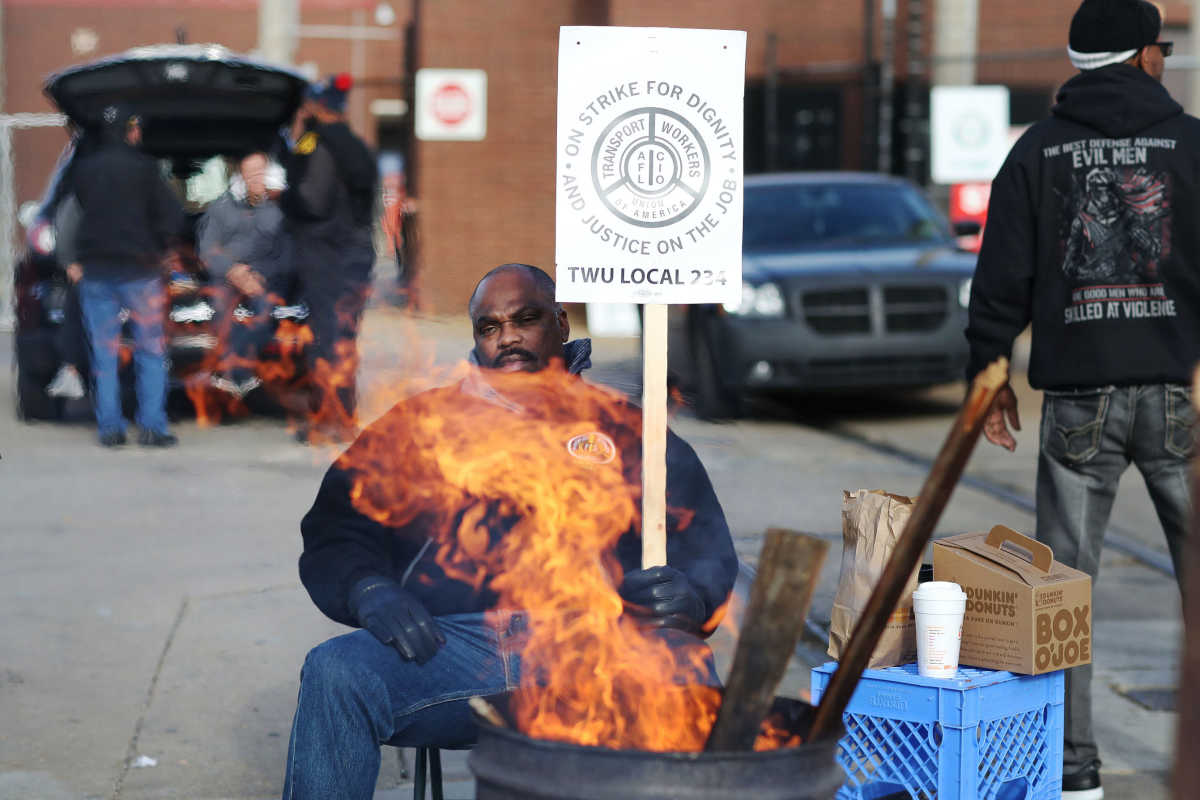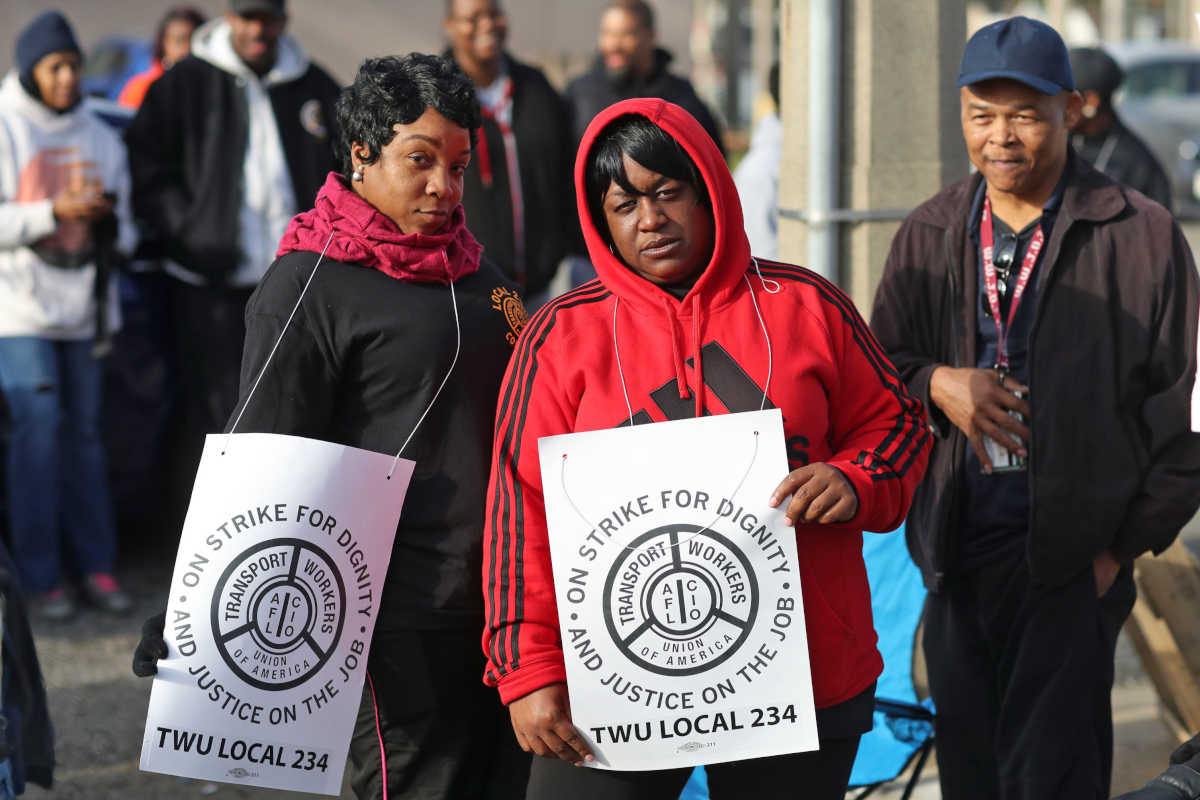 10:24 a.m.: Traffic gridlock is one of the major effects of the strike. Cars were backed up for blocks on Broad Street between South Philadelphia and Center City, with big jams also reported on other streets.
...and 6th Street is a parking lot. #septastrike pic.twitter.com/g4xA5Z1JKt

— Rob Tornoe (@RobTornoe) November 1, 2016
10:19 a.m.: Here's how Central High School, one of the city's top magnets, is coping with the strike, according to principal Tim McKenna: The normal 25-minute minute advisory period at the beginning of the day has been extended to 60 minutes to give students more time to get to school A wrestling room is being used to store students' bicycles. Students who drive can park in the school's lot even if they don't have a parking sticker. And students and parents have formed carpools. "We're a community, and we 're working together to get through this," McKenna said.
10:08 a.m: Even at Regional Rail stations that saw major crowding earlier, workers reported calmer conditions as the morning rush died down.
Kim Kennedy, director of railroad services, with last morning rush at Overbrook Station. She said platform was "packed" at 8. #septastrike pic.twitter.com/h99dU6Orwc

— Jason Nark (@JasonNark) November 1, 2016
9:59 a.m.: At the King of Prussia Mall, some employees were wondering how their coworkers would make it for their shifts later in the day.
"It's a prayer," said Bessie Morris, a 25-year-old from West Philadelphia who was preparing food at Hai Street Kitchen and Co. "We're still trying to figure that out now." She normally takes the Market-Frankford Line and then the 123 bus, but on Tuesday walked about 25 minutes to catch the bus.
"When I found out [the strike] was about benefits, that could happen to anyone. Everybody needs benefits," Morris said. "I understand where they're coming from, but it's inconvenient for us. I just hope they don't strike too long."
9:52 a.m.: Colleges and universities in Philadelphia are not canceling classes but have added shuttles to help students and staff get to campus. But some students still reported sparse attendance at classes.
"A lot of people weren't there," Temple University junior Marissa Aguado said of her 8 a.m. humanities class. "A lot of people were late, too."
At the Temple Regional Rail station, people were waiting for trains listed between 29 and 69 minutes late. But those disembarking said the commute hadn't been too bad.
"The schedule they were supposed to be following they didn't," student Britani Vince said.
9:41 a.m.: Cab drivers in Upper Darby were reporting brisk business. Sanjeev Kumar, a driver for County Cab, has had a good morning but his customers haven't been so happy.
"They are really frustrated," he said. Even in a cab, trips are longer because of increased traffic, costing riders more. "It's not a good time for them but it is very good business for cab drivers."
9:36 a.m.: The strike is affecting businesses near normally busy transit routes. Business was bad Tuesday morning at the iconic Chestnut Hill News Stand on Germantown Avenue.
"Oh, its terrible, very slow," said Sam Warwick, 44, who was running the stand. Commuters who normally board No. 23 and No. 77 buses at the Chestnut Hill Loop bus terminal were nowhere to be seen. That meant no gum, candy, or newspaper sales at the yellow-and-green-roofed stand. "This is not exactly profitable. I haven't sold a single Daily News. Hopefully, they'll come up with an end to the strike."
9:27 a.m.: The Philadelphia School District says all schools are open and operating normally. All employees are required to report to work, and all students are encouraged to attend. A district spokesman noted that school officials have been monitoring the situation and communicating with parents, students and staff. About 51,600 students rely on SEPTA for transportation while about 30,300 ride yellow school buses to and from school.
9:22 a.m.: Regional Rail riders are still seeing delays and crowding. Delays of at least 30 minutes are being reported on all lines, with some routes seeing significantly longer waits due to heavy passenger volume.
At Temple... #septastrike pic.twitter.com/2T7s3g526y

— Justine McDaniel (@McDanielJustine) November 1, 2016
9:16 a.m.: What a normally packed transit hub looks like during the strike:
A normally busy 69th St.Station is nearly empty. #septastrike pic.twitter.com/dvivWJQs4K

— Mari Schaefer (@MariSchaefer) November 1, 2016
9:09 a.m.: Follow along with what people are saying about the #SEPTAStrike with our curated round-up of social media posts here.
9:01 a.m.: Fewer people also appeared to be riding PATCO into the city amid the SEPTA strike.
Saw fewer people on my @RidePATCO train into city; number also down getting off at 8th & Mkt. Assume many are driving in. #septastrike

— Joseph Gambardello (@jgambardello) November 1, 2016
8:47 a.m.: Philadelphia's bike-share system is seeing a lot of use and many empty docks in residential areas.
Heavy @RideIndego use in #southphilly on day 1 of #septastrike pic.twitter.com/W9l2t2ihmb

— Jacob Adelman (@jacobadelman) November 1, 2016
8:44 a.m.: There are no updates on the negotiations so far today.
Good morning on day 1 of the #septastrike. Nothing new from SEPTA so far this morning.

— Jason Laughlin (@jasmlaughlin) November 1, 2016
8:38 a.m.: Students who drive to school reported heavier traffic than normal but said they were glad their trip wasn't severely disrupted. "Some of us are lucky to have friends that drive, " said Central High School student Christopher Carson, 16, who rode with 17-year-old Henry McDevitt and 16-year-old Abe Barash from the Chesnut Hill-Mount Airy area.
8:35 a.m.: At Upper Darby's 69th Street Station, there were fewer people than on a normal day. The SEPTA parking lot, usually full, was nearly empty. Riders at the station were trying to figure out their options for getting to work.
"I have class at nine," said Anand Dwivedi, who teaches at the Lauder Institute in the University of Pennsylvania's campus. While he was aware of a strike possibility, he didn't fully understand that it would impact his commute Tuesday morning. "I don't know what to do. I'll have to take a taxi or something."
At the Philly Pretzel Factory in 69th St Station, it is "insanely slow," according to workers. #septastrike pic.twitter.com/19Lb0r4Z3m

— Mari Schaefer (@MariSchaefer) November 1, 2016
8:19 a.m.: Regional Rail lines especially hard hit by delays this morning: Chestnut Hill West, Fox Chase and Paoli/Thorndale, which all have hour-long delays. Other lines were seeing 30-minute delays.
8:12 a.m.: Not all riders have heard about the work stoppage.
At 69th St. station in Upper Darby, some riders who didn't get word about strike were confused. pic.twitter.com/PnkM4YH4yg

— Mari Schaefer (@MariSchaefer) November 1, 2016
8:09 a.m.: Jams and chaos were being reported on some roads with more cars than usual on the streets.
Traffic jammed on 17th St. near Spring Garden. Motorists honking. Kids leaving cars to walk rest of the way to school. #SeptaStrike

— Yvette Ousley (@YvetteOusley) November 1, 2016
Driving up Callowhill toward 4th and lots of honking and swerving. #septastrike apparently made everyone forget how to drive.

— Erica Palan (@errrica) November 1, 2016
8:01 a.m.: Mayor Kenney has issued a statement calling for the two sides to continue working to reach a resolution: "I urge both SEPTA and the Transport Workers Union to maintain communication despite the work stoppage. Tens of thousands of Philadelphians rely on the buses, trolleys and subways, so it is vital for everyone that this situation be resolved as quickly as possible.
And I urge residents to have patience during this period. We expect that traffic will be greatly impacted, so make alternate travel arrangements as soon you are able, including carpooling, walking and biking. Check with your employer about the possibility of a flexible work schedule to avoid the rush hours. And please — check on elderly neighbors who rely on SEPTA for trips to the grocery store or doctor. This period won't be easy, but by pulling together as a community we can lessen the difficulties for everyone."
7:50 a.m.: With SEPTA out of service, many people appear to be turning to cars. A long line of vehicles was at Central High School, a North Philadelphia corner normally packed with students getting on the subway was empty, unauthorized taxis were getting big business and Broad Street was jammed.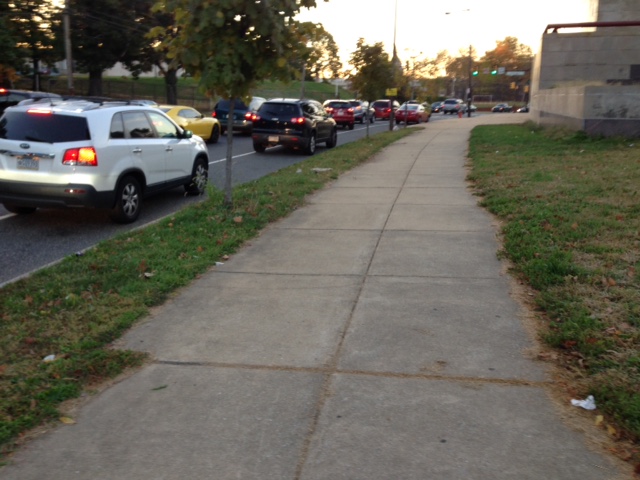 The "gypsy" cab operators say they're making a killing. #septastrike

— Jason Nark (@JasonNark) November 1, 2016
Regulars are telling me Broad street is packed. #septastrike pic.twitter.com/mCA7zX8HdU

— Jason Nark (@JasonNark) November 1, 2016
7:43 a.m.: Here's a snapshot at what people across the region are saying about the SEPTA strike during this morning's commute.
To add insult to inconvenience, SEPTA has employees checking for fares on platform for trains that pass us by #SEPTAstrike #SEPTApocalypse

— Malinda Ann Hill (@MalindaAnnHill) November 1, 2016
Gotta say my morning commute was uberly smooth without the interference of buses and ppl dodging in the street to catch them #SeptaStrike

— The Great One ™ (@LovelyLadyTash) November 1, 2016
Want to talk about greed & your morning commute? @Uber surging prices in Philly. A pool now is 3 times the usual. #septastrike

— Abraham Gutman (@abgutman) November 1, 2016
7:30 a.m.: The scene at subway stations this morning: Shuttered gates.
Closed at Broad & Erie. #septastrike pic.twitter.com/9Ibsq6bvMY

— Jason Nark (@JasonNark) November 1, 2016
This morning in one tweet #SEPTAStrike pic.twitter.com/eCEMEK8Mu4

— Jonathan Tannenwald (@jtannenwald) November 1, 2016
7:05 a.m.: Regional Rail lines are operating with half-hour delays and big crowds are being reported.
RRD: All service is operating with delays up to 30 minutes due to heavy travel.

— SEPTA (@SEPTA) November 1, 2016
6:40 a.m.: There are reports of heavy traffic on local highways early into Tuesday's commute.
#septastrike No city transit = extra traffic. 95 SB even worse than normal – already jammed Woodhaven to Cottman & Betsy to Girard. @6abc pic.twitter.com/R7HJzQafaw

— Matt Pellman (@MattPellman) November 1, 2016
6:15 a.m.: Here are some tips if you're using the Indego bike-share system for the first time this morning:
Here are a few pro tips to help you have a successful commute. #rideindego #themoreyouknow #septastrike pic.twitter.com/GHP9TweebP

— Indego (@RideIndego) November 1, 2016
5:50 a.m.: SEPTA stations are being shuttered amid the strike.
Septa Subway stations are locked up&shuttered, no buses many on streets already looking for a way home @FOX29philly pic.twitter.com/WkywV6LyXu

— Steve Keeley (@KeeleyFox29) November 1, 2016
5:35 a.m.: Looking for alternatives for getting around the city? Options include walking, biking, driving and car- and ride-share services like Uber, Lyft and Zipcar. Additional trains are running on some Regional Rail lines.
5:23 a.m.: There is no update on contract negotiations as the earliest of commuters begin making their way into and across the city without transit service.