The owners of The Playground in Atlantic City say a hacker has created a copycat Facebook page that has been used for over a week to taunt and mock customers with offensive and vulgar posts.
The fake page, which goes by the name "PLAYGROUNDPIER," has nearly 13,000 likes, over 4,600 check-ins and is the first result on Facebook when users search for the business. Posts on the page go back to 2014.
Owners say the real page can be found under the name "PlaygroundPierAC."
The confusion has led to people being taken off guard by offensive language and insulting posts made using the company's name.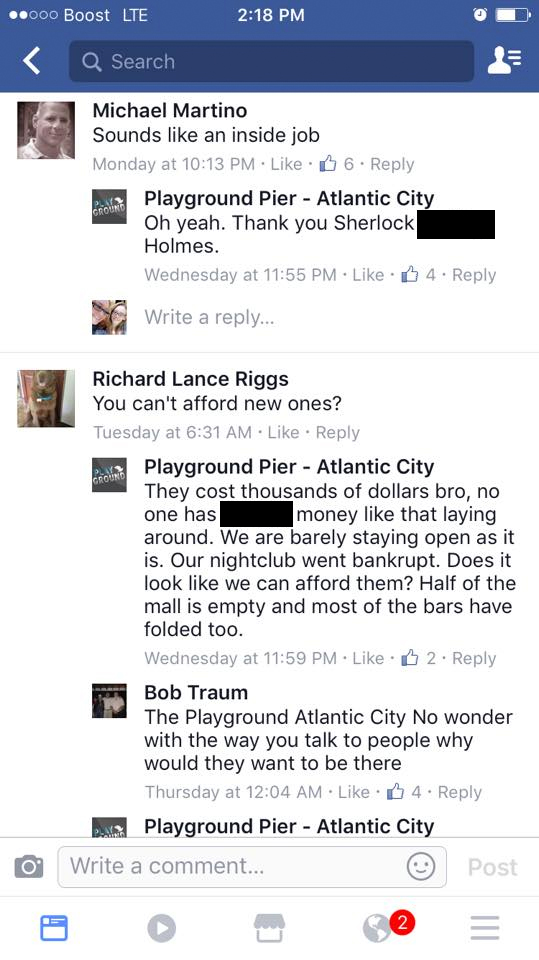 A spokeswoman says the owners have reached out to investigators to look into the "horrific" comments that continue to be made under the company's name.
"People are outraged believing a Playground social media executive is actually responding in such a crude manner," said spokeswoman Lisa Johnson. "The Tower team is working diligently with their social media rep to try to get Facebook to take down the page."
The comments, which ranged from grammar corrections to obscene language and racism, grew increasingly offensive on Saturday, according to several people who posted complaints on the Facebook page.
"This is a horrible horrible representation of this company," posted Egg Harbor Township resident Betty Jo Martin.
The company's other social media accounts don't appear to be affected.
Ray Sheehan, who is paid to run the company's social media accounts, told Breaking AC's Lynda Cohen that they went through Facebook's normal process, but that they haven't yet regained control of the site.
Bart Blatstein bought the former Pier Shops for $2.7 million in 2015 and renamed the upscale shopping venue the Playground, re-opening to mixed success as a multi-venue bar and music space.
Earlier this year, Playground's website was also hacked, though management was able to regain control fairly quickly.