Cyrus the Clydesdale – who was once destined for slaughter and became a worldwide sensation after he became stuck in a muddy Chester County marsh – is headed to his permanent home in Virginia on Saturday, and his best friend Ghost is going with him.
On Oct. 5, 18-year-old Cyrus was chased into a pond by a dominant horse in a pasture at Thornbury Farm Stables on the 1200 block of Thornbury Road in West Chester.
It was cries from Ghost, his pasture mate, that helped alert Penny Parker, the stable manager and a volunteer with the rescue group Horses of New Holland, to the plight of the missing Cyrus.
The horse was found in the swampy pit — only his head and rear were above the dark muck. Rescuers worked for hours to extract the 1,700-pound horse by crane.
Back on dry land, Cyrus, who had to be sedated for the crane ride, was upset, Parker said. When vets asked that another horse be brought over to help calm the Clydesdale, it was Ghost that Parker called upon.
"When Ghost came over he just leveled out – calm and peaceful," said Parker. "It was kind of magical."
After a couple days at Unionville Equine Associates hospital, where Cyrus was taken for observation, he came back to the farm.
"They were just keeping an eye on his lungs for pneumonia because he ingested muddy water," said Parker. The horse is still on antibiotics but otherwise fine, she said.
Once back at the farm, Cyrus and Ghost, a 15-year-old Medicine Hat Paint, became even more inseparable. The two geldings could be seen nuzzling and grooming each other, she said.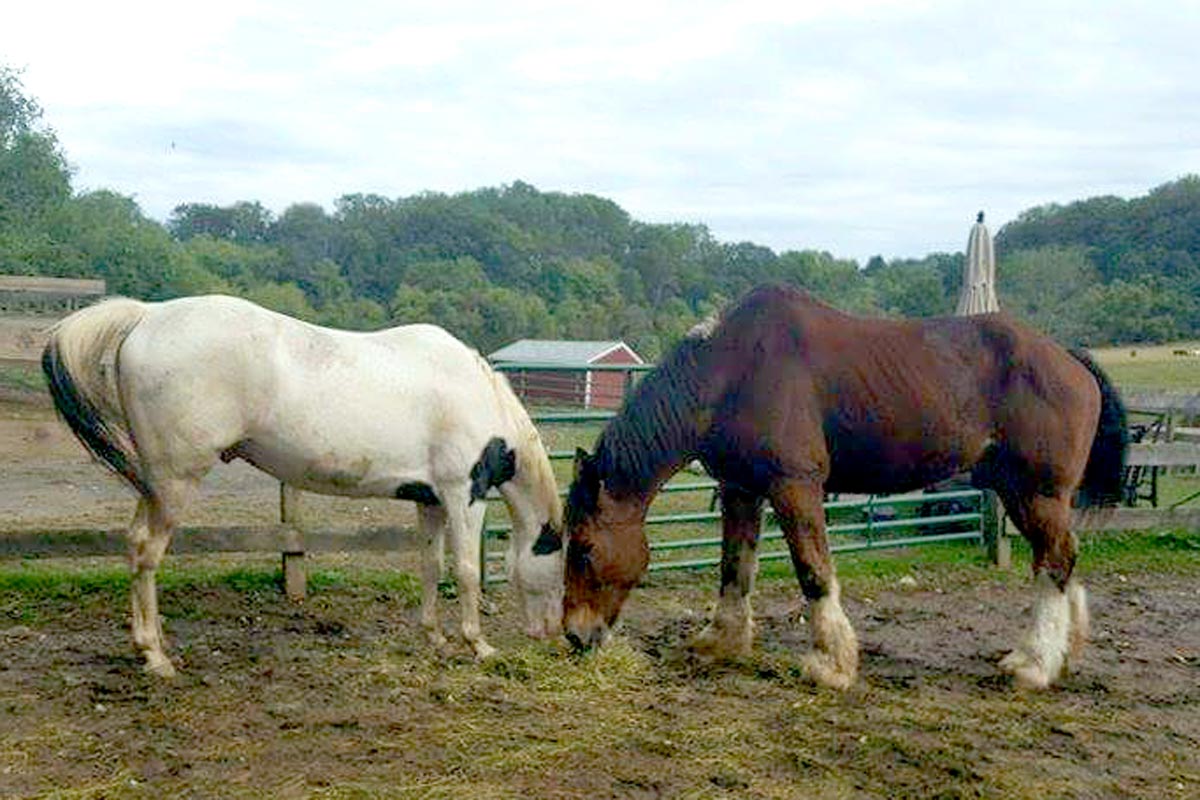 Ghost was also once bound for slaughter and rescued. He was found to have fractures of the navicular bones in his feet and can never be ridden, she said.
"He is so sweet and so special," said Parker, who intended to keep Ghost because of his infirmity.
As she watched the two horses interact, Parker said she realized it would be traumatic to both if they were once again separated.
Keith Horswill, of Zuni, Va., who adopted Cyrus, came up after the incident to see the Cyrus. When Parker asked if Horswill and his family would also take Ghost to their private farm, he willingly agreed, she said.
"When he watched the magic between Cyrus and Ghost he decided they should stay together forever," Parker said.