MARCIA CROMWELL STOOD before her garden — a collection of potted plants crowding the front steps of her Point Breeze home — making sure each one received an adequate drink of water.
It was a warm June day, and she had to keep her babies cool.
"Some people talk to them," Cromwell said. "I'm not going that far. ... I mean, if I'm out here sipping on a cocktail I might say something, but that's about it."
The white gardenias were blooming. The pinks? "They bloom twice a year. We'll see." And the blue angels are a new addition this year, their colors yet to show.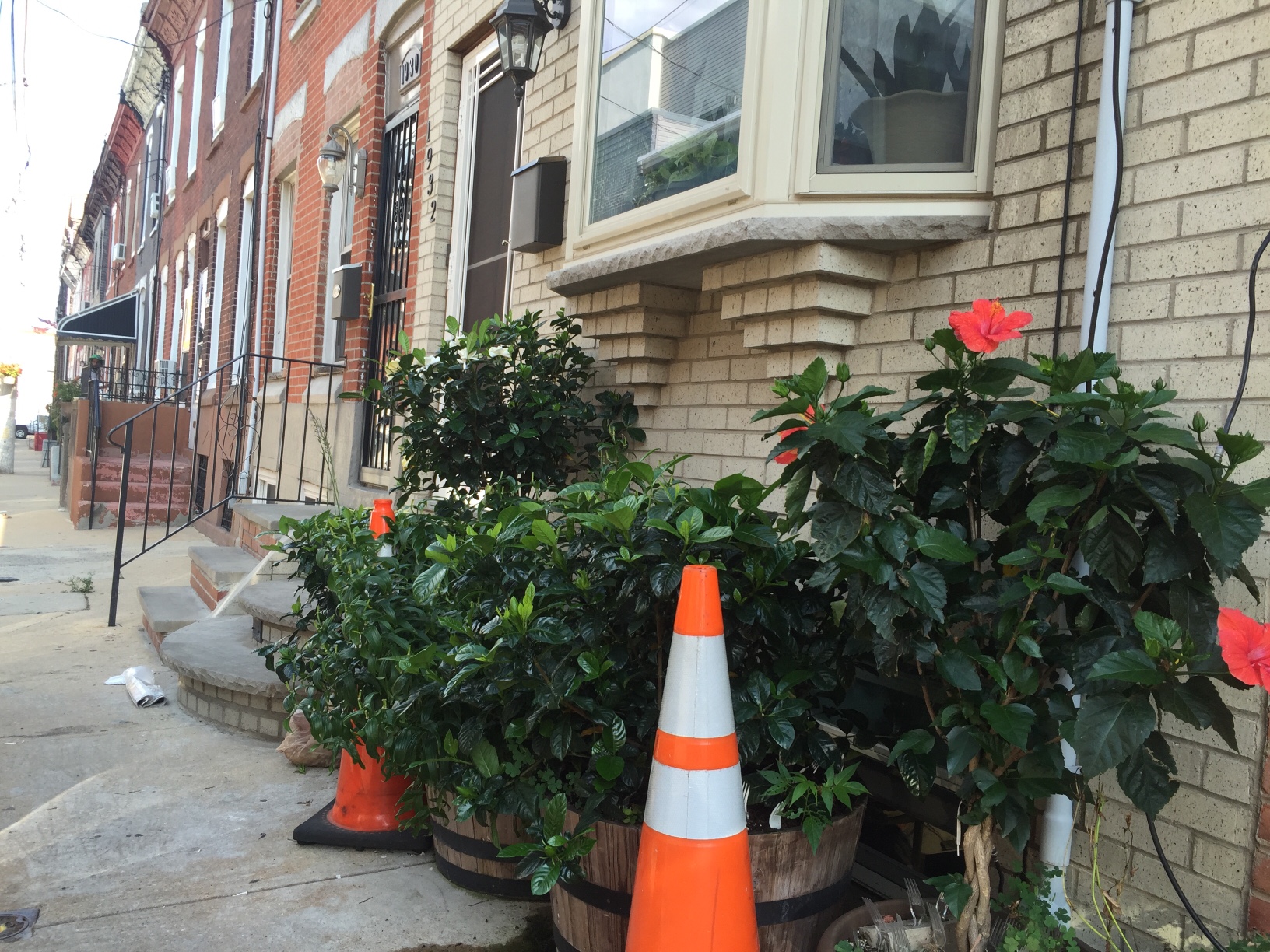 Cromwell's flowers are a reflection of herself and her household. The collection projects to the neighborhood a message: We care.
In the narrow streets of South and North and West Philadelphia, where rowhouses stretch up and back instead of across, first impressions must be confined to the 15- or 20-foot-wide facade. For Cromwell, that means keeping the steps colorful and lively with plants. For 77-year-old Joan Johnson, it means keeping the front steps clean — swept, washed, and polished.
Johnson grew up on the 2800 block of North Warnock Street in North Philadelphia, in a place that no longer exists.
"Imagine my shock when I Googled my old house and learned that all of the houses on that block of N. Warnock (between Cambria and Somerset) had been razed!" she said in early June.
Things are more spread out where she lives now, outside Wilkes-Barre, but Johnson remembers vividly the days when North Philadelphia contained row after row of pristine marble steps.
Residents were out every Saturday with a scrub brush in one hand and Old Dutch cleanser in the other, a bucket of warm water always within reach as they scrubbed the marble.
"I scrubbed ours and then went up the street to scrub the piano teacher's steps," Johnson said. "She paid me a nickel."
It takes dedication, and routine, and sometimes some tricks to maintain a stoop worthy of pride.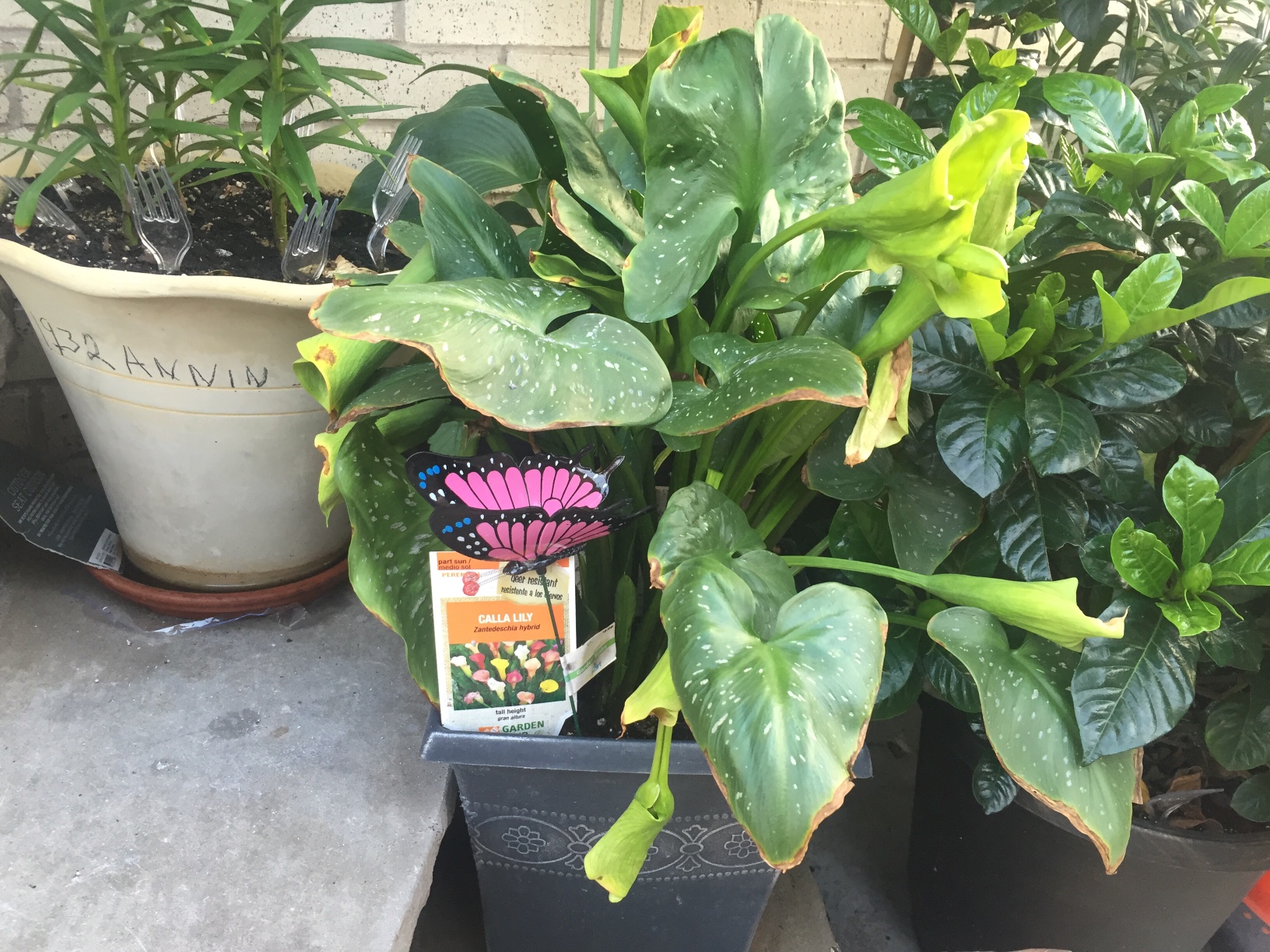 Cromwell, for example, sticks forks in the soil, prong-side-up, to keep critters away.
"For cats," she shrugs. "We have a lady on the block who feeds them every morning, all the stray cats."
Apparently the cats find fresh dirt a welcome alternative to kitty litter.
"I can always tell when they do that because there's a bunch of flies around my plants. I have nothing against cats," she said, "but I don't want them pooping in my plants."
For extra protection, Cromwell added, "I put a little red pepper around there. Between the forks and red pepper, they don't come to my plants."
Cromwell is in her 50s. She grew up in South Philly, moved to Chestnut Hill for a while, and then came back to her old neighborhood when she got engaged about five years ago.
Now she and her husband live in the home that was her mother-in-law's, on Annin Street near 20th. Her mother-in-law died in 2003, but the garden keeps her memory alive.
The lily, Cromwell said, "Blooms every year on my mother-in-law's birthday." It's her favorite.
Cromwell said she is happy to be back in the neighborhood, despite the developers driving up property taxes and new neighbors slow to learn the old ways.
"You gotta break them in," she said. "They come in and they don't want to speak and all that, and you say, 'Uh, GOOD MORNING!'"
They return a shy "Hi" or "Hello."
Does everybody get along?
"You might not be the most liked or the most popular, but we still look out for each other. That's the way it's supposed to be," Cromwell said.
She put out her cigarette and admired the health of her garden.
"If you move into a neighborhood like this," she said, "you've got to be part of the family."
---
About this Series:
Some Philadelphians spend summers lounging down the Shore, and others spend it sitting on their Stoops. This weekly series, about the places and ways Philadelphians gather, aims to tell the kinds of summer stories started or shared among neighbors. These are city stories that perpetuate long traditions, or cast a wary eye toward new trends. These are your stories, which are quintessentially, and unapologetically, Philly.