ON THE FRINGES OF CHINATOWN, hanging on a stoop just off Race Street, a black man, a gay white man and a white Southern woman took turns shaking their heads and rolling their eyes.
"It's splitting the Republican party into two," the gay man said.
"I'm terrified," the Southern woman said. "My husband's a Muslim immigrant."
"He's using the playbook of Hitler," the black man said.
They were referring to Donald Trump, who at that very moment was being confirmed as the Republican Party's presidential nominee at the party's convention in Cleveland.
At their usual gathering place on the steps of an apartment building, the diverse group of friends discussed issues that affect their daily lives -- equal rights, economic opportunities, racial injustice. They were many of the same topics discussed at the Republican National Convention, but from a very different vantage point.
"We are as diverse as it gets," Sonja Ar said.
She passed out paper cups filled with fruity alcoholic concoctions. They plucked store-bought cookies from plastic bags and dipped pieces of toasted bread into a mix of tomatoes, garlic and olive oil.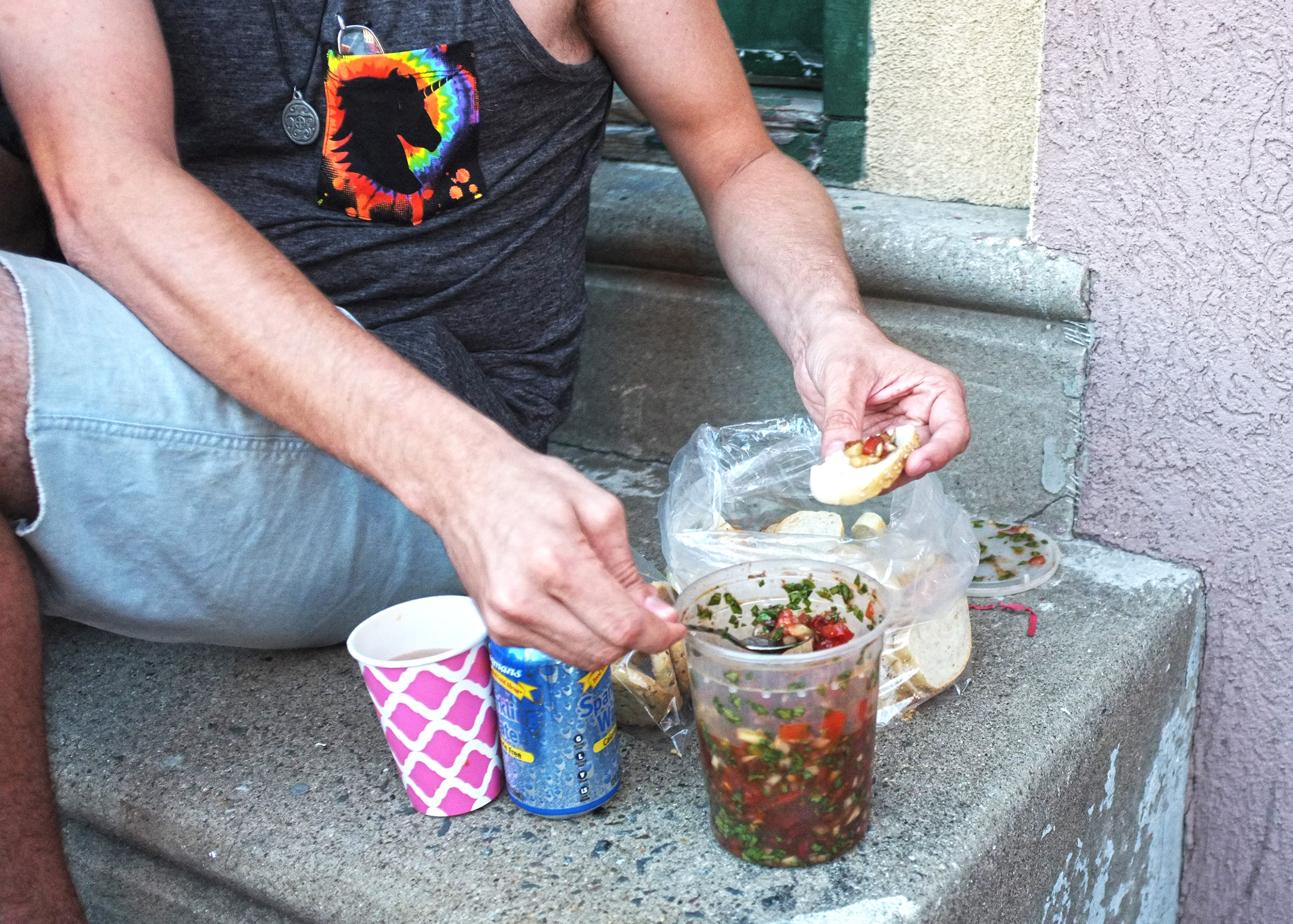 Ar, who is from South Carolina, lives in the basement apartment with her Turkish husband and her daughter from another marriage. She became friends with the man from the first floor, Maurice Hall, a Philly native who used to own a clothing company. The building sits a block north of the Pennsylvania Convention Center, which will hold some caucus meetings during the Democratic National Convention. The four-day event, hosted in Philly, starts Monday.
Rounding out the party were Bruce Dodge and his boyfriend Joe Zita. Dodge, who works in the food industry, wore a grey tank top with a rainbow-colored unicorn on the breast pocket.
"He just speaks to people's fears," Dodge said, his hard r's and long y's giving away a New England accent. "He uses them to divide."
Dodge lives in South Philly but met Ar at a bar and bonded over pie. He has since joined their friendly stoop group.
"We're all very different," he said, "but we need to stop fearing each other."
Ar, who speaks with a thick Southern twang, works in retail. Her husband works in South Jersey, and she met him there to watch the first night of the RNC Monday at a Cherry Hill diner.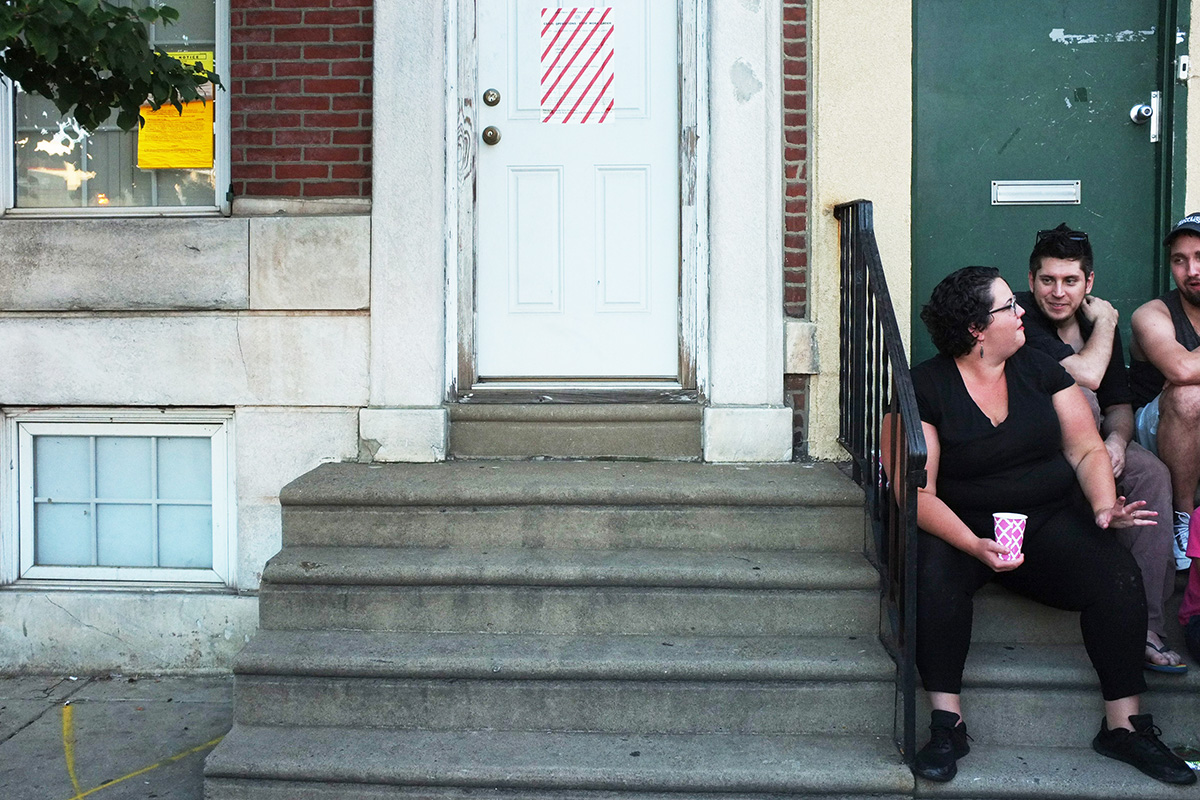 "There were no black people there," Ar said of the convention.
"There were actually more up on stage than there were in the crowd," said Hall, who wore a collared shirt with sweatpants.
"And everyone who spoke was so scary," Ar said. "People were shouting into the microphone that we don't have to fear anymore, and I was scared of everything they said!"
Hall raised his hand.
"Can I say something positive?" he said in a hushed tone. If young people "all come out to vote like they did for Obama, he'll lose by a landslide. Everything he says is not true."
Dodge pushed up his black cap.
"What's really kind of scary is that my parents, they are Trump supporters, unfortunately," he said.
Ar groaned.
"Your parents, how old are they?" Hall asked.
"My mom is 45, and my dad is 46," Dodge said. He said he regularly reads his mother Donald Trump quotes.
"Let's take an example, like Donald Trump said that if we're going to attack these terrorists, we're going to have to attack their families, too, which is against the Geneva Convention and human decency," he said. "I quoted that to my mom and she told me, 'Oh, he's not serious.'"
He has not given up trying to persuade her, but hasn't made much progress. "If you can't take him at his word when he's up there, why should he be president? And she always gets frustrated with me."
A few months back, Dodge and Zita, were in a hotel room with Dodge's mother, watching Fox News and a report on Trump.
"And Joe said to my mom, 'Hey, you know he's against gay marriage?'" Dodge said. "And my mom said, 'I don't believe him.' I remember looking at my mom and saying, 'He said it, Mom.'"
Where they're from in New England, he said, neighborhoods are often divided by both race and class -- but politics cross those boundaries.
Hall raised his hand again.
"Let's just try to be positive," Hall said. "I'd just like to say that yes, Boston is very segregated. But Matt Damon comes from Boston, and the new Bourne Identity is coming out."
---
About this Series:
Some Philadelphians spend summers lounging down the Shore, and others spend it sitting on their Stoops. This weekly series, about the places and ways Philadelphians gather, aims to tell the kinds of summer stories started or shared among neighbors. These are city stories that perpetuate long traditions, or cast a wary eye toward new trends. These are your stories, which are quintessentially, and unapologetically, Philly.