Archive: December, 2011
Jennifer Wright
By Jennifer Wright
SCIENCE LEADERSHIP ACADEMY
I saw a billboard for the Flyers Winter Classic games and told basically everyone I know how much I really wanted to go to one of these games.
Granted, this was three months ago, before I had the pleasure of waiting for SEPTA for 30-some minutes at 6 a.m. for the last week in weather ranging anywhere from 20 to 30 degrees.
It always leaves me wondering if people in cars pity people waiting at bus stops. Indoor hockey games are what I would call "comfortably cold." I'm aware I am at an ice hockey game, but I'm not that one guy who awkwardly leaves his jacket on. At least put the jersey/shirt over jacket. Games inside my house — I won't even get into. All you need to know is that there is a Snuggie involved.
Rick O'Brien
Central Dauphin 0, North Penn 0
Proceeds from the 2011 Checking for Cancer Lacrosse Tournament were donated to the Kimmel Cancer Center in Philadelphia on Dec. 9. The tournament was held on April 16, hosted by Haverford School. Participating teams included girls' squads from Baldwin, Friends' Central, Agnes Irwin, and Germantown Friends. Boys' teams included Haverford School, Darien (Conn.), Radnor, Downingtown East, Georgetown Prep (Md.), Delbarton (N.J.), Conestoga, Greenwich (Conn.), La Salle, Wilton (Conn.), Chatham (N.J.), and Fairfield Prep (Conn.). The event was created in 2009 by Haverford School coach John Nostrant, a prostate cancer survivor, and one of his college teammates, Georgetown Prep coach Kevin Giblin. Giblin is a colon cancer survivor. Nostrant and Giblin were roommates at Washington College and linemates on the lacrosse field. They served together as assistant coaches for the United States U-19 men's team in 2008 when it captured the International World Federation championship in British Columbia.
Philly.com Sports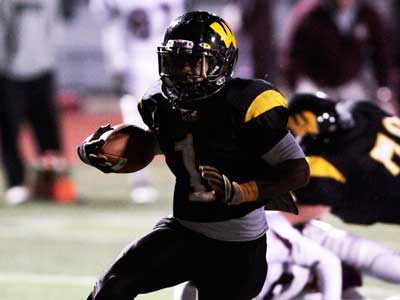 Join the Inquirer for live updates on the Archbishop Wood-Allentown Central Catholic game, scheduled to start at 7 p.m.
On a mobile phone? Click HERE to join the chat!
Jennifer Wright
By Jennifer Wright
SCIENCE LEADERSHIP ACADEMY

Ten days later, I feel overly ordinary again. I no longer feel like a celebrity showing off my medal and technical shirt. I'm no longer in pain or feel the need to eat anything within five feet of me. Though I do feel confident saying the Philadelphia Half Marathon was the best run I've ever had.
Sunday morning, Nov. 20, two things stood out to me, I woke up at 4 a.m., and the amount of Port-a-Potties on the Parkway seemed unbelievable. Everyone in my vicinity was stretching, drinking water and talking about running or annoying other people, actually running around. It was 6 a.m.; it annoyed me anyway. The buzz in the crowd was apparent. I'd call it nervous energy, but I think that was just me. I started in the last corral — or the group to begin the race. This meant I was predicted to finish with the last set of runners. Being a newbie to races, when I heard that I felt weird about it. I was predicted to finish slowly. I knew that was actually true, but it felt discouraging. You'd think the amount of people might intimidate me, but it actually helped me be optimistic.
Marc Narducci
Corey Clement was dominant on both sides of the ball in leading Glassboro to its fourth sectional title in the last five years.
Clement rushed for 238 yards and four touchdowns on 32 carries and added three sacks from his defensive end position as the Bulldogs beat Pennsville, 41-13 in the South Jersey Group 1 championship at Rowan University.
The win avenged a regular season 55-35 loss to Pennsville.
Marc Narducci
Pennsauken defeated MIllville 55-34 in tonight's NJSIAA South Jersey Group 4 football final.
Manny Cortez scored on a 32-yard run to extend the lead to 55-34 with 5:15 left in the fourth quarter.
Cortez threw his fifth TD pass of the game and fourth to Amar Williams, a 29-yard scoring strike to increase the lead to 49-34 with 9:39 left in the fourth quarter.