Great Valley
Matt Breen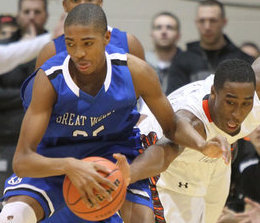 Great Valley's Mikal Bridges said he "just sort of surprised" the Villanova basketball staff on Tuesday afternoon when he orally committed during a visit to the school.
"They were pretty pumped and hyped up," Bridges said.
The 6-foot-7 senior forward, one of the area's top recruits, visited Penn State over the weekend but said he had pretty much decided to attend Villanova after receiving an offer earlier this month. He lives nearby and has long been a fan.
gary miles
Great Valley's Mike Chawaga missed the beginning of the season due to injuries, but returned with a vengeance at the Bob Rohm Duals in Bloomsburg.
Chawaga went 5-0 with three pins at 171 pounds, while teammate John Cassels went 5-0 at 119 pounds.
The Patriots beat Southern Columbia, 40-27, but lost to Central Columbia, 48-21, fell to Palmyra Area, 35-30, lost to Wilkes-Barre Meyers, 41-25, and dropped a 40-30 decision to Smithtown.
gary miles
Great Valley athletic director Russ Wren said that Jan. 7 will be the cutoff date for applications to replace Gary Phillips as football coach.
Phillips' cotract was not renewed after a 3-8 2009 season. He had been coach for 17 seasons.
Sandy Spieczny
Some quick thinking by Dalton Carroll led to a 1-0 win for Springfield (Delaware County) against visiting Pottsgrove in a nonleague game.
Carroll, watching as the Pottsgrove goalie tried to set up the wall on a direct kick, got to the ball fast and blasted it home from 20 yards out midway through the first half.
The Cougars (4-8-2) got 15 saves from their own goalie, Ryan Rhodes.
M ZEBE
Javier Delgado scored the last of his two goals midway through the second half and handed Kensington its first win of the season, a 3-2 decision over host Boys' Latin, in a Public League game.
Alfonso Bac also scored for the Tigers (1-8 overall and league) while Nabieu Sesay scored twice for the Warriors (4-10, 3-8).
Playing the entire second half a man down, Frankford shook it off and beat visiting Bodine, 2-1.
Eric Salguero scored a goal in each half to give the Pioneers a 2-0 lead. Jeton Kupa scored for the Ambassadors with four minutes left in the game. Angel Paulino stopped six shots for Frankford.
Harry Bun scored twice as Furness beat visiting Franklin Learning Center, 3-1.
David Corona added a goal and Salmon Kahn stopped wight shots for the Falcons.
Kervens Mertus notched a hat trick and two assists to lead Martin Luther King to a 7-1 win over visiting Engineering Science.
Kervens Begin, Duckens Gabriel, Tyler Sampson and Qumer Winfield also scored for the Golden Cougars who also got five saves from Edwin Sanon. Ben Brewer scored for the Engineers.
Central.
Connor Waraksa scored in the third minute and Kelsey Beck-Cullen turned aside 10 shots to lead Strath Haven past visiting Conestoga, 1-0.
R.J. Spargo stopped six shots for the Pioneers.end new
Jordan Wolf scored in the first half and Sasha Safadi tallied in the second half to give Lower Merion a 2-0 win over host Marple Newtown.
Mark Krantz assisted on Wolf's goal and Nate Diehl assisted on Safadi's score. Jake Van Adelsberg stopped three shots to got the shutout for the Aces and Austin Severino saved nine shots for the Tigers.
M ZEBE
Kristine Visco's goal with 15 minutes left in the second half gave host Archbishop Ryan a 1-0 Catholic League win over Conwell-Egan.
Tori Veoli scored twice for host St. Hubert in a 5-0 win over Little Flower. Julia Delong, Ann McCrane and Katie McFadden also scored.

Suburban One American.
Sandy Spieczny
Great Valley needed some scoring help in the second half of its Ches-Mont League game with visiting Kennett and got it from Adam Boehr. Boehr connected for a second-half hat trick and led the Patriots past the Blue Demons in double overtime, 3-2.
Kennett grabbed a 2-0 lead on goals by Jake Tully and Alejandro Zavala in the first half, but Boehr came through in the second half, tying the game with 20 minutes left in regulation and won the game 2 minutes, 45 seconds into the first overtime.
Dan Shackleton stopped five shots to earn the win in goal and Greg Danchik turned aside 10 shots for Kennett.
Sandy Spieczny
Despite 37 saves from goalie Katy Schlechtweg, Shipley outlasted host Moorestown Friends, 3-0. Avery Safford scored twice and Jill Keeney once.
Madison Fertell scored four goals for host Westtown in a 7-0 win over Friends Select.
Izzy Perres scored twice for Friends' Central in a 2-1 win at George School.