La Salle College High School
Rick O'Brien
La Salle's Jimmy Herron, a speedy junior outfielder, committed Friday night to play his college baseball at Duke.
"I went down there at the end of the summer, and I really liked the school and the coaches," the 6-foot-1, 180-pounder said. "And the baseball program is doing great things."
Herron, who has been clocked at 6.36 seconds in the 60-yard dash, also had scholarship offers from Notre Dame and Nebraska.
Rick O'Brien
La Salle High's Dominic Cuoci, a senior righthander and shortstop, has committed to play at St. Joseph's.
Last season, while helping lead the Explorers to the Catholic League title, the 6-foot-3, 195-pounder went 9-3 with a 2.23 ERA and 50 strikeouts in 66 innings. An Inquirer first-team all-Southeastern Pennsylvania selection, he allowed 45 hits and 15 walks.
In 2012, as a sophomore, Cuoci was a key contributor during the squad's run to its first PIAA Class AAAA state championship.
Philly.com Sports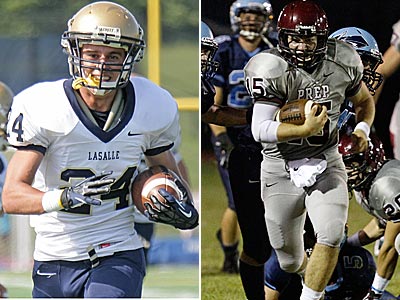 Live updates: Join the Inquirer's Rick O'Brien as he provides live updates during La Salle High School's matchup against Saint Joseph's Prep in high school football action on Saturday. Kickoff is scheduled for 7 p.m. at Plymouth Whitemarsh High School.
On a mobile device? Click HERE to join the chat and post comments and questions.
Philly.com Sports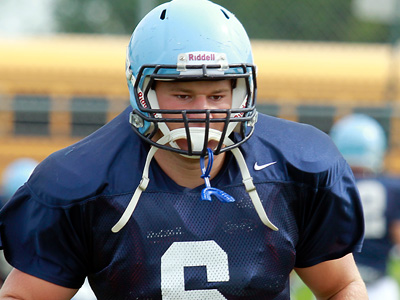 Join The Inquirer's Rick O'Brien as he hosts a live chat from the La Salle-North Penn game on the opening weekend of the high school football season in Southeastern Pennsylvania.
You'll also get live updates on games across the region via Twitter from The Inquirer's Matt Breen.
If you're on a mobile device, click here to follow along and post comments.
Rick O'Brien
The Inquirer TOP 25
FOOTBALL
Team Record
For Downingtown East football coach Mike Matta it's the smell of early-August grass that triggers the excitement. For his quarterback, Trey Lauletta, it's a photo on his bedroom wall that keeps the adrenaline flowing.
The opening day of football camp is nearing and Matta, Lauletta and hundreds of other coaches and players throughout Southeastern Pennsylvania are starting feel the excitement that leads up to Aug. 16, the first day that the sound of shoulder pads slamming into each other fills the air for the upcoming season.
"I'm very excited," Matta said. "Every year since the sixth grade, you smell the fresh-cut grass in August and the first thing you think about is football. The kids come together [at training camp], you see how much they've grown and the dividends that pay off from the weight room.
gary miles
Three football commits were announced Monday.

Council Rock North QB Tyler Hamilton and La Salle OL/DL Steve Szostak commited to Penn, and La Salle WR Sam Feleccia commited to Delaware.
Check back at Rally for more signings.