Matt Breen
The high school hoops season does not start for a little more than a week, but Neumann-Goretti's Ja'Quan Newton appears to already be in mid-season form. The city's top player threw down a vicious dunk at a scrimmage this week against Penn Wood. Here's the video, courtesy of @SaintsofNG.
Rick O'Brien
The Thanksgiving Day football game between Bucks County rivals Bristol and Morrisville (low numbers for the Bulldogs) has been canceled.
The Warriors and Bulldogs last played in 2011. They did not play last year, as Bristol was still involved in the PIAA Class A state playoffs.
This year's game was officialy canceled Monday.
Rick O'Brien
Garnet Valley's Brandon Hitner, a 6-foot-6, 255-pound senior offensive lineman, has committed to play football at Villanova.
Postioned at guard, he helped Garnet Valley post an 11-1 overall record and, with a 9-0 mark, claim the Central League title. The Jaguars advanced to the PIAA District 1 Class AAAA quarterfinals.
Hitner, who is projected to play tackle in college, also received varying degrees of interest from Coastal Carolina, Connecticut, and South Florida.
Matt Breen, Inquirer Staff Writer
Rysheed Jordan's suspension lasted just one game as the St. John's freshman guard was reinstated on Tuesday by Red Storm head coach Steve Lavin.
The Vaux High product and North Philadelphia native was suspended on Friday night for a violation of team rules. He was the Inquirer's Southeastern Pa. Player of the Year last season. In three games, he is averaging 4.3 points and 2.3 assists .
The Red Storm host Longwood on Tuesday night at 7. Jordan will return to Philadelphia on Feb. 22 when the St. John's plays Villanova at the Wells Fargo Center.
Matt Breen
Roman Catholic's first-year athletic director has been relieved of his duties due to allegations of "inappropriate conduct via computer technology with a minor," according to a statement released Monday by the Archdiocese of Philadelphia.
The statement said the school recieved an allegation late last week that Sean Fitzherbert had engaged in inappropriate conduct with a Father Judge student. The information, per Archdiocesan policy, was shared with the Philadelphia Police, who will handle the investigation.
Fitzherbert is on administrative leave. He was hired in July. According to the statement, his criminal records checks and child abuse clearances were obtained before he was hired.
Joey Cranney
Mount St. Joseph senior Millie Stefanowicz has committed to play field hockey at the University of Stanford.

Stefanowicz scored 20 goals and had seven assists this year as a midfielder. She joins Garnet Valley forward Katie Keyser and Cardinal O'Hara forward Marissa Cicione as area players who have committed to Stanford.

Stefanowicz played for the WC Eagles' under-19 club that won the 2013 national championship.
Matt Breen
Friday Nov. 29
STATE CLASS AAAA QUARTERFINALS
NONLEAGUE
Neshaminy vs. North Penn at Souderton, 7
Saturday Nov. 30
STATE CLASS AA QUARTERFINALS
Imhotep Charter vs. Catasauqua at Germantown Supersite, 1
STATE CLASS AAA QUARTERFINALS
Matt Breen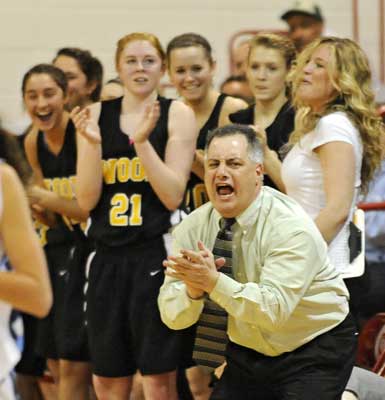 Archbishop Wood girls' basketball coach Jim Ricci has taken a leave of absence for the season due to an illness in his family according to Vikings athletic director Joe Sette.
John Gallagher, Ricci's longtime assistant, will take over. Between 2010 and 2012, Wood captured three-staright PIAA Class AAA titles and Ricci was twice named the state's Class AAA coach of the year.
"We're confident that the program is in good hands," said Sette. "Jimmy has a great group of assistants and has established a great program."