Archive: September, 2011
Miriam Hill
In the current issue of Philadelphia Magazine, Daily News columnist Ronnie Polaneczky describes her life as a city parent. It's worth reading. Check it out here.
Miriam Hill
If you get tired of those oval bumper stickers touting a vacation in the Outer Banks (oops, make that OBX) or an athletic accomplishment, local blogger Tara Desmond points out some fun by @thatkristen.
Check out her version of these stickers. I've run a few marathons myself. Training for those races was like strolling on Kelly Drive compared to pregnancy and delivery.
Miriam Hill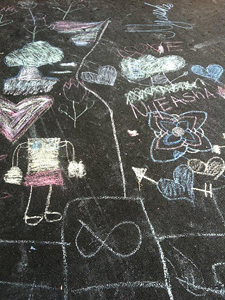 My son and his friends were playing at the beautifully renovated Roberto Clemente playground recently when a child who appeared to be about 10 years old started doing back flips off of tables and other surfaces.
At first, we praised his athleticism, but when he climbed up a curvy slide to do his black flip, all I could see was his head smacking into the playground equipment or the ground. I asked the other parents, whom I did not know, if we should stop him. They said nothing.
I asked again. They stared at the ground.
Miriam Hill
I don't leave the city often, but I just might try to hit a few of the parenting talks at Bryn Mawr Presbyterian Church starting this Sunday, Sept. 25.
The kickoff event features Dr. Kenneth Ginsburg, who, with my former Inquirer colleague Susan FitzGerald, just wrote "Letting Go with Love and Confidence: Raising Responsible, Resilient, Self-Sufficient Teens in the 21st Century."
Ginsburg is an expert in adolescent medicine at Children's Hospital of Philadelphia, and a great guide to coping with many of the challenges of parenting. If you've heard talk about raising a resilient child, it's probably because Ginsburg is one of the idea's biggest promoters.
Miriam Hill
The Center City District, which aims to improve quality of life for businesses and residents in its namesake neighborhood, wants you to sign up for its newsletter for famlies. As incentive, CCD is offering a chance to win $500.
You can sign up here.
Miriam Hill
One of the best parts about living in the city these days is watching parents who are trying to improve their local schools. In my neighborhood, a group of parents has pulled together around Bache-Martin, the local elementary school that primarily serves Fairmount and Francisville.
If you want to help - or meet the Villanova Men's Basketball Coach - Saturday is your day.
And if you have events planned for your school, let me know, and I'll put those on the blog, too.
Miriam Hill
My colleague Monica Yant-Kinney writes about how budget cuts affect one school where a group of parents has worked very hard to improve their school.