Archive: August, 2012
George Carter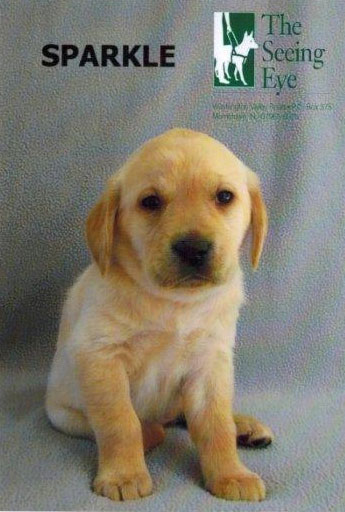 We've received several Sparkle updates recently, but the big one came in the mail yesterday! In a letter to my daughter Betsy, the Seeing Eye says that Sparkle is ready for her Town Walk next month. The Town Walk is a graduation of sorts, in which the puppy-raiser discreetly follows the budding Seeing Eye dog and her trainer around Morristown. Sparkle will act as the guide dog for the trainer as they navigate streets and traffic and any obstacles they encounter in the very busy town.
The Seeing Eye's letter reads in part: "I am very pleased to report that Sparkle exhibits above average capability and willingness in her training and at this time Sparkle shows great potential as a guide dog."
I did speak briefly with Sparkle's trainer, Brooke, last month, and she said they were working on one problem: Sparkle was stopping to "mark" or relieve herself along the route when they were working. Let's hope she's gotten safely past that. Brooke also sent a postcard about two weeks ago in which she said Sparkle was doing well, but they were working to overcome the "park time" problem. "Park time" is the command that the handler uses to get the dog to relieve herself before heading out onto the walk.
George Carter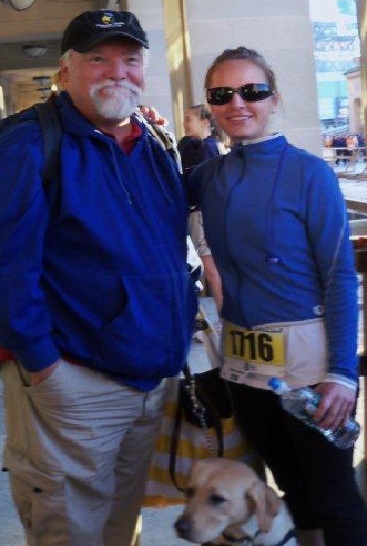 Ray Rebmann, a veteran puppy-raiser in Cape May County, has devoted a whole book to that question that all of us puppy-raisers are all too familiar with: "How Can You Give Up that Adorable Puppy?" In fact, that is the title of his lively, humorous memoir.
I've spent the last few weeks leisurely reading it, a chapter or two at a time, even taking it on the PATCO train for the 20-minute commute to our new offices at 801 Market St. My workday always starts off on the right foot with a couple of dog stories fresh in my mind.
Ray and his family are much more experienced with the Seeing Eye program than we are. They have raised around a dozen pups, whereas we've had a grand total of three (seems like more, especially when they are chewing up the furniture).
George Carter
Well ... I got the official news the other day that Viola, the recently retired Seeing Eye dog of Jordan Ortiz, finished second in her category in the Hero Dog competition. I'd heard in Jordan's updates that she had slipped to second place, but was hoping a late kick of voting might help her win by a nose. I'd like to thank everyone who voted for Viola. She truly is a hero in anyone's book!
(Looking ahead: I heard from Sparkle's trainer, and she is progressing well. I'll post a full update in the next few days. I've also read two inspiring books about guide dogs / puppy-raisers and will write about those as well.)
Here is Jordan's note, with an interesting link to the results (and pictures):
Hi Everyone!
So, at long last we did finally hear where Viola placed!
She did finish in second place, just shy of being the finalist in her category. It was a great effort on everyone's part. She would never have moved so far up in the standings without the love and support from each and every one of you. Thanks for all you all have done to help support Viola, and even though she didn't quite come out on top, she is still our little golden hero ♥.