Archive: April, 2012
George Carter
With Sparkle back in training (and no word yet from the Seeing Eye), I took a break from the blog, with a weeklong vacation and the excitement of daughter Betsy's final college selections. We took the train up to Providence earlier this week, and she has since committed to Brown! So the puppy has gone back to "college," and the puppy-raiser will soon venture forth on her higher education as well. Thank goodness I still have old Porter around!
On another happy note, my puppy-raiser friend Jordan Ortiz has entered her recently retired Seeing Eye dog, Viola, for the Hero Dog Award. You may remember that Jordan graduated from Rowan University last year, accompanied all four years by her adorable golden retriever. Jordan also raises Seeing Eye puppies with the help of her close friend Danielle Larsen, who is legally blind but does not make use of a guide dog.
Here is an excerpt of an e-mail from Jordan:
George Carter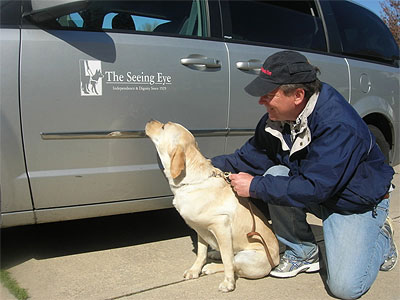 That bittersweet moment arrived for us at 10:20 this morning, when the Seeing Eye area coordinator arrived to fetch Sparkle for training.
Sparkle was bright and eager, hopping lightly into the minivan, joining another puppy already inside. She looked fit and athletic. With a hug and a pat, I wished her success with all my heart. I'd just taken her for an extra-long, 90-minute walk with Porter, luxuriating in a cool and poetic kind of spring morning.
We gave her our love and the best guidance we knew. In a few months, she'll be the one doing all the guiding -- for a person who needs her more than we will know.