Archive: February, 2012
We took Sparkle bowling Sunday afternoon (actually Betsy bowled and I handled pup and camera). It's a regular outing for the puppy club, and we all had a fun time. Betsy had been once before with the pups; this was my first time.
As we entered, amid a tight crowd, Sparkle was overexcited and trying to jump on people. I'm working to bring her into public places deliberately and carefully, making her sit while I open the door and keeping her on a tight leash. Still, her behavior when we arrive at public places is pretty much over-the-top.
After we found our lane and got together with the group of about a dozen other pups, Sparkle began to settle down quite nicely. The bowling itself went great. She wasn't scared of any of the noise and didn't try to run after the ball or people who were bowling.
George Carter
It's by no means the most glamorous part of puppy-raising, but I'd been thinking for a while that I should address the issue of doggie potty time. And now with the fatal shooting of a man in Tacony who, according to police, had simply asked his neighbor to pick up his dog's poop, I realize it's high time to talk.
We train the Seeing Eye pups to eliminate before we take them out walking, using the command "park time." This part of training is crucial, because it is extremely difficult for a blind person to stop along the way to locate and dispose of dog waste. Before I take Sparkle and Porter out, we spend a minute or two in the backyard and I give the command for them to go.
Before we leave, I always make sure I have a poop bag, usually a plastic supermarket bag, and paper towels on me. About half the time, at least one of the dogs will have to take a potty break while we're walking. Everyone who walks a dog, not just a puppy-raiser, needs to develop a system of how to pick up the poop and carry it home for disposal. (I consider people who don't routinely pick up and dispose of poop to be outlaw dog owners, in the same category as those who let their dogs run loose in populated areas. And they give the rest of us a bad rap.)
George Carter
The other morning, we were doing our usual brisk clip around the neighborhood, with Sparkle pulling ahead out in front, me in the middle, and Porter trotting along behind -- our customary on-leash formation.
As we headed along one stretch, I spotted an acquaintance walking her dog on the sidewalk toward us. I know her dog, and he is not at all vicious but he is a young guy and exuberant.
As I typically do in this situation, I crossed over to the other side of the street to give them plenty of room to pass. Instead of affording me a wide berth, the other dog-walker took way out into the street (about two-thirds of the way toward me), causing Sparkle to start lunging and straining against the leash. It was obvious then that the other person was hoping the dogs could "greet" each other nose-to-nose.
George Carter
Friday was a routine kind of winter day, but I kept Sparkle engaged. After our usual morning neighborhood walk, I took Sparkle and Porter out in the backyard and threw the tire around for them. They were quite rompy, and thoroughly enjoyed some rough-housing over the toy. Colder weather does bring out their wolfish exuberance!
Later, I made a quick run with Sparkle to the local home-improvement store. I snapped on her green vest, and we headed straight for the lawn-power-tool aisle, where I picked out a replacement bump knob for the weed trimmer. (I'd snapped the plastic tabs last fall trying to hastily straighten out a tangled cutting cord.) I'm always fiddling with these darn trimmers, but that's another matter...
Sparkle waited quite patiently while I found the part, but she did knock over a small trash can at the cash register trying to say hi to the clerk.
George Carter
At the neighborhood pet-supply store, Sparkle weighs in at 63.8 pounds. When she was a small pup, I expected she'd top out at around 65 pounds -- so she's reached her adult weight. In the 10 months we've had her, she's gained about 57 pounds!
An update: Fellow puppy-raiser Jordan Ortiz, whom I mentioned last week, is training in Morristown with her new Seeing Eye dog, Hilton, and reports they are hitting it off great. They're taking a training trip to NYC.
George Carter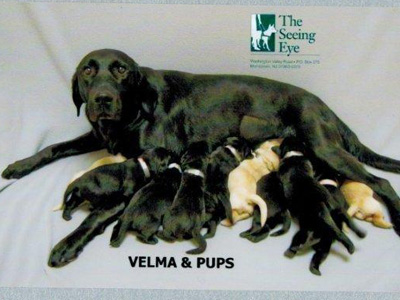 We got a wonderful surprise treat in the mail yesterday. Sparkle's mom, Velma, sent us a handwritten card and picture of her with her new litter of 10 pups!
Velma, as you may recall, was our previous Seeing Eye pup who did so well when she went back for training that she was selected for the elite breeding program. Here is Velma's note:
"Hello Family!
I'm a mom again -- this time with 10 (triple-underlined) puppies! The dad is a handsome young black Lab named Frank. There are 4 boys and 6 girls. Ten pups keep me busy, but I so love being a mom! And I get to play with some puppy toys with them which is fun! When I'm not being a mom here, I enjoy my walks and always (underlined) free play time with stuffed toys!! Hope you don't miss me too much.
George Carter
One of the puppy-raisers in our club, Jordan Ortiz, knows first-hand the vital mission of a Seeing Eye dog. That's because Jordan, a 2011 Rowan University graduate, makes use of a guide dog herself. Jordan, who lost her eyesight to illness as a child, was profiled along with fellow puppy-raiser Danielle Larsen in an article by The Inquirer's Kevin Riordan last April shortly before the young women graduated from Rowan.
When she went forward to receive her diploma in May, Jordan was accompanied by her adorable golden retriever, Viola, who had been at her side since freshman year. (Viola appeared in a post last summer, with two pups at a Camden Riversharks game.) Last month, Viola officially retired with a party at the local puppy-club meeting. And Jordan left this week for Morristown, N.J., to train with her next dog. It's no vacation: It's hard work!
While Viola now gets her well-deserved retirement as a family pet, Jordan will soon be returning with her new dog. We're certainly looking forward to seeing them at the meetings and on our outings!