Archive: January, 2012
George Carter
It was a grand milestone for Sparkle today: She turned 1 year old. We didn't have cake or dog biscuits or any big celebration, but I did get her to pause for a snapshot. Actually, it was about 20 shots, until I finally got one where she was sitting still and the crown was perched on her head. (No Photoshopping required.) Actually, she was very well-behaved, mostly just acting a little bored. Ernie the cat got into the act, too, perching on the arm of the couch and trying his best to distract the pup. His curiosity was piqued by the whole spectacle. After the shoot, we went out in the soggy backyard with Porter and played a rowdy, windy fetch-the-tire game for 10 minutes.
The crown owes to a bit of recycling. Josh's fifth birthday was Sunday, so I took his crown and taped on a large pink Post-It note with Sparkle's name. (You can still see the "5" on it.) I actually went to the pet-supply store around the corner and asked if they had any "dog-party hats." They didn't, but it reminded me of the wonderful children's book "Go Dog Go!," which has been making me smile now for over 50 years. The book ("do you like my hat?") ends with a festive dog party in a tall tree.
Another birthday of note: Vinson, the blogging pup being raised at the Seeing Eye offices, turned 11 months today. Happy birthday, Vinson!
George Carter
The weather has been rather unpredictable the last week. Snowy and icy one day, then colder, warmer and rainy the next, partly sunny, then sunny. We've been out on our walks in all of it (except on Saturday, when freezing rain was falling on top of snow and it was too icy to walk safely).
Sparkle does fine in all weather conditions, her thick retriever coat repelling the rain. I took her out the other day when it was still rather mucky and gave her an extended fetching session in the backyard.
I have to admit she is not the world's best retriever -- nowhere near it. Porter was the same way. These dogs were obviously not bred to retrieve waterfowl from frigid lakes, and they know it. My Seeing Eye pups love to get hold of the item (in this case a black rubber tire) and worry it and shake it and run around the yard with it. Giving it to me is another matter. Sparkle is a rather cute tease.
George Carter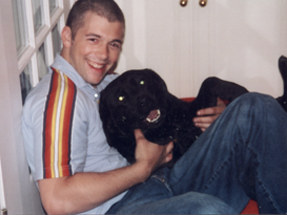 A little while back, I came across the inspiration behind the name "Sparkle" for our Seeing Eye pup. It's a bittersweet, touching story that I'd like to share with you:
Sparkle was sponsored by timbofund.org, a foundation created in memory of Timothy C. "Timbo" McWilliams Jr., a New Jersey resident who passed away three years after suffering a traumatic brain injury. Timbo, who played lacrosse at Lehigh University, was only 27 when he died in 2005. After brain surgery and a week in a coma, he had eventually recovered well enough to return to work and resume his passions of surfing and playing lacrosse. Unfortunately, Timbo died in a single-car accident after suffering an apparent seizure.
Throughout Timbo's arduous recovery, he was accompanied by a young black Lab named Sweetie. After his accident, when his father told him he could have anything in the world, he said he just wanted a black Lab. According to Timbo's mother, Debbie McWilliams, Sweetie "spent the next year of her life sleeping, walking and eating with Timbo every step of his way through recovery. She would walk in front of him when he was going down steps and behind him when he would go up. She would bark to let me know if he was 'walking the halls' as he was restless during this long recovery. Though she wasn't a Seeing Eye dog, she was our family's 'healing heart dog.'"
George Carter
The puppy club was going on an outing to Rowan University for a basketball game. Betsy and I were both booked up, but Sparkle was available for the evening. Luckily, a fellow club member was able to swing by and pick Sparkle up so she could join in the fun. Thanks, Nancy!
Sparkle and the other pups were well-behaved and had a great time, I'm told. I took Velma, Sparkle's mom, to a game at Rowan a few years ago and remember how the pups just sat so attentively and watched the ball bounce back and forth, back and forth. The pups looked like bobbleheads as they swiveled to follow the action. They didn't seem to pay much attention to the players, just kept their eyes on the ball.
This game had a better ending than the one we went to with Velma. Rowan lost that one, but the home team won decisively last week, 74-58.
George Carter
When Timber, our 14-year-old golden retriever, received a grim diagnosis the day after Thanksgiving, I was prepared to have him put to sleep the following Monday. But when he showed up for breakfast at 7:30, bright-eyed and tail-wagging, I realized it wasn't his time yet. He stayed on another five weeks, keeping up his appetite and making it regularly out into the backyard. We certainly appreciated the holiday season more with him around, as he greeted visitors with merry tail-thumping and happily soaked up all the goodwill that was sent his way.
Last week, I could tell life was getting more difficult for him every day so we made the decision to have him put to sleep on Monday afternoon. He went peacefully, with three family members holding and soothing him. He's buried at the edge of our backyard, facing onto a small woods with a creek running through the middle down a 20-foot embankment.
Most nights when I'd get home from work close to midnight, we'd walk out back and Timber would trot up to the back fence, sometimes bristling, fluffing his bushy tail and giving a few loud woofs to warn off the deer back there. Often, I heard subsequent crashing in the dark. Once I even came face-to-face with a decent-sized buck across the fence when Timber was silently pointing at him with his body. Neither was apparently conceding the turf. And a couple times, I heard great horned owls calling back and forth to each other in the trees. "Wouldn't want to be a bunny," I quipped to Timber as he cocked his head sideways to concentrate. I used to talk to him all the time.
George Carter
Before running in for my Friday afternoon shift at The Inquirer, I made a quick trip to the bank drive-thru, and came away with an extra-friendly smile from the teller and a treat for Sparkle. She's a real goodwill ambassador, even just resting contentedly in her usual spot on the floor of the backseat. I'm trying harder to include Sparkle when I'm running everyday errands, because that will be a big part of her life as a Seeing Eye dog.
I then drove on to the quaint little town of Wenonah, N.J., which is a perfect kind of place to walk a Seeing Eye pup. There's traffic, but not too much, and there are wide, well-marked crosswalks. There are also some small shops to walk past, a park right in the center of town, and some wooded nature trails within walking distance. A visit to the train station, even though there isn't any passenger service (yet), is also a good exposure for the pups. I took Velma to Wenonah a couple of times and always found it a refreshing place to stroll around and admire the beautiful old houses.
George Carter
It was truly a bittersweet moment for puppy-raiser friend Robin Brelsford when Keith the golden retriever hopped into the Seeing Eye minivan the other day for the trip up to Morristown, N.J., where he will learn all the ins and outs of being an amazing guide dog.
You may remember Keith from some of my posts: The one where he's squeezing his body through a puppy gate and the one where he's licking a cow's face come to mind! He's a sweetheart and a real character, and Sparkle's playmate at the puppy meetings and on club outings. A gorgeous, happy golden retriever through and through.
This moment will come sooner than I realize for Sparkle, too. It always seems like we'll have months and months left with our pups, but that year-and-a-half of puppy raising just flies by. Sparkle will turn 1 year old on Jan. 27, so we still have a few busy months to go! I expect we'll be waving her goodbye in early summer.