George Carter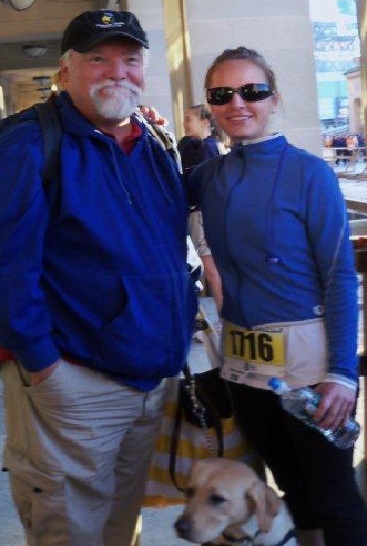 Ray Rebmann, a veteran puppy-raiser in Cape May County, has devoted a whole book to that question that all of us puppy-raisers are all too familiar with: "How Can You Give Up that Adorable Puppy?" In fact, that is the title of his lively, humorous memoir.
I've spent the last few weeks leisurely reading it, a chapter or two at a time, even taking it on the PATCO train for the 20-minute commute to our new offices at 801 Market St. My workday always starts off on the right foot with a couple of dog stories fresh in my mind.
Ray and his family are much more experienced with the Seeing Eye program than we are. They have raised around a dozen pups, whereas we've had a grand total of three (seems like more, especially when they are chewing up the furniture).
George Carter
Well ... I got the official news the other day that Viola, the recently retired Seeing Eye dog of Jordan Ortiz, finished second in her category in the Hero Dog competition. I'd heard in Jordan's updates that she had slipped to second place, but was hoping a late kick of voting might help her win by a nose. I'd like to thank everyone who voted for Viola. She truly is a hero in anyone's book!
(Looking ahead: I heard from Sparkle's trainer, and she is progressing well. I'll post a full update in the next few days. I've also read two inspiring books about guide dogs / puppy-raisers and will write about those as well.)
Here is Jordan's note, with an interesting link to the results (and pictures):
Hi Everyone!
So, at long last we did finally hear where Viola placed!
She did finish in second place, just shy of being the finalist in her category. It was a great effort on everyone's part. She would never have moved so far up in the standings without the love and support from each and every one of you. Thanks for all you all have done to help support Viola, and even though she didn't quite come out on top, she is still our little golden hero ♥.
George Carter
The Hero Dog Award is down to its final two days, and at last count, Viola the Seeing Eye dog had slipped to second place!
Viola is the recently retired guide dog for my friend and fellow puppy-raiser Jordan Ortiz. Jordan attended all four years at Rowan University with Viola, and the adorable golden retriever was at her side when she graduated. Jordan, who now works at Rowan, has a new Seeing Eye dog named Hilton, and Viola lives with them as their treasured companion.
Here's a great article in the Pittsburgh Post-Gazette explaining all about Jordan, her best friend Danielle Larsen, and Viola. If Viola wins, the Seeing Eye gets a $5,000 donation for its amazing mission.
George Carter
This is the big news we've been anxiously awaiting the last month! We just heard back from the Seeing Eye that Sparkle has passed all her health checks and other screenings, and is now being assigned to a trainer. Hooray!!
The formal training to be a Seeing Eye dog has begun. First, she'll work with a trainer the next few months, and then, when a suitable match is found, she'll be assigned to a visually impaired person who needs a new guide dog. It may be a first-timer, or someone whose dog has retired and needs a new one. Either way, Sparkle is about to make a wonderful difference in someone's life. When Sparkle graduates from her training, we'll be invited up to Morristown to discreetly observe her "Town Walk" as she leads her trainer all around the city streets.
Another update: Viola, the retired guide dog belonging to Jordan Ortiz, is leading in her division in the Hero Dog competition. There's still time to vote, and you can cast your ballot once every 24 hours with the same e-mail address. On her Hero Dog profile page, you will see the button to "Vote for Viola." http://www.herodogawards.org/vote/?nominee=15446649
George Carter
With Sparkle back in training (and no word yet from the Seeing Eye), I took a break from the blog, with a weeklong vacation and the excitement of daughter Betsy's final college selections. We took the train up to Providence earlier this week, and she has since committed to Brown! So the puppy has gone back to "college," and the puppy-raiser will soon venture forth on her higher education as well. Thank goodness I still have old Porter around!
On another happy note, my puppy-raiser friend Jordan Ortiz has entered her recently retired Seeing Eye dog, Viola, for the Hero Dog Award. You may remember that Jordan graduated from Rowan University last year, accompanied all four years by her adorable golden retriever. Jordan also raises Seeing Eye puppies with the help of her close friend Danielle Larsen, who is legally blind but does not make use of a guide dog.
Here is an excerpt of an e-mail from Jordan:
George Carter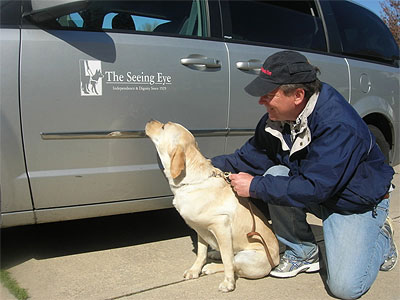 That bittersweet moment arrived for us at 10:20 this morning, when the Seeing Eye area coordinator arrived to fetch Sparkle for training.
Sparkle was bright and eager, hopping lightly into the minivan, joining another puppy already inside. She looked fit and athletic. With a hug and a pat, I wished her success with all my heart. I'd just taken her for an extra-long, 90-minute walk with Porter, luxuriating in a cool and poetic kind of spring morning.
We gave her our love and the best guidance we knew. In a few months, she'll be the one doing all the guiding -- for a person who needs her more than we will know.
George Carter
We're headed on Sunday down to Wheaton Village in Millville, N.J., for a puppy outing at the fun-filled Paws for Art day. There will be a Seeing Eye puppy demo at 11 a.m., and the pups will begin arriving at 10. It's free and you can even bring your own dog along!
This will be Sparkle's last outing with us before she goes back to the Seeing Eye for training on Tuesday. So if you'd like to meet Sparkle, or any of her puppy pals, head on down to Wheaton Village. Sparkle will be wearing her green vest, and we'll be strolling the grounds at least part of the day. I'll be wearing a T-shirt bearing the image of a German shepherd puppy saying, "I wanna be a Seeing Eye dog when I grow up." (Unless it is raining too hard.)
I'll be sure to post pictures, and of course, I'll give you the scoop on Sparkle's big send-off.
George Carter
The gorgeous spring weather was beckoning us on Sunday, so after lunch we set off for the grand old seafaring town of St. Michaels, Md., on the Chesapeake Bay.
With light out-of-season traffic, we made it there in just over two hours and breezed into a parking lot right down by the water. Betsy then took Sparkle on a brisk tour around town, starting at the Chesapeake Bay Maritime Museum . We didn't go inside, but strolled around outside, then headed past the docks into the charming downtown.
Sparkle was moving superbly. She's calmed down a lot in the last few weeks and is reliably obedient on the leash. She made numerous street crossings and investigated some things (like a stuffed giraffe) that she hadn't seen before.