George Carter
I couldn't resist this picture of Pope Francis blessing Asia, a guide dog belonging to Alessandro Forlani, at a Vatican media session. A visually impaired Italian radio journalist, Forlani was among the permanently accredited Vatican journalists invited to come forward Saturday for a personal greeting.
George Carter
Puppy Steps is still in a bit of a hiatus, with Sparkle having embarked on her new career as a Seeing Eye dog and Betsy in her second semester at college. We did host a Seeing Eye puppy for two weeks over the holidays, as our puppy-raiser friends Jordan and Danielle went on vacation. It was great having Destiny (a beautiful lab-golden cross) with us, especially since Betsy was home on Christmas break and we could take long walks with the three dogs -- Porter, Velma and Destiny.
One bit of news: You may remember Vinson, the puppy being raised by a Seeing Eye employee, Ryan, and his wife, Sarah. Ryan has been doing a blog on Vinson, parallel time-wise with my Puppy Steps blog. Ryan recently posted that after several months of evaluation and further training, it was decided that Vinson's distractability issues were too great and that he would not be a Seeing Eye dog. So just as with our first pup, Porter, Vinson has come home for good, adopted by his puppy-raisers.
I know from our experience that Ryan and Sarah have gained a superb companion! Congratulations on the new family member! Click on the link to his blog for details of the Vinson finale.
http://www.youtube.com/watch?feature=player_embedded&v=KTEhubviB8Q
George Carter
Velma, our former Seeing Eye puppy, has been back with us for two weeks now, and she's having the time of her life. She and Porter picked up their old friendship immediately and have been romping in the backyard and taking long autumn walks together. Sometimes, they even squeeze into the same crate for naps, which looks rather too cozy considering they are both large dogs.
Velma still seems to have a bit of the puppy in her as she is still chewing toys and other odds and ends. On trick-or-treat night, I noticed she was carrying something in her mouth when she went to the door to greet the kids. When I had her hand it to me, I saw it was an unopened packet of candy. It looked fine, and I washed it off, and set it in the drainer. Debating whether to eat it or not (Don't worry, I would not have handed it out at the door), I examined it and noticed tiny tooth marks on the package. So I finally threw it out. One kid said he didn't want candy, but pointed to Velma and said: "But I want that dog!" I gave him the candy instead.

I wrote an article in Sunday's Currents section of The Inquirer all about Betsy and Sparkle going off into the world while Velma returns home from her successful breeding career. If you get the chance, click on the hyperlink and e-mail me if you have any thoughts or questions or stories about your own dog. I've already heard from two people who've raised Seeing Eye pups with their college-age daughters. And one is now raising a pup from Velma's final litter! Velma would be so proud. I know we're proud of her!
George Carter
We just got the letter, along with an official picture, telling us that Sparkle is now a Seeing Eye dog! She has completed training with her new owner and has gone home on the train to Massachusetts to start her new life of service. Betsy and I could not be prouder!
It's not so quiet around the house though, because last week, we got a new dog -- to keep. Sparkle's mom, Velma, the Seeing Eye puppy we raised from 2008-2009, was officially retired. I picked her up last Monday, and she and Porter are now having the time of their lives renewing their old friendship. I do believe we have come full circle!
I hope everyone has come through the hurricane safely, with their pets. I managed to get Porter and Velma out on a few carefully timed short walks and have the multiple soaked-through blue jeans and raincoats to prove it!
George Carter
Sparkle absolutely wowed me Thursday at her Town Walk on the busy streets of Morristown, N.J. Her walk was the culmination of five months of training since she left our home for the Seeing Eye.
She guided her trainer, Brooke Donaldson, around obstacles and through traffic while I trailed along behind, often across the street, with a Seeing Eye volunteer leading me and giving me the running narrative. As intended, Sparkle did not notice me. I needn't have worried about that -- she was way too focused on her job.
At one point, I could see a car backing out of a brushy alley in front of Brooke and Sparkle, since I was across the street. The driver did not notice them, and Brooke said later she had no idea the car was there. But Sparkle promptly "checked" when she became aware of the car and brought herself and Brooke to a smooth halt. I was absolutely thrilled and so proud to see her in action. Betsy, who is three weeks into her college career in Rhode Island, was unable to join me, but I know she would have been so proud too to see what a great dog Sparkle has become. I promptly texted her after the walk to let her know how our little girl did.
George Carter
With Sparkle's graduation Town Walk at the Seeing Eye just two days away, here's a look at how Vinson did on his walk last week. Vinson is the puppy who was raised by a Seeing Eye employee and his wife and chronicled on his own blog http://www.seeingeyepuppy.com/
Go to that link and you can see the video, as Ryan, Vinson's puppy-raiser, trailed him on his walk through the streets of Morristown, N.J. As Ryan notes, Vinson looks a bit distracted and will need further training and evaluation before he can be considered as a Seeing Eye dog.
I'm truly excited to be headed up to Morristown Thursday morning and will post a big update. I'll be trailing Sparkle with a camera with a long lens, hoping to capture our girl wowing the trainer!
George Carter
When I heard the other day that astronaut Neil Armstrong had passed away at age 82, I thought of our wonderful visit to Purdue University last summer and Sparkle's pictures with his statue. I remembered that adoring look she gave him, and how she is right now taking many, many small steps herself to become a Seeing Eye dog and change someone's life for the better.
Very soon, next month, she will be taking her Town Walk and then will be matched with her new owner. No giant leaps for Sparkle, just moving steadily forward in the leather harness. I'll keep you posted.
Here's a curious footnote: My wife's college friend we stayed with at Purdue is married to a university firefighter. The morning that Neil Armstrong died, the fire alarms went off in the Neil Armstrong Engineering Building. When firefighters responded, there was no fire. Later, the alarm was attributed to an internal electrical short. Cause unknown.
George Carter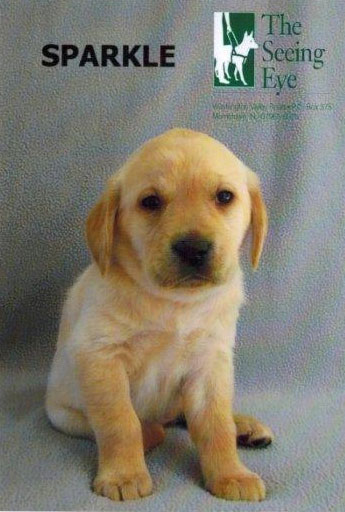 We've received several Sparkle updates recently, but the big one came in the mail yesterday! In a letter to my daughter Betsy, the Seeing Eye says that Sparkle is ready for her Town Walk next month. The Town Walk is a graduation of sorts, in which the puppy-raiser discreetly follows the budding Seeing Eye dog and her trainer around Morristown. Sparkle will act as the guide dog for the trainer as they navigate streets and traffic and any obstacles they encounter in the very busy town.
The Seeing Eye's letter reads in part: "I am very pleased to report that Sparkle exhibits above average capability and willingness in her training and at this time Sparkle shows great potential as a guide dog."
I did speak briefly with Sparkle's trainer, Brooke, last month, and she said they were working on one problem: Sparkle was stopping to "mark" or relieve herself along the route when they were working. Let's hope she's gotten safely past that. Brooke also sent a postcard about two weeks ago in which she said Sparkle was doing well, but they were working to overcome the "park time" problem. "Park time" is the command that the handler uses to get the dog to relieve herself before heading out onto the walk.