Archive: March, 2013
Michael Yudell
This small story from a recent Morbidity and Mortality Weekly Report (MMWR), the federal government's weekly compilation of case studies and public health advisories, caught my eye: "Fatal and Nonfatal Injuries Involving Fishing Vessel Winches — Southern Shrimp Fleet, United States, 2000–2011."
We in public health—and probably much of the public—tend to think that our field is about large-scale prevention and intervention efforts on behalf of the population's well-being. Think anti-smoking laws and regulations, battles over soda size, and fights over the Affordable Care Act.
But most of what public health does is, in fact, fairly mundane. It thinks about the ways our daily routines can either harm us or make us healthier— in our eating habits or in our jobs, for example—and then finding ways capitalize on that information.
Jonathan Purtle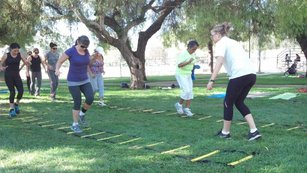 What gets people out and exercising in the park? Is it the characteristics of the community that surrounds the park, such as the presence or absence of crime and blight? Or is it the organized activities, such as the presence or absence of a Zumba class taught on Thursday nights by a local resident in neon tights?
The results of a study this month in the journal Public Health by researchers from RAND Corporation, University of Pennsylvania, and other academic institutions suggest that the latter might be more important. The study surveyed 24 parks in four cities, including six in Philadelphia, as well as 7,000 people who use and/or live near them.
Compared to the parks in other cities, those in Philadelphia stood out in a number of ways. While the neighborhoods surrounding the Philly parks were most impoverished—28.5% of households within a half-mile were below the federal poverty line —all six parks were staffed by a full time employee, more than the parks in other cities. Parks in Philadelphia also appeared to be more of a hub for community life. Seventy-nine percent of park goers in Philly reported meeting people they knew at the park, in contrast to 60 percent in Chapel Hill, N.C., 42 percent in Columbus, Ohio, and 39 percent in Albuquerque, N.M.
Bette Begleiter and Mazvita Nyamukapa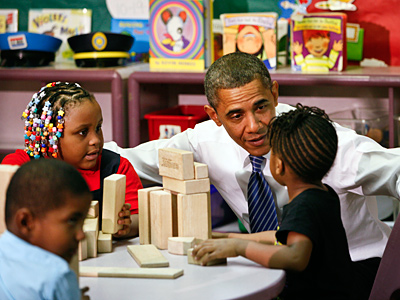 In his 2013 State of the Union Address, President Obama emphasized the need to give our kids a chance by making high quality-preschool available to every child . His message echoed that of Former President Lyndon B. Johnson, who in his 1964 State of the Union address resolved to begin the War on Poverty and from this birthed the Office of Head Start. From a public health perspective, resolving to invest in our future by increasing access to early childhood education for all children, is a good thing supported by both data and our values as a society.
Sadly, however, hopes for universal pre-school have been dashed for the moment.
Sequestration, the budget-slashing result of both parties' failure to reach a more palatable deficit-cutting compromise, has led to 5% funding cuts for all current Head Start programs, not to mention the President's proposed expansion. This particular sequestration cut translates to the projected loss of $11.6 million in Head Start funding from Pennsylvania's economy and more than 200 Head Start-related jobs. Worst of all, up to 2,300 commonwealth children will lose access to Head Start and Early Head Start services. New Jersey will be cut by $7.6 millionand a loss of access for 1,300 children (nationwide, Head Start will cover 70,000 fewer children).
Matthew O'Brien
During his State of the Union address last month, President Obama challenged the assembled lawmakers to tackle comprehensive immigration reform. The issue has proven a divisive one in our national political discourse, and most of the discussion focuses on the political ramifications. Pundits have discussed how immigration reform might impact the Latino vote, as well as what types of immigrants would be eligible for citizenship, and what the role of border security is, to name a few hotly-contested questions in the current debate. Amid this political maelstrom, few have considered how comprehensive immigration reform might affect the nation's health. Understanding the health implications of immigration reform may contribute to the public discourse on the topic, and may also provide insights that are relevant to the equally divisive health reform debate. Remember that undocumented immigrants are explicitly excluded from Obamacare.
To examine this question carefully, I'll first discuss what we know about the demographics of undocumented immigrants in the United States. Then I will review the available evidence describing the health of this population and their health care use. First, however, I would like to acknowledge the challenges to studying this vulnerable population and the potential inaccuracies of the resulting data. It is widely known that Census reports include small numbers of undocumented immigrants. It is just as hard to assess the health status of this population as it is to count their numbers. Undocumented immigrants are also under-represented in most large health surveys, with a few exceptions presented below. As a result, our knowledge about the health of undocumented immigrants and their use of the health-care system is limited.
According to the best available evidence, there are 11.1 million undocumented immigrants residing in the U.S. — more than one-quarter of the nation's total immigrant population. It is estimated that there are 550,000 undocumented immigrants living in New Jersey, the fifth-largest of any state, and 160,000 in Pennsylvania, many of whom work in restaurants and have fueled the recent food renaissance in Philadelphia. At the national level, most undocumented immigrants are Latinos — 82 percent, to be exact. Because Latinos constitute the overwhelming majority of the nation's undocumented immigrants, let's focus on Latinos when reviewing the medical literature and discussing the impact of immigration reform on the nation's overall health.
Michael Yudell
I am of two minds on the court decision Monday striking down the New York City Board of Health's ban on the sale of sugary drinks over 16 ounces one day before it was to kick in. I applaud both the judge's ruling and the mayor's resolve.
The ban was declared "arbitrary and capricious" by New York State Supreme Court Judge Milton Tingling, whose ruling called attention to the ban's loopholes, which "effectively defeat the stated purpose of the Rule." Judge Tingling was referring to the fact that the ban limited sales at some locations (restaurants, movie theaters, and food trucks) and not others (corner convenience stores and supermarkets), that some sugary drinks were included and not others, and that there were no limitations on refills of smaller cups. The judge also ruled that the city Board of Health exceeded its powers in passing the ban. That power, Tingling argued, should lie with New York's City Council.
Mayor Bloomberg has promised to appeal, calling the ruling "totally wrong."
Jonathan Purtle
By Jonathan Purtle
What does the United States have in common with South Sudan and Somalia? Not much, except for being the only other United Nations member state that has not ratified the Convention on the Rights of the Child (CRC).
Entered into force in 1990, the CRC is a human rights document that guarantees a set of civil, political, economic, social, health, and cultural rights to children. Some specific rights include not being subjected to abuse, having guaranteed access to health care and quality education, and enjoying the freedom to access information, express one's thoughts, and establish an identity. The United States was instrumental in helping draft the treaty during Ronald Reagan's presidency and signed it in 1995 (a purely symbolic act), but the Senate has yet to ratify it. The CRC is a legally binding document. If the United States were to ratify it, the federal government would need to ensure that the rights enumerated in the treaty were satisfied for all children in the U.S., or face sanctions from the United Nations.
Janet Golden, PhD, Professor of history, Rutgers University-Camden
Joanie was under 50 — too young for the recommended screening — and by the time she showed symptoms it was too late. Today, instead of celebrating International Women's Day together, as we did for so many years, I have to write a different kind of post — about National Colon Cancer Screening Day, which is Friday.
Joanie is the reason why I became the person who says to my friends turning 50: "Happy Birthday and please go get a colonoscopy." (That seemed like a winning idea for a card but someone beat me to it.) And yes, I confess, if they don't listen the first time, I keep after them.
The folks sponsoring the March 8 National Colon Cancer Screening Day have a nice link in case you'd like the full list of risk factors. The site not only gives diet tips — because a healthy diet is a form of prevention — but recipes as well (on the buttseriously blog).
Michael Yudell
By Michael Yudell
Results of an important study out of Spain published last week in the prestigious New England Journal of Medicine suggests that a "Mediterranean Diet" supplemented by additional extra-virgin olive oil or nuts significantly lowered the risk of having a heart attack, stroke, or dying from heart disease.
But despite the media brouhaha—headlines like "Tasty Diet Curbs Heart Disease, Study Finds" and "Mediterranean Diet Study Rocks the Medical World"— the study's implications for you and me are still unclear.