Archive: January, 2013
Janet Golden, PhD, Professor of history, Rutgers University-Camden
You wouldn't know it from the title, "American Spirits: The Rise and Fall of Prohibition," but this exhibit at the National Constitution Center has a public health theme. Sure, it is chock full of information about the political fight for a national prohibition amendment, the criminal underworld that developed to supply spirits to thirsty Americans, and the changing culture of the 1920s spurred by the rise of the speakeasy that brought women into underground drinking establishments. But, the exhibit also has a lot to say about a core principle of public health: harm reduction.
The "drys"—a popular term for prohibition supporters—pointed to the terrible effects of alcohol abuse on the health of drinkers and, very often, their families, who suffered from abuse, poverty, and neglect when a breadwinner's wages were spent in a saloon. Their solution was codified in the 18th Amendment to the Constitution in 1919, which prohibited the manufacture, sale, or transportation of intoxicating liquors. The Volstead Act, the enabling legislation for the amendment, went in to effect in 1920.
Prohibition reduced alcohol consumption, which had already begun to decline because of state and local laws forbidding alcohol sales. As a result, death rates from cirrhosis and alcohol psychosis declined, as did arrest rates for drunkenness and hospital admissions related to alcohol abuse.
Jonathan Purtle
By Jonathan Purtle
Earlier this month, Pennsylvania State Sen. Daylin Leach (D., Montgomery-Delaware) announced plans to introduce a bill that would legalize marijuana — not just for medical purposes, as New Jersey recently did, but also for recreational use. The substance would be regulated by the state in a way similar to alcohol and tobacco. As Leach describes on his website, the bill is founded on the idea that marijuana is no more harmful, and less addictive (this is debatable), than both these substances and that the financial costs of keeping marijuana illegal are enormous. Citing data from the White House Office of National Drug Control Policy, Leach points out that 24,685 marijuana arrests were made in Pennsylvania in 2006 — translating into $325 million in criminal justice costs.
Leach's proposal follows referendums in Colorado and Washington that recently gave those states the green light for recreational marijuana use. And while the Pennsylvania bill will likely go up in smoke — Gov. Corbett has vowed to veto the bill if it reaches his desk — it seems high time to explore the potential pros and cons of legalizing marijuana from a public health perspective.
Michael Yudell
By Michael Yudell
"We will respond to the threat of climate change knowing that the failure to do so would betray our children and future generations," an emboldened President Obama declared in his inaugural address Monday. Following the disconcerting absence of climate change from campaign 2012 and limited climate policy action during his first term, the president has finally told us that not only will he act, but that we (and he) have an obligation to do so. What could be more important, after all, than acting on behalf of our children and future generations?
But the New York Times is already reporting that, even in the wake of the president's eloquence on the imperative to act now, his path forward will be a restricted one. Instead of focusing on comprehensive legislative change, Obama will use the power of his office to administratively "reduce emissions from power plants, increase the efficiency of home appliances, and have the federal government itself produce less carbon pollution." He can do this by directing the Environmental Protection Agency, for example, to issue regulations to decrease coal power plant emission, a move likely to face a litany of court challenges.
Janet Golden, PhD, Professor of history, Rutgers University-Camden
Twenty years ago I appeared in the film Motherless: A Legacy of Loss from Illegal Abortion, talking about the history of abortion. The 28-minute documentary, embedded above, profiles three women and one man whose mothers died of complications from abortion before its legalization. The film also includes the testimony of a former chief physician at Philadelphia General Hospital recalling the 32-bed ward for women being treated for what he called "botched, criminal abortions." Surprisingly, the film is still being used in classrooms, and its message - that the legalization of abortion following the Supreme Court's Roe v. Wade decision saved women's lives - is still relevant.
Tuesday is the 40th anniversary of the Roe v. Wade decision that found a woman's right to an abortion fell within the right to privacy protected by the Fourteenth Amendment to the United States Constitution. The decision invalidated all state laws restricting access to abortion in the first trimester of pregnancy, allowed states to regulate second trimester abortions in ways related to maternal health, and permitted third trimester abortion restrictions including allowing states to outlaw them. You can hear the oral arguments and read the full opinion.
As everyone knows, in the decades since that decision, vehement debates over abortion and the cultural divide those arguments represent have grown ever more virulent. Abortion battles have taken lives, with the assassinations of abortion providers and the bombings of clinics in which abortions are performed. State laws restricting abortion have increased in number, limiting access to safe, legal abortions and making abortion more expensive. But restrictions do not decrease demand. As the Guttmacher Institute points out, "By age 45, nearly half of American women will have an unintended pregnancy and nearly 1 in 3 will have an abortion."
Michael Yudell
By Michael Yudell
President Obama's speech and executive orders were an important step forward to address gun violence. The president affirmed both his support for the Second Amendment and his commitment to quickly reduce gun violence in the wake of the national tragedies in Newtown, Aurora, Oak Creek, and Tucson.
As we've written here before, gun violence is a public health problem, and the president's proposal — ban assault weapons and high capacity magazines, improve mental health services, close background check loopholes, and make schools safer — treats it as such.
Janet Golden, PhD, Professor of history, Rutgers University-Camden
In 1918, Babe Ruth pitched the opening game of the World Series for the Boston Red Sox (they won the series) and a worldwide flu pandemic got under way, with over 500 million people stricken with the infection. A digital encyclopedia of that disaster — the flu, not the subsequent trade of Ruth to the Yankees — was launched last year by the University of Michigan Center for the History of Medicine.
Now, with a serious seasonal influenza outbreak in the United States, we can be grateful that since 1918 we've developed effective preventive vaccines and have new anti-viral drugs, as well as excellent flu tracking and public information campaigns such Elmo & Rosita on the right way to sneeze. A ton of information is online.
Unfortunately, one of the key measures recommended by the Centers for Disease Control and Prevention — staying home for at least 24 hours after your fever is gone, except to get medical care and for other necessities - is not an option for too large a number of Americans. Millions of people lack access to affordable medical care. And millions of workers lack paid sick days; they risk losing their jobs and their family income if they stay home, even when sick with a contagious and dangerous ailment.
Jonathan Purtle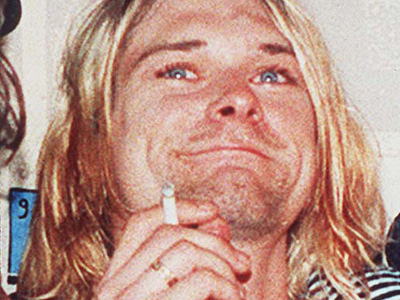 By Jonathan Purtle
In a box in my basement — amongst a broken TI-83 calculator, Discman, and other college-era artifacts — is a poster entitled "Forever 27." Once ubiquitous in dorm rooms, the poster depicts Jimi Hendrix, Janice Joplin, Jim Morrison, and Kurt Cobain in a Daliesque purgatory at the age when all of them died after bouts with substance abuse: 27 years old. In addition to being a tribute to rock legends, the poster embodies the popular belief that fame and fortune lead to excess consumption, which occasionally leads to an early, but glamorous, demise.
While there is probably some truth to this logic, a study published last month in the open-access medical journal BMJ Open suggests that something far earlier in their lives — exposures to extreme stress during critical periods of childhood development — may be behind a substantial portion of rock stars' premature mortality.

These kinds of stressors are known to trauma researchers as ACEs. The name comes from the Adverse Childhood Experiences study, a large research project started in the 1990s that discovered a strong, graded relationship between childhood trauma and stress and the leading causes of adult death in the United States. The research spawned many other studies, and we have written about several on this blog. The original research designated each type of trauma or stressor — growing up with an alcoholic parent, for example, or being physically abused or neglected — as an ACE. Among the ACE study's findings, adults who'd experienced one ACE as children were twice as likely to have become addicted to illicit drugs at some point in their lives than people who'd experienced zero ACEs. Those with three ACEs were over three times as likely; a person with five or more ACEs was nearly eight times as likely to have become addicted. A similar relationship was identified between ACEs and alcohol abuse.
Michael Yudell
By Michael Yudell
Late last month my wife and I packed up the car with our two girls and dog and headed south for Grandparents-palooza. It's our annual weeklong visit to South Florida, a land where the pastrami is neither too lean nor too fatty, drafts seem to be everywhere, and we get to leave the kids with the grandparents for a few nights of parents-of-young-kids' most precious commodity: uninterrupted sleep.
With all the shuffling around between two sets of grandparents' homes and cars, and watching my mom and father-in-law try to install car seats with some twine, Elmer's Glue, a power drill, and lots of T.L.C., I realized just how difficult it is to properly install a child safety seat. And reading up on the topic, I discovered just how often it's not done properly, even when you think it is – and how dangerous that ignorance can be.