Archive: January, 2012
Michael Yudell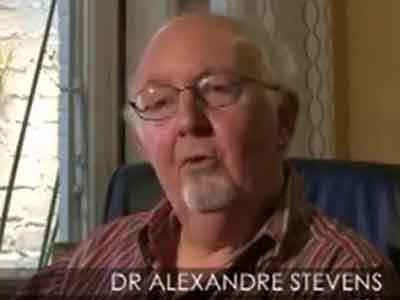 The victimization of autistic children and their families in the United States by many psychoanalysts and their acolytes from the late 1940s through at least the 1970s has been well documented in memoirs on the subject and by historians and journalists (here, here, here, and here).
During this time it was commonly believed that autism was caused by bad parenting — bad mothering, in particular. This idea, known as the "Refrigerator Mother" theory, claimed that cold and emotionally distant mothers drove their children into an emotionally frozen state, and that only through intense and often abusive forms of psychotherapy and other treatments could autistic children be cured of their disorder. This awful approach had dreadful implications for treatment, and for the parents of children with autism.
A controversial new film by French documentary filmmaker Sophie Robert, screened last week at an autism conference here in Philadelphia, reminds the world that in France these thoroughly discredited and dangerous ideas still hold considerable sway. The film, Le Mur or The Wall, already viewed tens of thousands of times on YouTube, is calling attention to the ongoing stranglehold that psychoanalytic theories still have over autism treatment in France.
Jonathan Purtle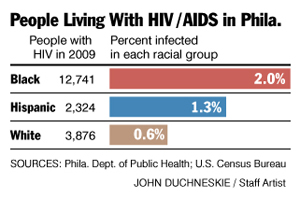 You may not have heard much about a Pennsylvania law that Gov. Corbett signed in July, but just about everyone will experience its impact in the privacy of their doctor's office.
Act 59, which became effective in September, amends the state's antiquated HIV testing regulations and aligns state policy with guidelines issued by the Centers for Disease Control and Prevention back in 2006 that call for all patients ages 13 to 64 to be tested in all health-care settings.
I asked the folks at The Health Federation of Philadelphia, which represents community health centers in Southeastern Pennsylvania, to explain this change—and what it means for doctors, patients, and the public's health.
Leah Roman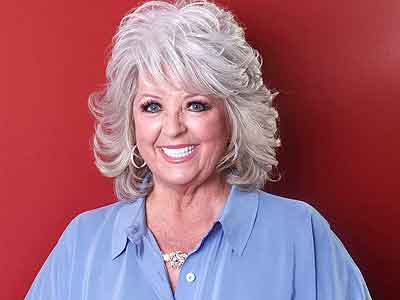 Today's post is by Leah Roman, a guest blogger for The Public's Health. Roman, a project manager for the Firefighter Injury Research & Safety Trends (FIRST) project at Drexel University School of Public Health, blogs regularly about the intersection of public health and pop culture at "Pop Health." She can be contacted at lar92@drexel.edu.
By Leah Roman
Last Tuesday, Paula Deen appeared on the Today Show to announce that she had been diagnosed with Type 2 diabetes - three years ago. Almost instantly, the highly successful Food Network chef was portrayed as a money hungry enemy of the public's health. Paula Deen is not the first celebrity to conceal a health issue. Michael J. Fox, for example, waited more than five years to share his Parkinson's disease diagnosis, yet he was instantly embraced as an advocate.
Michael Yudell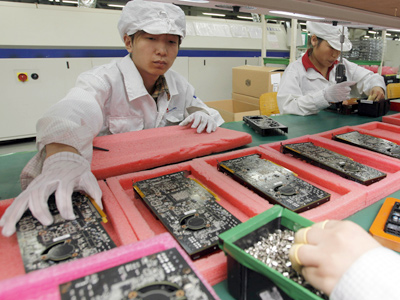 I wonder what Siri—the Apple iPhone's know-it-all voice-recognition helpmate—would say if asked about worker health and safety conditions in the factory from which she was born. Recent reports about labor conditions in those factories would suggest either scared silence or outrage and frustration.
The New York Times is reporting that Apple Computer, which last year manufactured nearly all of its products overseas, including 70 million iPhones, 30 million iPads, and 59 million computers and other gadgets, is not likely to return any of its production facilities to the United States. According to the report, President Obama himself, at a dinner with Silicon Valley tech leaders last February, asked Steve Jobs how the United States could get iPhone manufacturing back home. Jobs' blunt answer: "Those jobs aren't coming back."
Until about 10 years ago, most Apple products were "made in the U.S.A." but by 2004 the company shifted most of its production overseas, primarily to China and other Asian nations. The reason for this, the article claims, isn't simply the cheaper labor costs in Asia. It is the manufacturer's ability to more quickly scale production up and down as needed, as well as having better supply chains for the many components that go into each Apple product.
Michael Yudell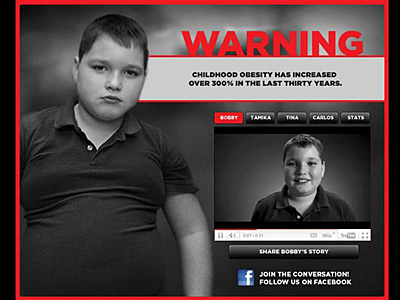 Last week we wrote about health advocates in Georgia struggling with ways to stem the nation's second-highest statewide childhood obesity rate, and the controversial ad campaign that has resulted. Nearly 40% of children in Georgia are either overweight or obese, and there's no end in sight for an epidemic that's taking its toll on the health of the Peach State. Obesity increases the risk of developing a wide range of illnesses including hypertension, heart disease, diabetes, stroke, cancer, and arthritis.
Studies have also illustrated the psychological toll of the epidemic: with obesity often comes maladies such as depression and eating disorders. We should not forget that these psychological tolls are driven in part by the bullying and teasing that overweight and obese kids face from their peers.
The economies of Georgia and the nation are suffering from the epidemic's economic impact as well. If current trends hold, the costs of treating obesity-related disorders will grow first to approximately $28 billion per year by 2020 and then to $66 billion per year in 2030. Meanwhile, "the current annual cost of obesity in Georgia is estimated at $2.4 billion, which includes direct health care costs and lost productivity from disease, disability, and death."
Jonathan Purtle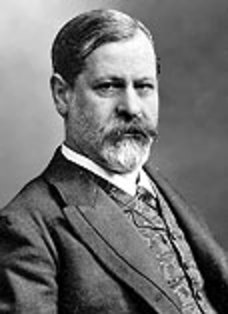 Perhaps the American Academy of Pediatrics (AAP) is following through on a New Year's resolution to save the world.
Two weeks ago, the AAP issued a policy statement and technical report about the harmful effects of childhood trauma, toxic stress, and adversity on health and development. This is no small feat, as medical associations like the AAP typically don't support much of anything unless it's backed by indisputable scientific evidence. In effect, the AAP's statement validates decades of research indicating that substantial gains in public health will require us to address the seemingly intractable problems of poverty, community violence, and child abuse—not just give people more pills, doctors, and better insurance.
The scientific evidence supporting this public health imperative is there, and now valorized by the AAP, but it is unlikely to go much further unless the social and political climate supports it. As history tells us, this wouldn't be the first time that scientific findings on the deleterious effects of trauma failed to gain traction.
Michael Yudell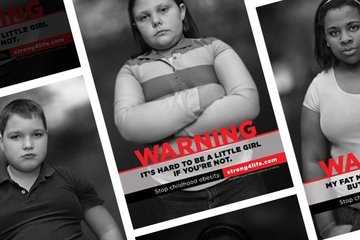 Rest easy Philadelphians with a cheesesteak in one hand and a soda in the other. Not only does our city have the awful distinction of being the poorest big city in the United States (we wrote about this back in September), we are also the fattest. A whopping 64% of adults and 57% of children 6-11 years old, according to a 2010 report from the Philadelphia Department of Public Health, are overweight or obese. The report also bemoans that in Philadelphia, obesity has fast become "a norm and a public health crisis." In North Philadelphia, where poverty is rampant, 70% – that's right, almost three-quarters of kids – are overweight.
The causes of obesity have been well-documented, and include the interrelated risks of a rise in caloric intake and the replacement of nutritious and healthy foods with high-calorie junk food (driven, in part, by a general lack of access to healthy foods, particularly among individuals and families living in poverty). The consumption of sugar-sweetened beverages (for kids this includes sodas and non-100% fruit drinks) hasn't helped either. Nor has the decline in physical activity among our nation's youth.
Our city has tried to address the epidemic through prevention and awareness programs like the Department of Public Health's "Get Healthy Philly" project and through partnerships with local organizations like The Food Trust, which works to expand access to affordable and nutritious foods across the city. The "Get Healthy Philly" programs' goals include eliminating junk food from schools, decreasing junk food consumption by 10%, ensuring that at least 25% of Philadelphians are within walking distance of healthy food choices, and increasing by 25% the number of pedestrians and bicyclists in the city. The Nutter administration has also tried to discourage sugary beverage consumption through a controversial soda tax, which City Council has so far refused to approve.
Jonathan Purtle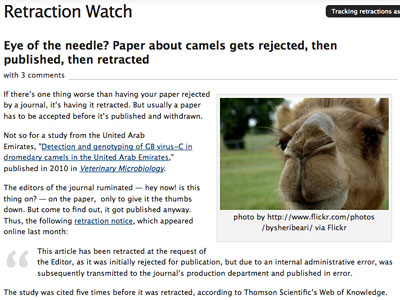 Medical journals and other peer-reviewed publications pride themselves on holding researchers to the highest standards of ethical and scientific integrity. So when it's later discovered that data in a published study were fraudulent or that human subjects were treated in an unethical manner, editors "retract" the article—removing it from the journal's archives and making it seem as if the article was never published in the first place.
While the results of many high-profile studies are often widely publicized, their retractions rarely are—until Retraction Watch was launched, that is.
Retraction Watch is a blog that tracks retracted papers—and, in my opinion, is pretty darn interesting and important. Started in 2010 by Ivan Oransky and Adam Marcus, both well-accomplished medical writers, Retraction Watch has gained acclaim from publications like Nature and The Wall Street Journal.