Obesity
Nan Feyler
At its recent annual meeting, American Medical Association (AMA) delegates rejected the advice of their own Committee on Science and Public Health and voted to reclassify obesity as a disease rather than a condition or disease risk factor.
Proponents believe that this reclassification by the nation's largest physician organization will improve medical providers' attitudes toward obesity, increase funding for research and treatment and improve patient care. A substantial body of research has found overweight and obesity are associated with many serious health problems including: type 2 diabetes, coronary heart disease, and cancer. Rather than seen as a personal failure, obesity will be seen as a disease resulting in greater attention paid to its medical consequences by the medical profession
Others are concerned this will increase unnecessary and costly pharmacological and surgical treatments and will lead to overtreatment of people based on their Body Mass Index (BMI) rather than objective health indicators. While co-morbidities generally increase with increased BMI, there are many healthy overweight and obese individuals, who in some cases fare better than their lower weight counterparts. For example, in a study looking at cardiovascular risk based on BMI in 5,440 U.S. adults, 23.5 percent of normal-weight adults had cardiovascular abnormalities, while 51.3 percent of overweight adults and 31.7 percent of obese adults were metabolically healthy. Some critics are concerned that the disease label will further stigmatize a group of people who already face pervasive discrimination and will result in physicians overlooking other serious health conditions unrelated to a patient's weight.
Cynthia Figueroa
We continue our series on race and health in Philadelphia today, joined by Cynthia Figueroa, president and CEO of Congreso de Latinos Unidos, who shares her expert insight into the state of health in Philadelphia's Latino community.
- Michael Yudell
Health disparities are differences in health outcomes as a result of demographic, social, or environmental attributes. In the Latino community, cultural and linguistic barriers can compound disparities and lead to unfavorable and unhealthy outcomes. Poverty also exacerbates health issues, creating inequities in health-care access and treatment. At Congreso de Latinos Unidos, a multiservice non-profit organization that focuses on well-being of Philadelphia's Latino community, we see the impact of disparities in health every day.
Jonathan Purtle
I just got back from 10 days in France. Like John Travolta in Pulp Fiction, I was struck by all the little differences in Europe—how the toilets work, the way roads are designed, and the size of a meal. Wherever I went, the portion sizes seemed much smaller than what I was accustomed to in Philadelphia.
While visiting the École des Hautes Études En Santé (French School of Public Health) in the city of Rennes, I actually met a researcher who had empirically investigated my observation—he had walked around Philadelphia and gone to restaurants, not to eat, but to weigh the content of the food he was served. His efforts contributed to an interesting study, published a decade ago in the journal Psychological Science, which explored whether portion sizes are indeed larger in Philly than in Paris.
First, the researchers compared the weight of identical meals (e.g., pizza, chicken sandwich) at comparable restaurants in the two cities. On average, they found that portions were 25 percent larger in Philadelphia than in Paris. (Their data suggest that the Royale with Cheese in Paris was actually the same size as a Quarter Pounder in Philly, but a "medium" fries was 72 percent bigger).
Michael Yudell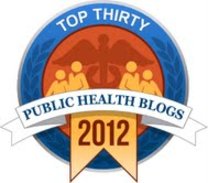 What interests you: Disease sleuthing? Global bioethics? Protecting the food supply? Protecting yourself when you travel?
A new ranking of the top 30 public health blogs places The Public's Health at No. 14. The complete list is below. Lots of interesting stuff.
And if you want to go beyond reading about public health, join us at 6 p.m. Friday for "Blogging and Beer: Public Health in Philadelphia." Also with us will be our editor at the Inquirer, public health writer Don Sapatkin, and some of our regular contributors. There is no cover charge for what we hope will be a lively discussion at Rembrandt's Restaurant in Fairmount, one of several health offerings at the Philadelphia Science Festival that we mentioned last week.

Best Public Health Blogs
Nan Feyler
In the wake of the New York State Supreme Court striking down New York City's ban on sodas larger than 16 ounces, a surprising op-ed appeared in the New York Times. The essay encouraged New York City, despite the ruling, not to give up trying to limit the aggressive marketing tactics of big food companies and the soda industry. The surprise, however, was not the sentiment – after all, many public health leaders applaud Mayor Bloomberg's latest effort to address obesity by regulating sales of super-sized sodas.
The op-ed, it turns out, was written by a former food industry insider, Kraft Foods executive Michael Mudd. Mudd had left the industry when he could no longer accept, as he called it, "a business model that put profits over public health." Mudd argues that it is big food processors and soft drink companies who are the most culpable for the growth in obesity. "Over the years, relentless efforts were made to increase the number of eating occasions people indulged in and the amount of food they consumed at each. Even as awareness grew of the health consequences of obesity, the industry continued to emphasize cheap and often unhealthful ingredients that maximized taste, shelf life and profits," he wrote.
Selling food and beverages to kids is big business. According to a recent Federal Trade Commission report, the food and beverage industry, including fast food restaurants, spent 1.79 billion dollars in 2009 to sell products mostly low in nutrition and high in calories, sugars, salt and fats to America's children. Seventy-two percent of this was spent on fast food restaurants, carbonated beverages and breakfast cereals.
Jonathan Purtle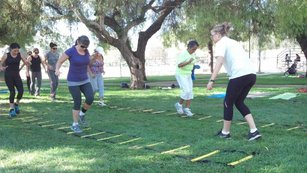 What gets people out and exercising in the park? Is it the characteristics of the community that surrounds the park, such as the presence or absence of crime and blight? Or is it the organized activities, such as the presence or absence of a Zumba class taught on Thursday nights by a local resident in neon tights?
The results of a study this month in the journal Public Health by researchers from RAND Corporation, University of Pennsylvania, and other academic institutions suggest that the latter might be more important. The study surveyed 24 parks in four cities, including six in Philadelphia, as well as 7,000 people who use and/or live near them.
Compared to the parks in other cities, those in Philadelphia stood out in a number of ways. While the neighborhoods surrounding the Philly parks were most impoverished—28.5% of households within a half-mile were below the federal poverty line —all six parks were staffed by a full time employee, more than the parks in other cities. Parks in Philadelphia also appeared to be more of a hub for community life. Seventy-nine percent of park goers in Philly reported meeting people they knew at the park, in contrast to 60 percent in Chapel Hill, N.C., 42 percent in Columbus, Ohio, and 39 percent in Albuquerque, N.M.
Matthew O'Brien
During his State of the Union address last month, President Obama challenged the assembled lawmakers to tackle comprehensive immigration reform. The issue has proven a divisive one in our national political discourse, and most of the discussion focuses on the political ramifications. Pundits have discussed how immigration reform might impact the Latino vote, as well as what types of immigrants would be eligible for citizenship, and what the role of border security is, to name a few hotly-contested questions in the current debate. Amid this political maelstrom, few have considered how comprehensive immigration reform might affect the nation's health. Understanding the health implications of immigration reform may contribute to the public discourse on the topic, and may also provide insights that are relevant to the equally divisive health reform debate. Remember that undocumented immigrants are explicitly excluded from Obamacare.
To examine this question carefully, I'll first discuss what we know about the demographics of undocumented immigrants in the United States. Then I will review the available evidence describing the health of this population and their health care use. First, however, I would like to acknowledge the challenges to studying this vulnerable population and the potential inaccuracies of the resulting data. It is widely known that Census reports include small numbers of undocumented immigrants. It is just as hard to assess the health status of this population as it is to count their numbers. Undocumented immigrants are also under-represented in most large health surveys, with a few exceptions presented below. As a result, our knowledge about the health of undocumented immigrants and their use of the health-care system is limited.
According to the best available evidence, there are 11.1 million undocumented immigrants residing in the U.S. — more than one-quarter of the nation's total immigrant population. It is estimated that there are 550,000 undocumented immigrants living in New Jersey, the fifth-largest of any state, and 160,000 in Pennsylvania, many of whom work in restaurants and have fueled the recent food renaissance in Philadelphia. At the national level, most undocumented immigrants are Latinos — 82 percent, to be exact. Because Latinos constitute the overwhelming majority of the nation's undocumented immigrants, let's focus on Latinos when reviewing the medical literature and discussing the impact of immigration reform on the nation's overall health.
Michael Yudell
I am of two minds on the court decision Monday striking down the New York City Board of Health's ban on the sale of sugary drinks over 16 ounces one day before it was to kick in. I applaud both the judge's ruling and the mayor's resolve.
The ban was declared "arbitrary and capricious" by New York State Supreme Court Judge Milton Tingling, whose ruling called attention to the ban's loopholes, which "effectively defeat the stated purpose of the Rule." Judge Tingling was referring to the fact that the ban limited sales at some locations (restaurants, movie theaters, and food trucks) and not others (corner convenience stores and supermarkets), that some sugary drinks were included and not others, and that there were no limitations on refills of smaller cups. The judge also ruled that the city Board of Health exceeded its powers in passing the ban. That power, Tingling argued, should lie with New York's City Council.
Mayor Bloomberg has promised to appeal, calling the ruling "totally wrong."