Nutrition
Michael Yudell, PhD, MPH, Associate Professor, Drexel University School of Public Health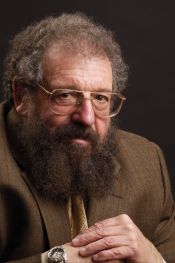 There are few issues in the public sector today that affect us all in the way that industrial animal agriculture does. We all eat, and almost all of the food we consume is produced by this system. Not only aren't most of us aware of the nature of the system that provides us with our food sources (for most Americans, it is as if food appears magically on our plates every day), but most of us certainly aren't aware of the impact that the system has on the public's health. From the pesticides that impact us and our environment, to the concentrated animal feeding operations (CAFO) that house many of the animals we eat, to the overuse of antibiotics throughout agriculture, our health and environment is ever at risk.
On Tuesday, renowned philosopher and ethicist Dr. Bernard Rollin from Colorado State University will be giving a lecture at the Academy of Natural Sciences on the history, ethics and public health impact of industrial animal agriculture. Dr. Rollin's free public lecture, which begins at 6 p.m., is entitled "This Ain't Agriculture: How Industrial Agriculture Hurts Animals and the Public's Health." The talk will examine the impact of industrial animal agriculture on animals, humans, and the environment, and proposes ways to improve this system and make it more sustainable. The event is co-sponsored by the Program for Public Health Ethics & History at the Drexel University School of Public Health (I am director of this program), the Center for Science, Technology and Society at Drexel, and the Academy of Natural Sciences.
Dr. Rollin is an expert in this area and has worked closely with both government and corporate interests with the goal of improving the current agricultural system. His 1982 book, Animal Rights and Human Morality, now in its third edition, is a classic in the field, and he has authored over 500 papers and 17 books, the most recent of which is the autobiographical Putting the Horse Before Descartes: My Life's Work on Behalf of Animals. Most recently, he served on the Pew National Commission on Industrial Farm Animal Production, which in 2008 released a series of landmark reports on the public health, environmental, social and animal welfare issues implicated in industrial animal agriculture.
Janet Golden, PhD, Professor of history, Rutgers University-Camden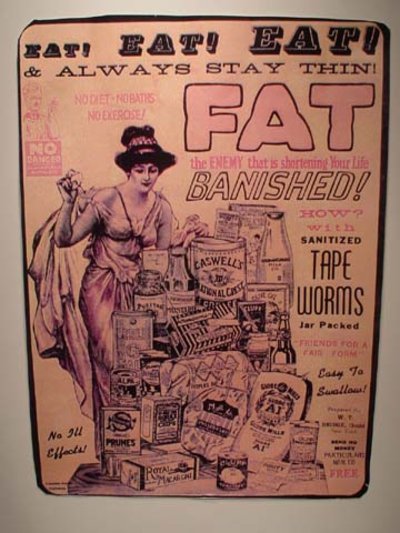 Ahhh, the quest for the perfect weight loss diet—the one that lets you eat and shed pounds. With so many Americans obese or overweight, the marketplace is full of diet books and over-the-counter drugs. There's the Paleo diet —eat meat like a cave man! And the Mediterranean diet —eat vegetables like a peasant! And the grapefruit diet —eat like a Florida farmer!

There used to be more daring choices. Like the tapeworm egg diet. That's right, a program that told you to swallow tapeworm eggs and lose weight.

In the early 20th century, marketers began selling this program to what were then called "fleshy people" under brand names like "Lard-B-Gone." Sanitized tapeworm eggs delivered what they promised. You got rid of pounds without exercise, dieting, surgery, or dangerous drugs like arsenic pills, which were once a popular means of weight loss because they allegedly cut the appetite. With the tapeworm diet you swallowed the eggs and the tapeworm did all the work—consuming your meal while living in your digestive tract. Meanwhile, the tapeworm produced and shed millions of eggs in your intestine and grew up to 20 feet long.
Jonathan Purtle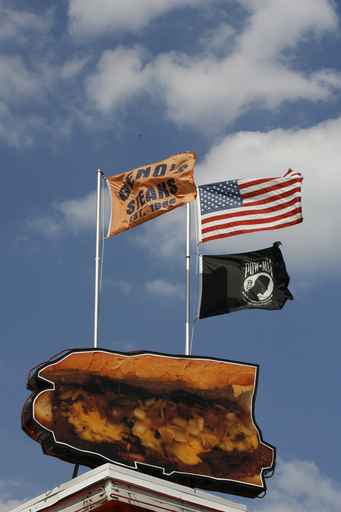 "Tempeh Whiz wit'!" "Vegan cheesesteak!'' Will these words soon be part of the cacophony of sizzling onion and clanking steel that echoes between Pat's and Geno's? Probably not, but recent activity in Philadelphia's City Council indicates that this may not be as far off as you might imagine.
Well, OK, it's pretty far off. But it has reached the highest levels of government. Earlier this month, the City Council of Philadelphia unanimously approved a resolution in support of "Meatless Mondays." The resolution, which is completely symbolic and includes no regulatory measures or spending, encourages residents and businesses across the City to curb carnivorous consumption on the first day of the work week. Simply put, the resolution is an attempt to raise awareness about healthy diet—a good thing from a public health perspective.
Councilman Bill Green (D-at large) was quoted in a press release from The Humane League stating: "I am happy to bring attention to this important issue. We can combat the epidemic of obesity, improve long-term health outcomes and potentially reduce the impact of livestock on global warming though this one, simple effort. And we can make our moms happy by eating our veggies and trying new things – a win-win-win!"
Janet Golden, PhD, Professor of history, Rutgers University-Camden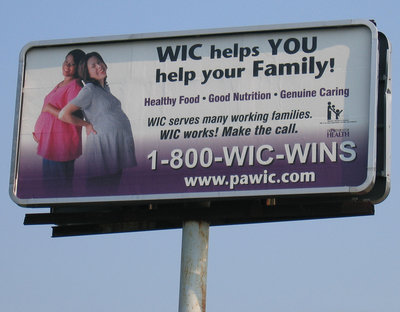 Update Oct. 4: In a news release on October 2, the Pennsylvania Department of Health outlined the steps being taken to maintain the WIC program during the current federal government shutdown. By using funds from the previous year and harboring administrative funds they hope to sustain operations for "a few weeks" and they are working with federal and state officials to "minimize service disruptions as much as possible."
This announcement follows the issuance of new guidelines by the Food and Nutrition Service of the US Department of Agriculture, allowing states to tap into additional funds but warning of funding shortfalls in fiscal year 2014.
---
You might think that a party so deeply opposed to women's reproductive rights would be a party in favor of helping pregnant women and babies.
Jonathan Purtle
I just got back from 10 days in France. Like John Travolta in Pulp Fiction, I was struck by all the little differences in Europe—how the toilets work, the way roads are designed, and the size of a meal. Wherever I went, the portion sizes seemed much smaller than what I was accustomed to in Philadelphia.
While visiting the École des Hautes Études En Santé (French School of Public Health) in the city of Rennes, I actually met a researcher who had empirically investigated my observation—he had walked around Philadelphia and gone to restaurants, not to eat, but to weigh the content of the food he was served. His efforts contributed to an interesting study, published a decade ago in the journal Psychological Science, which explored whether portion sizes are indeed larger in Philly than in Paris.
First, the researchers compared the weight of identical meals (e.g., pizza, chicken sandwich) at comparable restaurants in the two cities. On average, they found that portions were 25 percent larger in Philadelphia than in Paris. (Their data suggest that the Royale with Cheese in Paris was actually the same size as a Quarter Pounder in Philly, but a "medium" fries was 72 percent bigger).
Michael Yudell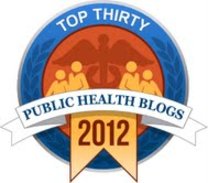 What interests you: Disease sleuthing? Global bioethics? Protecting the food supply? Protecting yourself when you travel?
A new ranking of the top 30 public health blogs places The Public's Health at No. 14. The complete list is below. Lots of interesting stuff.
And if you want to go beyond reading about public health, join us at 6 p.m. Friday for "Blogging and Beer: Public Health in Philadelphia." Also with us will be our editor at the Inquirer, public health writer Don Sapatkin, and some of our regular contributors. There is no cover charge for what we hope will be a lively discussion at Rembrandt's Restaurant in Fairmount, one of several health offerings at the Philadelphia Science Festival that we mentioned last week.

Best Public Health Blogs
Nan Feyler
In the wake of the New York State Supreme Court striking down New York City's ban on sodas larger than 16 ounces, a surprising op-ed appeared in the New York Times. The essay encouraged New York City, despite the ruling, not to give up trying to limit the aggressive marketing tactics of big food companies and the soda industry. The surprise, however, was not the sentiment – after all, many public health leaders applaud Mayor Bloomberg's latest effort to address obesity by regulating sales of super-sized sodas.
The op-ed, it turns out, was written by a former food industry insider, Kraft Foods executive Michael Mudd. Mudd had left the industry when he could no longer accept, as he called it, "a business model that put profits over public health." Mudd argues that it is big food processors and soft drink companies who are the most culpable for the growth in obesity. "Over the years, relentless efforts were made to increase the number of eating occasions people indulged in and the amount of food they consumed at each. Even as awareness grew of the health consequences of obesity, the industry continued to emphasize cheap and often unhealthful ingredients that maximized taste, shelf life and profits," he wrote.
Selling food and beverages to kids is big business. According to a recent Federal Trade Commission report, the food and beverage industry, including fast food restaurants, spent 1.79 billion dollars in 2009 to sell products mostly low in nutrition and high in calories, sugars, salt and fats to America's children. Seventy-two percent of this was spent on fast food restaurants, carbonated beverages and breakfast cereals.
Michael Yudell
By Michael Yudell
Results of an important study out of Spain published last week in the prestigious New England Journal of Medicine suggests that a "Mediterranean Diet" supplemented by additional extra-virgin olive oil or nuts significantly lowered the risk of having a heart attack, stroke, or dying from heart disease.
But despite the media brouhaha—headlines like "Tasty Diet Curbs Heart Disease, Study Finds" and "Mediterranean Diet Study Rocks the Medical World"— the study's implications for you and me are still unclear.