Kids
Michael Yudell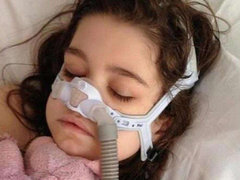 In back-to-back rulings this week, a federal judge decided that two children with end-stage cystic fibrosis—10-year-old Sarah Murnaghan on Wednesdayay and 11-year-old Javier Acosta on Thursday—should be eligible for a lung transplant from the adult donor list, rather than the under-12 list from which they are unlikely to receive new lungs in time. There are too few pediatric transplant donors to meet the demand. The transplants, if successful—if appropriate adult donors are found—would offer them new leases on their still very young lives.
Earlier this week Sarah's parents had appealed directly to U.S. Health and Human Services Secretary Kathleen Sebelius to make an exception for her. When Sebelius refused to intervene, the Murnaghans took their case to court; after U.S. District Court Judge Michael Baylson ruled in their favor, Javier's mother did the same and got a matching decision within hours. The rulings will be revisited at a June 14th hearing. Until then, Sarah and Javier, both at Children's Hospital of Philadelphia, are eligible for lungs from the adult transplant waiting list, increasing the chances that they may receive the life-saving operation.
Bioethicist Arthur Caplan, director of the division of medical ethics at NYU Langone Medical Center, said he is concerned about fairness. "It is not clear why everyone now waiting at the bottom of any transplant list would not seek relief in federal court," Caplan told NBC news Wednesday, before Javier's mother filed. "Unless the judge has reason to think the lung distribution rules are simply a product of age discrimination and nothing more—which seems highly unlikely—then this becomes a troubling instance of non-doctors deciding who is the best candidate to receive a lung or other scarce medical resource."
Janet Golden, PhD, Professor of history, Rutgers University-Camden
Let's have a brief conversation about climate change.
How is climate change related to health?
Here is some of what the World Health Organization has to say: "Climate change affects the social and environmental determinants of health—clean air, safe drinking water, sufficient food and secure shelter." Global warming leads to excess deaths, and many major killers—diarrheal diseases, malnutrition, and malaria among them—are sensitive to climate and expected to worsen as it changes.
Kristen A. Feemster, M.D., M.P.H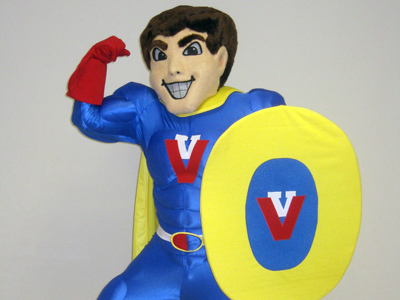 Almost 50% of children have not received all the recommended vaccines at some point before their second birthday, according to a study of 300,000 children that was recently published in JAMA Pediatrics. While some cases of skipped vaccines may be due to missed opportunities or difficulty accessing healthcare services, one in eight children in this study were undervaccinated due to parental choice to either delay or refuse vaccinations.
Here are some questions I hear about alternative vaccine schedules:
Why do parents veer from the recommended vaccination schedule?
Bette Begleiter
Across the country this Mother's Day 2013, moms will wake to pancakes and juice in bed and some assortment of cards, gifts and children sticky with syrup and ready (at least for an hour) to serve their mothers' every need. Missing from this familiar tableau will be the "gift" that would really make a difference for moms and families – comprehensive paid parental leave. While 163 countries provide paid maternity leave, the United States remains the only "developed" country missing this most basic benefit in support of family health (and family values) – the ability to take time off, with pay, to care for a new baby. How out of step is the U.S when it comes to parental leave? The only other countries that do not mandate paid parental leave are Liberia, Suriname and Papua New Guinea.
New Jersey, at least, is one of a handful of states that allows for partial salary through disability insurance.
The benefits of paid parental leave have been well documented. It is associated with lower infant mortality, increased breastfeeding, and better child and mother health outcomes. Parental leaves for dads have been shown to strengthen father/child relationships and increase the amount of time fathers spend with their children. Healthier children and healthier relationships don't just impact family well-being, they inevitably result in societal and economic benefits: fewer sick days, lower health care costs, and less need for family or child intervention.
Michael Yudell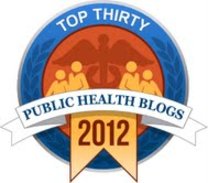 What interests you: Disease sleuthing? Global bioethics? Protecting the food supply? Protecting yourself when you travel?
A new ranking of the top 30 public health blogs places The Public's Health at No. 14. The complete list is below. Lots of interesting stuff.
And if you want to go beyond reading about public health, join us at 6 p.m. Friday for "Blogging and Beer: Public Health in Philadelphia." Also with us will be our editor at the Inquirer, public health writer Don Sapatkin, and some of our regular contributors. There is no cover charge for what we hope will be a lively discussion at Rembrandt's Restaurant in Fairmount, one of several health offerings at the Philadelphia Science Festival that we mentioned last week.

Best Public Health Blogs
Michael Yudell
Despite slowly declining teen birth rates in the United States, more than 367,000 young women and girls ages 15-19 had babies in 2010, according to a recent vital statistics report from the Centers for Disease Control and Prevention. This number accounted for almost 10% of all births that year. Making matters worse, nearly 1 in 5 of those teen births was a repeat birth, meaning it was at least the second time that teen mother had had a baby. Most of those repeat births were for a second child, but over 12% of them were for births of a third child or more.
Teenagers having babies can have negative consequences for mother and child alike. According to a study by E. Ruedinger and J.E. Cox at Children's Hospital in Boston and Harvard Medical School, outcomes for both are worsened by the social and economic factors affecting the women independently of their status as teen mothers.
Having a child can limit a teenage mom's ability to attend school or get a job. Teenage mothers also experience high rates of depression, substance abuse, and higher levels of intimate partner violence. They also, compared to their peers, have higher rates of poverty.
Nan Feyler
In the wake of the New York State Supreme Court striking down New York City's ban on sodas larger than 16 ounces, a surprising op-ed appeared in the New York Times. The essay encouraged New York City, despite the ruling, not to give up trying to limit the aggressive marketing tactics of big food companies and the soda industry. The surprise, however, was not the sentiment – after all, many public health leaders applaud Mayor Bloomberg's latest effort to address obesity by regulating sales of super-sized sodas.
The op-ed, it turns out, was written by a former food industry insider, Kraft Foods executive Michael Mudd. Mudd had left the industry when he could no longer accept, as he called it, "a business model that put profits over public health." Mudd argues that it is big food processors and soft drink companies who are the most culpable for the growth in obesity. "Over the years, relentless efforts were made to increase the number of eating occasions people indulged in and the amount of food they consumed at each. Even as awareness grew of the health consequences of obesity, the industry continued to emphasize cheap and often unhealthful ingredients that maximized taste, shelf life and profits," he wrote.
Selling food and beverages to kids is big business. According to a recent Federal Trade Commission report, the food and beverage industry, including fast food restaurants, spent 1.79 billion dollars in 2009 to sell products mostly low in nutrition and high in calories, sugars, salt and fats to America's children. Seventy-two percent of this was spent on fast food restaurants, carbonated beverages and breakfast cereals.
Bette Begleiter and Mazvita Nyamukapa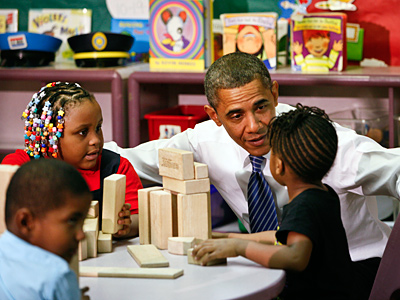 In his 2013 State of the Union Address, President Obama emphasized the need to give our kids a chance by making high quality-preschool available to every child . His message echoed that of Former President Lyndon B. Johnson, who in his 1964 State of the Union address resolved to begin the War on Poverty and from this birthed the Office of Head Start. From a public health perspective, resolving to invest in our future by increasing access to early childhood education for all children, is a good thing supported by both data and our values as a society.
Sadly, however, hopes for universal pre-school have been dashed for the moment.
Sequestration, the budget-slashing result of both parties' failure to reach a more palatable deficit-cutting compromise, has led to 5% funding cuts for all current Head Start programs, not to mention the President's proposed expansion. This particular sequestration cut translates to the projected loss of $11.6 million in Head Start funding from Pennsylvania's economy and more than 200 Head Start-related jobs. Worst of all, up to 2,300 commonwealth children will lose access to Head Start and Early Head Start services. New Jersey will be cut by $7.6 millionand a loss of access for 1,300 children (nationwide, Head Start will cover 70,000 fewer children).