Janet Golden
Janet Golden, PhD, Professor of history, Rutgers University-Camden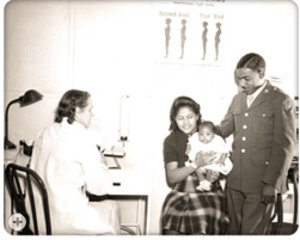 In 1943, the United States government began paying for medical, nursing, and hospital maternity and infant care provided to the wives of enlisted men in the lowest four military pay grades. The Emergency Maternity and Infant Care Act, known as EMIC, funded the care of about 1-1/2 million women and infants from 1943 to 1949. Although opponents questioned whether EMIC was a dangerous form of "socialized medicine," patriotism—and the fact that this was presented as an emergency measure—overrode their opposition. There was widespread legislative support.

EMIC answered a demonstrated need. After the attack on Pearl Harbor and the United States' entrance into World War II, the size of the military expanded rapidly. Over 16 million Americans saw service during the war. The wives of soldiers and sailors moved with them to military bases and lived far from home and family on low pay. Men in grade 7, for example, the lowest pay grade, earned only $50 a month, although base pay increased annually. Lacking the means to pay for medical care during and after their pregnancies or to cover the costs when their babies fell ill and needed services, families turned to state programs supported by the Social Security Administration and to local charities, but these did not underwrite the full costs of charitable care.

EMIC was the answer. Created and run by the United States Children's Bureau, the program sent funds to the states to pay physicians and hospitals for the services provided. Reimbursement for complete maternity services—at least five prenatal visits, delivery, care of the newborn, and postpartum examinations—ranged from $35 to a maximum of $50 depending on the state reimbursement rate. Cesaerean deliveries were paid at the same rate and there were no co-pays for any EMIC-supported services! Hospital stays—a minimum of 10 days after delivery—averaged $5.38 per day in 1944 and rose to $6.58 by 1946, again with variations by state. When the figures were tallied at the close of the program, families' cost for maternity care (including doctor and hospital) averaged $92.49.
Janet Golden, PhD, Professor of history, Rutgers University-Camden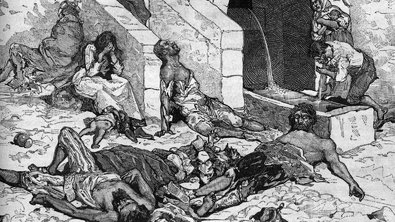 On television, forensic scientists can solve the mystery of someone's death in an hour. In reality, uncovering the facts can take a lot longer. As an anthropologist leading the investigation of some skeletons dug up in England last year put it: their discovery "solves a 660-year-old mystery." DNA tests on the skeletons revealed that they didn't die of bubonic plague; they died of pneumonic plague.
Workers extending the London railway line unearthed 25 skeletons. They were victims of the Black Death that ravaged the world from 1348 to 1350, killing at least 75 million people. Scientists examining the bones confirmed not just the cause of death but details about the lives of those who died. Their bones reveal lives marred by violence and characterized by heavy work and malnutrition. The Black Death carried them away quickly. Untreated, it can kill in a few days. With no understanding of the cause of the disease, 14th-century Europeans often blamed Jews and foreigners for the disastrous epidemic that transformed life around the globe.
Bubonic plague is spread by fleas from infected rodents and is now easily cured by antibiotics. If the infection reaches the lungs and becomes pneumonic plague, however, it can be transmitted from person to person via infected droplets in cough. Victims must be treated promptly; mortality rates from this form of the disease are high. There is a third form of plague, septicemic plague, also spread by fleas.
Janet Golden, PhD, Professor of history, Rutgers University-Camden
The Robert Wood Johnson Foundation describes its ambitious annual attempt to rate the health of counties in every state based on analysis of voluminous data as an effort to prod communities to make things better, although the rankings have a lot to do with conditions over which they have limited control: high income and level of education, for example, are strongly linked to health (Chester County is second out of 67 Pennsylvania counties; Philadelphia is 67th).
The just-released 2014 report has two sets of rankings. Health Outcomes are based on measures of life expectancy and quality of life. Health Factors – what lead to those outcomes – are based on four broad categories: health behaviors (30 percent) such as tobacco use, diet and exercise, alcohol and drug use, and sexual activity; clinical care (20 percent), which includes both access to and quality of care; social and economic factors (40 percent) like education, employment, income, family and social support, and community safety; and, physical environment (10 percent), which incorporates air and water quality, housing and transit.
To really appreciate the ratings, dig into the underlying data on teen births, adult obesity, access to dental care, diabetes and mammography screening, unemployment, and deaths from injuries, among other things. All these factors, and the resulting health of the population, add up to an excellent summary of the elements constituting public health and how we measure it.
Janet Golden, PhD, Professor of history, Rutgers University-Camden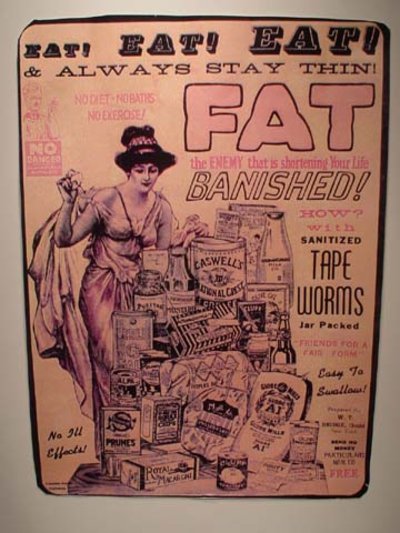 Ahhh, the quest for the perfect weight loss diet—the one that lets you eat and shed pounds. With so many Americans obese or overweight, the marketplace is full of diet books and over-the-counter drugs. There's the Paleo diet —eat meat like a cave man! And the Mediterranean diet —eat vegetables like a peasant! And the grapefruit diet —eat like a Florida farmer!

There used to be more daring choices. Like the tapeworm egg diet. That's right, a program that told you to swallow tapeworm eggs and lose weight.

In the early 20th century, marketers began selling this program to what were then called "fleshy people" under brand names like "Lard-B-Gone." Sanitized tapeworm eggs delivered what they promised. You got rid of pounds without exercise, dieting, surgery, or dangerous drugs like arsenic pills, which were once a popular means of weight loss because they allegedly cut the appetite. With the tapeworm diet you swallowed the eggs and the tapeworm did all the work—consuming your meal while living in your digestive tract. Meanwhile, the tapeworm produced and shed millions of eggs in your intestine and grew up to 20 feet long.
Janet Golden, PhD, Professor of history, Rutgers University-Camden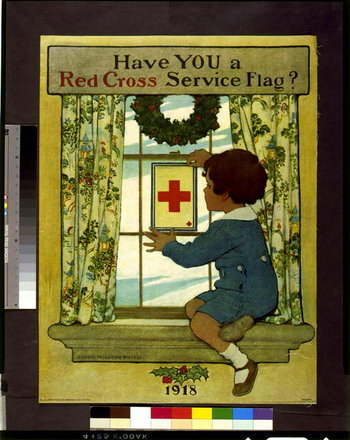 March is Red Cross month and Women's History month—a perfect time to celebrate Red Cross founder Clara Barton, who began this organization in 1881 and served as its leader until 1904. Barton provided humanitarian aid to soldiers in the Civil War. During a visit to Europe she learned about the activities of the International Committee of the Red Cross and worked to create the American National Red Cross, which was awarded a federal charter in 1900. Today the Red Cross is an international organization and is best known in the United States for its work in disaster relief, supporting military families, and collecting blood and blood products. (If you'd like to celebrate women's history and the Red Cross by making a donation you can find a local blood donor drive here.)
Few Americans are aware of the contribution of children to the work of the Red Cross. A Junior Red Cross began shortly after the United States' entry into World War I. On Sept. 15, 1917, President Woodrow Wilson issued a proclamation that announced this new effort to encourage school children to "work in the great cause of freedom to which we have all pledged ourselves." It went on to promise that joining the organization "will teach you how to save in order that suffering children elsewhere may have the chance to live. It will teach you how to prepare some of the supplies which wounded soldiers and homeless families lack."
A wartime theme presented in educational materials was the need to sacrifice at the dinner table. An educational conference in 1918 stated this aim as teaching "the boys and girls of this country to eat less candy and give up sweet drinks," so that the sugar could be shipped to Allies and used in food for soldiers. Anyone who has ever heard about cleaning their plate because children overseas were starving should know that this lesson went back to World War I and the Junior Red Cross, when American children were also taught to "think of the hundreds of thousands, in fact millions of people who have been scourged by the German Army, and who have from two to three years been suffering not only the pangs of hunger but actual starvation."
Janet Golden, PhD, Professor of history, Rutgers University-Camden
Last May the American Psychiatric Association released the 5th edition of the Diagnostic and Statistical Manual of Psychiatric Disorders, known as DSM-V. Sometimes called the "Bible of Psychiatry," the DSM-V provoked complaints about the diagnostic criteria it included, whether new diagnoses promote overtreatment, and the lack of statistical reliability for some of the disorders it lists.
But what about the missing diagnosis? The one known to poets, singers, artists, and lovers since recorded human history: lovesickness. The symptoms are many, but the cause is singular. It's that profound and overwhelming sensation of despairing for an absent love. Passion. Obsession. Grief. Longing. That's the stuff of great suffering and great art.
Popular music offers what the DSM does not, some great insights into the deep feelings of lovesickness. The brilliant country singer Patsy Cline expressed it in her cover of "Walking After Midnight." Hank Williams, the great country music star, gave us the unforgettable version of "Lovesick Blues." Singer-songwriter Joni Mitchell captured its essence in the lyrical "A Case of You."
Janet Golden, PhD, Professor of history, Rutgers University-Camden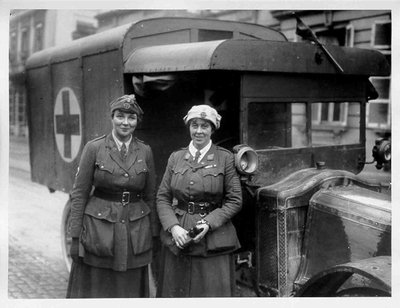 One of the developments of World War I that still shapes health care today is what was once called the "motorized ambulance." Automotive transport of the wounded supplemented and ultimately replaced the horse-drawn wagons used to evacuate casualties from the battlefield. Many famous people, among them Americans Walt Disney and Ernest Hemingway, served as ambulance drivers in the "Great War."
Novelist and poet May Sinclair, who briefly served as an ambulance driver, wrote the evocative poem "Field Ambulance in Retreat," with the lines:
The straight flagged road breaks into dust, into a think white cloud,
Janet Golden, PhD, Professor of history, Rutgers University-Camden
Viewers of HBO's Boardwalk Empire know the character Richard Harrow, a disfigured World War I veteran who wears a tin mask over part of his face to disguise his injuries. Others with facial wounds were aided by the development of modern plastic surgery, which aimed to rebuild faces shattered in warfare. While the term plastic surgery today conjures up images of bodies and faces belonging to movie stars and models, it was the horrors of war that stimulated developments in this medical arena. And it was an Armenian-American dentist, Dr. Varazstad H. Kazanjian, who deserves much credit for the specialty's birth.
This year is the centenary of World War I and many events are marking that occasion, especially in the United Kingdom. The National Museum of American History has an online exhibition on Americans at War that discusses American entry into the "Great War" in 1917. To honor that centenary, the National Library of Medicine will open an exhibit in 2017 featuring the experiences of patients and practitioners at the military hospitals in World War I. The medical history of World War I is one marked by an almost unfathomable loss of life and human suffering–and also by some medical and social developments, such as an effort at rehabilitation that emerged as the fighting continued and in its wake.
Eight and a half million lives were lost in World War I; more than 21 million people were injured. It was a conflict marked by the use of deadly gasses, the horrors of trench warfare, the killing power of the newly developed machine gun, and other new weapons–and it concluded amid an influenza pandemic that took the lives of between 20 and 40 million more. (By the way, have you had your flu shot this year? You still can!) With numbers like these, and so many horrific battlefield injuries and illnesses resulting from the dreadful trench-living conditions, it is little wonder that the development of modern plastic surgery and its efforts to aid those disfigured by war has received little public attention.