History
Janet Golden, PhD, Professor of history, Rutgers University-Camden
Last May the American Psychiatric Association released the 5th edition of the Diagnostic and Statistical Manual of Psychiatric Disorders, known as DSM-V. Sometimes called the "Bible of Psychiatry," the DSM-V provoked complaints about the diagnostic criteria it included, whether new diagnoses promote overtreatment, and the lack of statistical reliability for some of the disorders it lists.
But what about the missing diagnosis? The one known to poets, singers, artists, and lovers since recorded human history: lovesickness. The symptoms are many, but the cause is singular. It's that profound and overwhelming sensation of despairing for an absent love. Passion. Obsession. Grief. Longing. That's the stuff of great suffering and great art.
Popular music offers what the DSM does not, some great insights into the deep feelings of lovesickness. The brilliant country singer Patsy Cline expressed it in her cover of "Walking After Midnight." Hank Williams, the great country music star, gave us the unforgettable version of "Lovesick Blues." Singer-songwriter Joni Mitchell captured its essence in the lyrical "A Case of You."
Michael Yudell, PhD, MPH, Associate Professor, Drexel University School of Public Health
Beginning Saturday night, Feb. 22, and then monthly for the next three months (March 22, April 26, May 24), the Philadelphia FringeArts Festival show Study Hall will be returning to the Adrienne Theater in Center City for an hour of history and improv.

Study Hall, directed by Philadelphia Improv Theater's Mike Marbach, works like this: yours truly tells a wacky story from the history of science, medicine or public health, and then an amazingly talented group of improv comics uses that information to, well, improv hilarious (warning: sometimes raucous) comedy.

Shows start at 7:30 p.m.; you can purchase tickets here.

Study Hall features: David Donnella, Frank Farrell, A.J. Horan, Jessica Ross, Andrew Stanton, Becca Trabin, Aaron Unice, Caitlin Weigel, Corin Wells, Addie Weyrich, and Professor Michael Yudell. Directed by Mike Marbach.
Janet Golden, PhD, Professor of history, Rutgers University-Camden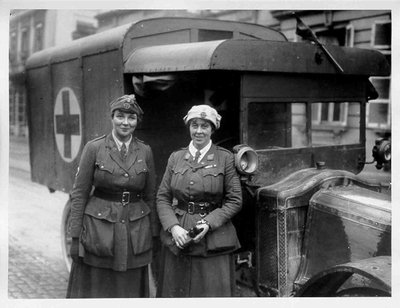 One of the developments of World War I that still shapes health care today is what was once called the "motorized ambulance." Automotive transport of the wounded supplemented and ultimately replaced the horse-drawn wagons used to evacuate casualties from the battlefield. Many famous people, among them Americans Walt Disney and Ernest Hemingway, served as ambulance drivers in the "Great War."
Novelist and poet May Sinclair, who briefly served as an ambulance driver, wrote the evocative poem "Field Ambulance in Retreat," with the lines:
The straight flagged road breaks into dust, into a think white cloud,
Janet Golden, PhD, Professor of history, Rutgers University-Camden
Viewers of HBO's Boardwalk Empire know the character Richard Harrow, a disfigured World War I veteran who wears a tin mask over part of his face to disguise his injuries. Others with facial wounds were aided by the development of modern plastic surgery, which aimed to rebuild faces shattered in warfare. While the term plastic surgery today conjures up images of bodies and faces belonging to movie stars and models, it was the horrors of war that stimulated developments in this medical arena. And it was an Armenian-American dentist, Dr. Varazstad H. Kazanjian, who deserves much credit for the specialty's birth.
This year is the centenary of World War I and many events are marking that occasion, especially in the United Kingdom. The National Museum of American History has an online exhibition on Americans at War that discusses American entry into the "Great War" in 1917. To honor that centenary, the National Library of Medicine will open an exhibit in 2017 featuring the experiences of patients and practitioners at the military hospitals in World War I. The medical history of World War I is one marked by an almost unfathomable loss of life and human suffering–and also by some medical and social developments, such as an effort at rehabilitation that emerged as the fighting continued and in its wake.
Eight and a half million lives were lost in World War I; more than 21 million people were injured. It was a conflict marked by the use of deadly gasses, the horrors of trench warfare, the killing power of the newly developed machine gun, and other new weapons–and it concluded amid an influenza pandemic that took the lives of between 20 and 40 million more. (By the way, have you had your flu shot this year? You still can!) With numbers like these, and so many horrific battlefield injuries and illnesses resulting from the dreadful trench-living conditions, it is little wonder that the development of modern plastic surgery and its efforts to aid those disfigured by war has received little public attention.
Jonathan Purtle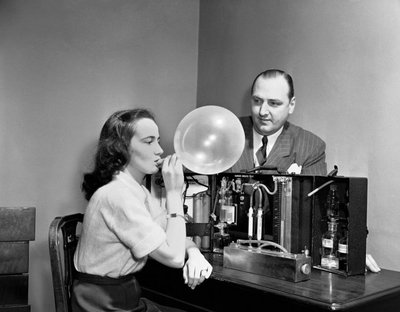 A law is only as good as the ability to enforce it. Drunk driving is major cause of disability and premature mortality in the U.S., with the Centers for Disease Control and Prevention estimating that alcohol-impaired driving is responsible for about 10,000 deaths annually. For this reason, driving with a blood alcohol concentration of 0.08 or higher is illegal throughout the country, with laws and penalties varying from state to state. All states, for example, have laws requiring judges to mandate that some or all convicted drunk drivers install in their vehicles ignition interlocks, which analyze a driver's breath and disables the engine if alcohol is detected. Pennsylvania mandates them for repeat convictions; New Jersey does the same, and adds drivers with high blood alcohol content (0.15 and above).
These laws would be of little value, however—and ignition interlocks wouldn't exist— if there wasn't an efficient and effective way to measure drunkenness. Enter a brief history of the Breathalyzer—a tool of public health.
While the observation that people carry alcohol on their breath is probably as old as booze itself, the scientific study of how to detect intoxication in the U.S. appears to have developed out of necessity: how to enforce prohibition laws during the roaring 20s, when moonshine flowed and fast cars were cheap.
Janet Golden, PhD, Professor of history, Rutgers University-Camden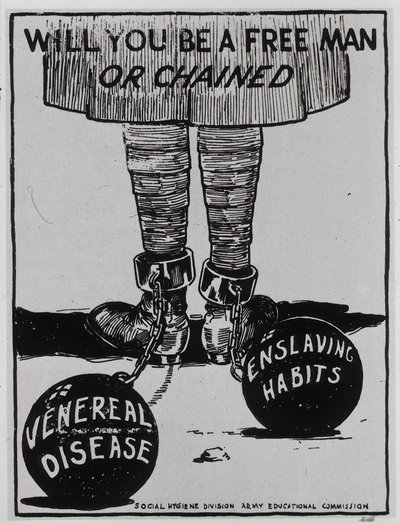 Thanks to Fox News host and former Arkansas Gov. Mike Huckabee, we get to revisit the public health lessons of the First and Second World Wars.
In a recent address to the Republican National Committee, Huckabee excoriated Democrats for making women believe they were "helpless without Uncle Sugar coming in and providing…birth control because they cannot control their libido…"
Ironically, if we were to change a few words in that remark—"Uncle Sugar" to "Uncle Sam," and "female" to "male"—we'd find ourselves transported back to 1942.
Janet Golden, professor of history, Rutgers University-Camden
Pennsylvania is one of 11 states that subsidized 93 percent of recent top-grossing movies featuring characters who smoke, according to researchers at the University of California, San Francisco–and one of seven states that gave more money to those movies than it spent on tobacco prevention.
According to an ad placed in State Legislatures magazine by SmokeFreeMovies, a project of UCSF professor Stanton Glantz, Pennsylvania subsidized production of 24 movies between 2008 and 2012, of which 16 included smoking. It says the industry got $18 million a year in subsidies from the commonwealth for movies that included smoking, and spent $14 million in 2012 on smoking prevention.
"Seven states are now spending more subsidizing movies that promote smoking to kids than they are spending fighting smoking," writes Glantz, director of UCSF's Center for Tobacco Control Research and Education, in a new post on his blog.
Janet Golden, professor of history, Rutgers University-Camden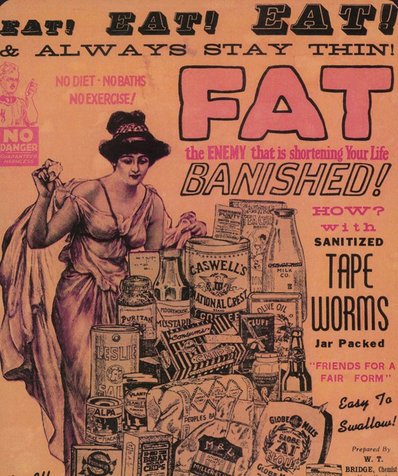 If you periodically clean your spam folder and wonder why you are getting so many penis enlargement emails, come-ons for miracle diet products, and offers for drugs from "Canadian pharmacies" you are asking the wrong question. The real question is, why is there so little advertising for bogus and dangerous products? The short answer is that both the Federal Trade Commission and the Food and Drug Administration regulate drug promotion and labeling.
Before all this big government regulation there were plenty of ineffective and even deadly products widely available, like Nyal's Compound Extract of Damiana, a "non-irritating sexual tonic" that was "useful as an aphrodisiac and for the restoration of virility." Damiana was 50 per cent alcohol and contained 15 grains of Coca which, it promised, "exalts intellectual faculties." Wow, a drug that promised to treat erectile dysfunction, packed the punch of bourbon, and aided the brain—that sounds like more fun than the modern day claims for memory enhancing supplements sold over-the-counter. Too bad it didn't work. In 1910 the US Department of Agriculture labeled Damiana as misbranded under the Food and Drug Act of 1906 for having false and misleading statements. The company pleaded no contest to the charge and paid a $5 fine.
Other health seekers turned to products that sound a lot less fun than Damiana and they continue to do so. This may be hard to believe but the 19th century practice of swallowing sanitized tapeworm cysts in order to lose weight persists. And the myths about how to get rid of the tapeworm once the ideal weight has been reached are just that, myths. (No you can't lure the tapeworm out of your body with milk and cookies).