Addiction
Beverly Haberle, executive director, The Council of Southeast Pennsylvania, an addiction prevention and recovery organization
Dramatic increases in overdose rates now terrorize rural and suburban neighborhoods. Inner cities have long dealt with the quiet desperations of addiction, but now these new communities also are overrun. This clashes with our stereotypes of misuse and addiction.
My point isn't to criticize very real and merited terror over prescription drug and heroin epidemics. It is to ask: what can we learn from this about our attitudes toward addiction and those who suffer from it? Specifically:
Why are physicians inadequately prepared for medicating pain and screening for addiction? While pain and addiction are widespread, causing extraordinary human, health and economic harm, formal physician training short-shrifts both. Yet primary care and hospital emergency department physicians may have the most influence and leverage to initiate interventions. We need that influence and leverage to reach most of 1 in 7 Americans suffering from addiction. Another third engage in such risky substance use that contact with health care providers or law enforcement may result.
Given rising public concern as fatal drug overdoses have more than tripled since 1990, why is there such policymaker resistance in Pennsylvania to making naloxone more available? In the hands of first responders, clinics and even families, this safe, easy-to-administer drug (brand name Narcan) can prevent drug and alcohol poisoning (that's what overdose is) from killing. There is similar Pennsylvania resistance to allowing "good Samaritans" to call for medical help without fear of being investigated themselves. To see how much the inaction in Pennsylvania contrasts with progress in New Jersey, explore the Law Atlas, a compilation of laws affecting public health, including Good Samaritans and legal issues surrounding naloxone for overdose prevention. public health laws . Yet New Jersey has a lower drug overdose mortality rate than Pennsylvania (see page 12 for state-by-state comparisons).
Why isn't there more concern about what happens to overdose victims who survive and need to overcome stigma and discrimination, e.g., housing, employment, that create barriers to long-term recovery?
There is a common thread through all three questions: despite scientific certainty that addiction is a chronic disease, perhaps best compared to diabetes, 19th and 20th century imagery of immorality and criminality, of dissolute drunks and shooting galleries, still hold sway. The powerful, disparaging mindset that addiction is behavioral, that "addicts" should resist or simply throw off the shackles of the disease still dominates otherwise modern minds. This keeps us from acting compassionately and decisively.
Jonathan Purtle, MPH, Doctoral candidate and Research Associate, Center for Nonviolence and Social Justice, Drexel University
First in a series of posts about what is being done to address trauma and toxic stress in the city.

Four years ago, on a train from Philadelphia to Washington, Sandra Bloom told me about the Adverse Childhood Experiences (ACE) Study. I hadn't heard of it, and was astounded to learn about strong connections it found between exposure to trauma and toxic stress in childhood, and experiencing behavioral, social, emotional, and health problems as an adult. I told almost everyone I knew. I circulated the study's publications among my public health peers. Hardly any of them had heard of it in 2011, when I wrote the first of several related posts.
On Thursday, I sat with more than 350 Philadelphians at WHHY's studios as the study was discussed at a sold-out symposium entitled "Children and Toxic Stress: A Public Health Response for Philadelphia's Children and Families." Awareness about the ACE Study (first findgs were published in 1998) and its implications has spread rapidly over the past few years. And Philadelphia, in the words of Arthur Evans, commissioner of the city's Department of Behavioral Health and Intellectual disAbility Services, has been the "epicenter" of knowledge dissemination. "Philadelphia is the only city where only a few hands pop up when I ask how many people have not heard of the ACE Study," said Martha Davis, a new program officer at the Robert Wood Johnson Foundation who until recently headed the local Institute for Safe Families. A brief video of her remarks on building resilience is here.
Lundy Braun, PhD, professor of pathology and laboratory medicine and Africana Studies, Brown University
Shortly after a 48-hour bout of immobilizing back pain and a visit to the emergency room where he received Percocet, my husband went to his primary care doctor to discuss managing the continuing pain and numbness. What he encountered took him aback. Perhaps concerned about "drug-seeking behavior," the primary care physician commented offhandedly that back pain eventually goes away; the physician failed to do a physical examination, asked no questions about his level of pain or work situation, and offered no suggestions for dealing with the numbness or a recurrence. When asked about pain medication, his physician gave him a bottle of naproxen (which he was already taking) with no instructions regarding appropriate dosage. After two weeks and no further treatment, the pain began to subside; nine months later the numbness and tingling had diminished.

My husband's experience could have simply been an unfortunate encounter with a busy physician. Or it could be symptomatic of a new attitude towards pain patients and prescription opioids by primary care and public health practitioners. With increasing deaths from overdoses since the early 2000s, public health concern over the abuse of prescription opioids for pain management has mounted. Last month's tragic death of actor Philip Seymour Hoffman from an overdose has heightened awareness of the social burden of addiction and raised anxieties about prescription opioids as "gateway" drugs to heroin.

In 1996, the Food and Drug Administration approved OxyContin, a potent pain reliever marketed by Purdue Pharmaceuticals in a long-acting time-release capsule that industry promotional materials claimed would minimize abuse. Within a few years, however, reports of abuse, addiction, and death from overdose of OxyContin surfaced, and the Drug Enforcement Administration kicked into gear, lobbying for more intensive regulation and surveillance of prescription opioids. Public health and medical experts joined the DEA and the FDA in promoting heightened state oversight of medical providers, pharmacies, and manufacturers. Primary care practices revised their policies towards chronic pain patients to include pain contracts – written agreements intended to discourage abuse by them or others – profiling of "drug-seeking behavior," frequent office visits, calls for "evidence-based" practice, and urine toxicology screening. The discussion soon moved from concerns over the addictive properties of OxyContin to calls to dramatically limit such widely prescribed opioids as Vicodin and Percocet.
Michael Yudell, PhD, MPH, Associate Professor, Drexel University School of Public Health
Last month's announcement by CVS/Pharmacy that it would "stop selling cigarettes and all tobacco products at its more than 7,600 stores nationwide by October 1, 2014" has focused attention on the role that retail outlets play in their sale. If other major retailers were to follow CVS/Pharmacy's lead, perhaps we could push already declining rates of tobacco use even lower (currently, fewer than 1 in 5 Americans smoke cigarettes).
In the wake of the CVS move, to put pressure on other tobacco-selling retailers, 26 prominent health groups have issued an open letter, calling on drug stores and other retailers to stop selling tobacco products. Recent studies have shown that reasons for the voluntary abandonment of tobacco sales are complex: retailers identified the obvious relationship between tobacco use and disease and death, regulatory pressures, an enhanced image, and already declining tobacco sales among the drivers of change. In their 2011 study published in BMC Public Health, Patricia McDaniel and Ruth Malone, highlight the importance of such changes, writing that "voluntary retailer abandonment of tobacco sales both reflects and extends social norm changes that have problematized tobacco…"
Let's hope that ongoing pressure on tobacco-selling retailers can continue to transform social norms around tobacco's sale and use.
By Jim Buehler, professor of health management and policy, Drexel University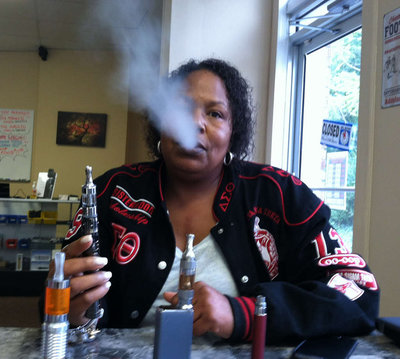 It's been hard to avoid stories in the news about "electronic cigarettes"—battery-powered devices that in many cases look like regular cigarettes but instead deliver a vaporized mix of nicotine, flavor additives, and traces of the chemicals left over from extracting nicotine from tobacco. Much of the attention to e-cigarettes arises from debates about whether their manufacture, marketing, sales, and use should be subject to the same federal, state, and local regulations and restrictions as those that govern other tobacco products.Depending on your attitudes towards smoking, government health regulations, and your source of news, you might believe that e-cigarettes are:
A way for smokers to satisfy their appetite for nicotine while avoiding the hazards of tobacco smoke;
A socially acceptable alternative to smoking (they emit water vapor, not smoke) that should be permitted in public;
An alternative to nicotine patches or gum that can help smokers quit or reduce their dependence on nicotine (by turning them into "vapers");
A way for "big tobacco" to bypass tobacco regulations, offset financial losses resulting from reductions in smoking, and lure a new generation into nicotine addiction;
A threat to decades of progress in reducing tobacco use;
Something that health advocates should endorse as a safer alternative to smoking—a "harm reduction" program, like those that provide clean needles and syringes to drug users to reduce exposures to HIV and other infections;
A product with undocumented benefits and risks;
Some combination of the above.
While public health advocates are universally committed to reducing smoking, their reaction to the emergence of e-cigarettes has been mixed. Some have called for an outright ban on e-cigarettes until studies have been conducted to document their risks and benefits—a policy that is unlikely to be enacted. Many view e-cigarettes through the same lens as regular cigarettes, remain deeply distrustful of the tobacco industry given its well-documented legacy of concealing information about the risks of smoking, and advocate strong regulations that would limit advertising and make it difficult for teens to purchase e-cigarettes. This position is embodied in statements like one by Erika Seward of the American Lung Association, who was quoted by ABC News as saying, "With e-cigarettes, we see a new product within the same industry—tobacco—using the same old tactics to glamorize their products. They use candy and fruit flavors to hook kids." Other health advocates view e cigarettes through the "harm reduction" lens and favor regulation of e-cigarettes as "drug delivery devices." For smokers who are unable or unwilling to abandon their nicotine addiction, this group argues that, despite unknowns about the consequences of inhaling e-cigarette vapors, using e-cigarettes must be less dangerous than inhaling tobacco smoke. Both positions - a ban and regulation as a drug delivery device - are vehemently opposed by e-cigarette-makers.
The e-cigarette industry strongly denies that it markets its products to young people, arguing that there are plenty of adult smokers to convert to their product. Regardless, a growing number of teens are giving them a try. A recent report from the Centers for Disease Control and Prevention (CDC) notes that the percentage of high school students who have tried e-cigarettes doubled from 4.7% in 2010 to 10% in 2012. CDC estimates that there are nearly 1.8 million middle and high-school students who have used e-cigarettes, including 160,000 who have never used regular cigarettes, raising a "serious concern" because of the "negative impact of nicotine on adolescent brain development, as well as the risk for nicotine addiction." We know that most adult smokers started as teens, but we don't know yet if the growing number of teens who are trying e-cigarettes will remain e-cigarette users, quit using any form of nicotine, or be drawn into smoking for the first time.
Janet Golden, professor of history, Rutgers University-Camden
Pennsylvania is one of 11 states that subsidized 93 percent of recent top-grossing movies featuring characters who smoke, according to researchers at the University of California, San Francisco–and one of seven states that gave more money to those movies than it spent on tobacco prevention.
According to an ad placed in State Legislatures magazine by SmokeFreeMovies, a project of UCSF professor Stanton Glantz, Pennsylvania subsidized production of 24 movies between 2008 and 2012, of which 16 included smoking. It says the industry got $18 million a year in subsidies from the commonwealth for movies that included smoking, and spent $14 million in 2012 on smoking prevention.
"Seven states are now spending more subsidizing movies that promote smoking to kids than they are spending fighting smoking," writes Glantz, director of UCSF's Center for Tobacco Control Research and Education, in a new post on his blog.
Jonathan Purtle
Two years ago, the American Journal of Preventive Medicine published results of a study that estimated how much money excessive alcohol consumption costs the United States each year. The tab came to $223.5 billion—a sobering statistic. While a national estimate can inform federal funding decisions about alcohol research and programing, however, the real legal authority to regulate alcohol consumption—and most health behaviors, for that matter—exists at the state level.
This week, another study in the same journal provided estimates of how much excessive alcohol consumption costs in each state—underscoring the economic imperative for individual states to take action. The tri-state area total: $15 billion.
Drawing from national standards, the study defined "excessive" alcohol consumption as having: 4 (woman) or 5 (man) drinks or more on at least one occasion in the previous 30 days or 1 (woman) or 2 (man) drink(s) per day, on average, or any drinks for someone who is under the age of 21 or pregnant. The researchers pulled from various data sources to estimate the numbers of adverse events (e.g., drunk driving accidents, fetal alcohol syndrome, alcohol-attributable deaths) caused by "excesses" in the amount of alcohol consumed in each state per year and multiplied them by estimates of the financial cost associated with each. The researchers then divided the totals by estimates, based on surveys of retail sales, of the number of alcoholic beverages consumed in each state. This yielded the "cost per drink"—an indication of how much the price of every drink would need to be increased to offset the economic consequences of excessive alcohol consumption.
Stacey Trooskin, Assistant Professor, Drexel University College of Medicine
What do you know about hepatitis C?
Did you know that it is the most common bloodborne infection in the United States? That it is five times more common than HIV, yet has a fraction of the government funding for prevention, care and research? That it is often called a silent killer, because infected people can live without symptoms of the virus for as long as two decades before showing signs of liver disease like cirrhosis or liver cancer? Did you also know that 50% to 75% of people living with hepatitis C don't even know they are infected? Or that, because hepatitis C often goes undiagnosed until significant liver damage has been done, it now kills more people a year in the United States than HIV?
As a clinician whose work focuses on hepatitis C, I see its impact every day. But how do I get the average Philadelphian to pay attention? With World Hepatitis Day on July 28th quickly approaching, I felt I needed a new strategy. So, I did what everyone else with a computer does when they don't know the answer – I Googled it. And among the things I found is a different, but increasingly effective way to draw the public's attention to this difficult issue: a dancing flash mob (for other Australian videos of a dancing liver, click here; he's cute!).