Archive: April, 2012
Michael Yudell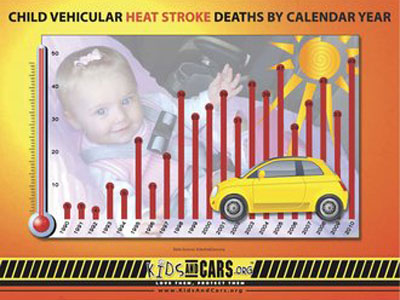 With summer hurtling towards us faster than usual this year — temperatures across the U.S. were 8.6 degrees above normal in March — we are just weeks away from the inevitable horror stories of children dying from heatstroke after being left alone in parked cars. Since 1998, an average of 38 children per year have died from heatstroke (overheating of the body, a.k.a. hyperthermia) while trapped in cars, including at least 11 in Pennsylvania and 12 in New Jersey. That accounts for 16 percent of deaths of kids in non-traffic motor-vehicle incidents.
With summers heating up from climate change, this number is likely to grow.
Children are especially vulnerable to the heat inside cars, even when left alone for just a short time. The temperature inside a non-operating motor vehicle, even with windows cracked open, will increase rapidly in the hot sun. Seventy-five percent of the maximum temperature rise will occur within five minutes of closing a car. One study showed that even on a 72°F day, "internal vehicle temperature can reach 117°F within 60 minutes."
Michael Yudell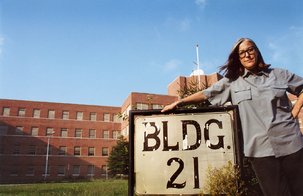 Kings Park: Stories from an American Mental Institution, a deeply moving and disturbing new documentary film from director Lucy Winer, will be screened this Monday night at International House, 3701 Chestnut St., in West Philadelphia. If you've got plans cancel them. Go see this incredible account of the history of Long Island's Kings Park State Hospital, once one of the nation's largest mental institutions housing up to 9,000 patients. It starts at 7 p.m. (free, no tickets required; doors open at 6:30 p.m.), and will be followed by a panel discussion, including the director and several mental health experts.
This is a heartrending film, centered upon the experiences of the director herself, who, after several failed suicide attempts as a troubled teen in the late 1960s, spent 2½ years in mental institutions, including six months at Kings Park. Today, Winer is a successful documentary filmmaker, and the film, she told me, is a more than 10-year labor of love, "started as a personal venture to try to sort out a chapter in my life I had locked away." But what started as a project about personal healing also became a film about getting the public "to know what kind of crisis we have in mental health care and how we got here."
The film's most powerful moments come as Winer and other former patients, nurses, attendants, doctors and family members recount their relationship to Kings Park and its impact on their lives. For the many thousands whose lives intersected with the facility, these memories offer a glimpse into the terror and desolation that was life in a state institution. In one of the most intense moments of the film, Winer recounts one of her first days at Kings Park, when she enters the day room in the violent women's ward, seeing drugged women, many sleeping or sprawled out on the floor. She begins to cry. But quickly another patient on the ward quietly comes up to her and tells her not to cry. "Do not cry," she said, "they'll hurt you." Vulnerability was not a good option at Kings Park, where patients could be abused in myriad ways for the slightest infraction.
Kings Park Trailer - August 2011 from Kings Park Documentary on Vimeo.
Jonathan Purtle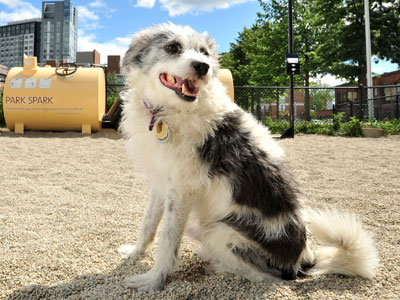 I've been having some crappy mornings lately — literally.
I walk out my door, admire the contrast of the cherry blossoms against the crisp blue sky, and then hobble over a fresh mound of dog poo. The Spring Garden section of Philadelphia is scattered with such treasures, occasionally encased in blue plastic bags. On trash day, I return home to a recycling bin containing at least three of these goody bags to bring back into the house. Can you relate?
Let's face it: dealing with dog waste, whether you own a dog or not, is a fact of life. Increases in dog ownership in Philadelphia, however — coupled with an inadequate number of dog parks and absence of public garbage cans in residential areas — could turn a simple nuisance into a public health problem reminiscent of early 19th century America.
Michael Yudell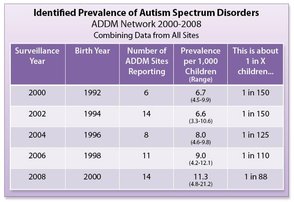 Leave it to businessman Donald Trump to turn World Autism Awareness Day on its head.
On Monday, Trump was busy spreading misinformation about the causes of autism on a day that, according to UN Secretary General Ban Ki-moon (the United Nations adopted this day in 2007) should be dedicated to cultivating awareness of this difficult lifelong developmental disorder and "spur such action and draw attention to the unacceptable discrimination, abuse and isolation experienced by people with autism and their loved ones."
Trump's trigger was last week's release of new autism prevalence data by the U.S. Centers for Disease Control and Prevention (CDC) indicating that now "one in 88 children have been identified with autism spectrum disorder by the age of 8" — nearly double the estimate a decade ago.
Michael Yudell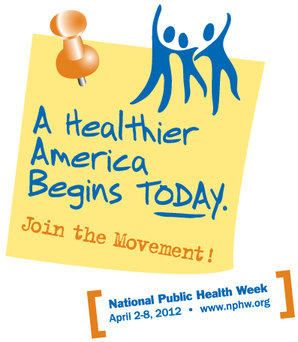 Just when I thought there couldn't be another day or week drawing attention to my favorite "theme" or "cause"—I missed "World Day of the Snowman" back in January because our weird weather left us without a winter, and last month's "Pi Day" just wasn't my thing—along comes National Public Health Week. What a perfect week for a public health nerd like me to celebrate a "healthier America."
But this isn't simply the week to bust out your early 1990s Suzanne Somers' ThighMaster to finally get back into shape. This is a week to get involved in your community to improve the public's health as well as your own. Ever since 1995, when President Bill Clinton proclaimed the first week in April National Public Health Week, the American Public Health Association (APHA) has been helping to coordinate and organize events around the country to "unite around a critical public health issue and focus our collective energy on the singular goal of helping people live longer, happier, healthier lives." (Full disclosure: I am one of the 55,000 members of APHA).
I had a chance to speak last week with Kimberly Moore, APHA's director of affiliate affairs. With a background in tobacco prevention, Moore is no stranger to the challenges of public health prevention efforts. But National Public Health Week offers unique challenges, coordinating hundreds of public health-related organizations around the country to help plan events that promote the public's health. Most events are funded at the local level, but APHA provides "comprehensive planning, organizing and outreach materials that can be used during and after the week to raise awareness."